Wenger absolutely despises Arsenal, says source
Arsenal boss set out to ruin the Gunners very, very slowly, Back of the Net reports.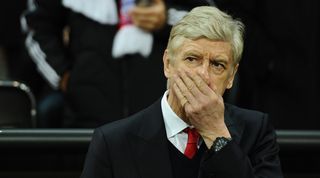 Arsene Wenger hates Arsenal with every fibre of his being and his entire reign has been a very intricate plot to destroy the club, sources close to the French tactician have revealed.
Wenger arrived in north London in 1996 with the sole aim of running Arsenal into the ground and set his dastardly plan into action, calculating that in just over 20 years' time fans would be left reeling from a crushing defeat to Bayern Munich.
"When Arsene outlined his plan to me over a bottle of Chateau Lafite back in 1996, I thought he was crazy," an anonymous source close to Wenger told FourFourTwo.
"He said that what he wanted more than anything in the world was to make Arsenal fans miserable and to rip a proud club to shreds, leaving its supporters constantly irrational and whiny forever more.
"His eyes were burning with revulsion and I could see that he would do whatever it took to destroy Arsenal, for reasons that were never entirely made clear."
Dastardly genius
However, Wenger's plan became more and more intricate to the point where his confidante struggled to fully understand his rationale.
"I asked him whether he'd just get Arsenal relegated and he looked at me like I was a simpleton. He simply replied, 'Oh no, quite the contrary'.
"Wenger explained that what would really crush Arsenal would be to usher in a period of unimagined prosperity, to win the Double twice, to encourage the development of a generation of talented youngsters, to oversee the move to a new stadium and to generally establish the club among the titans of Europe.
"That was when the malevolent glint appeared in his eyes and he whispered: 'Then we'll underachieve for several seasons and go out of the Champions League emphatically at the last 16 stage with only FA Cup triumphs for consolation.'
"If I'm completely honest, I sort of feel there might have been an easier way to ruin the club, but he just cackled and told me that I really didn't understand Arsenal fans at all."
End game
The revelation may prove the final nail in Wenger's coffin at Arsenal and other clubs may also need to be wary of appointing him should he leave the Emirates.
"He did mention to me the other day how much he hates Barcelona," our source revealed.
"He said that he'd love to teach them a lesson by re-establishing their dominance in La Liga, conquering Europe and then getting humbled by Adelaide United in the Club World Cup."
Please note: This satirical news story is not real. Like, obviously.
More funny stuff • New features you'd love on FourFourTwo.com
Quizzes, features and footballing fun
Get the best features, fun and footballing frolics straight to your inbox every week.
Thank you for signing up to Four Four Two. You will receive a verification email shortly.
There was a problem. Please refresh the page and try again.