5 players who could sink under Klopp – but 6 others who'll love it
The German's fast-paced marathon running isn't to every player's taste, as James Dutton notes...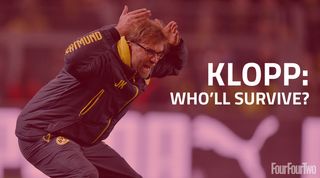 "I believe in a playing philosophy that is very emotional, very fast and very strong. My teams must play at full throttle and take it to the limit every single game."
Liverpool's season has changed in the blink of an eye. A week is a long time in football and there has been no better illustration of that than in the sea change of emotions and expectations at Anfield. The lethargy and inertia of the latter-day Brendan Rodgers era has been swept away and replaced by the unbridled optimism that the beaming presence of Jurgen Klopp can only inspire.
From a predictable, mentally fragile side that looked to be meandering through footballing purgatory, the mood has changed with ringing endorsements from a who's who of German football illuminati from Franz Beckenbauer to Jogi Low.
The immediate consequences of managerial upheaval are often felt by the playing squad the new man inherits. Will any be jettisoned in the ruthless manner with which Rodgers disposed of Andy Carroll? Who will respond to the call to play at full throttle, and who will flounder to the point of despair?
Simon Mignolet
If Mignolet never appeared to suit Rodgers' style of play, then he hasn't got a hope under Klopp. The Belgian enjoyed a renaissance of sorts last season after suffering the ultimate indignity of being dropped for Brad Jones, but has this season underwhelmed in familiar circumstances. His shot-stopping remains reliable, but his aerial presence and defensive organisation skills have regressed to the mean once again.
How much Klopp's Liverpool will resemble Klopp's Borussia Dortmund remains to be seen, but if he is to favour a high-pressing and high-line combination then he'll want a goalkeeper more nimble and decisive off his line than the Belgian No.2. Though he did persist with Roman Weidenfeller, so there may be a chance for him yet.
Martin Skrtel and Dejan Lovren
Unprompted, Klopp made sorting out Liverpool's defence his first port of call: "You have to have a stable defence. That is the first thing, always. Our position is OK so we can start our development. If it's possible let's try to be the hardest team to beat in the world."
Liverpool were too easy to beat at times under Rodgers, particularly in the past 12 months. When the Northern Irishman made the team more defensively solid it never truly convinced nor lasted longer than a string of games. Last season they kept six consecutive clean sheets on the road for the first time since 1972 when Rodgers reverted to the back three. They then shipped four and six at Arsenal and Stoke respectively in the final weeks of the campaign.
Martin Skrtel has survived four Liverpool managers, but can the 30-year-old get through a fifth? The Slovakian was an unlikely survivor of Rodgers' 'Death by Football' mantra, but age is catching up with him and a high defensive line would expose him too often.
Dejan Lovren, meanwhile, has been unconvincing at Anfield and Rodgers' £20 million man has so far failed to become the commanding, defensive leader the Reds need.
At 26 time remains on his side, as does the knowledge that he flourished at Southampton when afforded significant midfield protection. Klopp will surely address the porous holes in the Liverpool midfield, but will it be enough to save the Croatian centre-back?
Lucas Leiva and Adam Lallana
Liverpool possess a number of players well-suited to Klopp's infamous transitional style of play. Indeed, many thrived under the high intensity and pressing style that Rodgers favoured in 2013/14, particularly Jordan Henderson, Philippe Coutinho and Jon Flanagan to name a few.
Others will struggle if asked to work so feverishly off the ball, particularly Lucas Leiva who lacks the engine he had before a knee ligament injury in 2011 severely hampered his movement and short-distance acceleration. On the ball, Adam Lallana struggles to play at a high pace, often cutting back inside, slowing down play and taking four or five too many touches. Lucas may lack the body to flourish under Klopp; for Lallana it's a question of application and changing his way of playing. At 27, is that realistic?
Philippe Coutinho and Roberto Firmino
Klopp loves a diminutive attacking player; low centre of gravity, fleet of foot and with an unfailingly strong work ethic. Coutinho has been gift-wrapped for him. The Brazilian left no one in doubt of his quality under Rodgers, but few can really gauge where his ceiling is. As flamboyant and devastatingly effective as he can be, the 23-year-old remains infuriatingly inconsistent. This season in particular he has proved erratic, firing over five shots on goal per game in desperation.
(Although when they do go in, they're not bad...)
Coutinho is the future of Liverpool and you'd back a figure like Klopp to unlock his mercurial talent and channel it in the most effective manner for the team. The same applies to his countryman Roberto Firmino, who has made a slow start due to injury and general acclimatisation in the Premier League. The new Reds manager tried to bring the ex-Hoffenheim Brazilian to Dortmund, and the new Red's ability to play at speed and win the ball high up the pitch will no doubt impress his new coach.
Emre Can
Swinging a lazy left boot at the ball and watching it flash across goal, slam straight into Skrtel and fall invitingly for Romelu Lukaku to lash home, Can was the architect of the final comical defensive mix-up in Rodgers' Liverpool reign. Finding the best position for the 21-year-old has become a million dollar question at the club.
His best form has come on the right side of a back three, but he fails to convince that that is his natural home. He has the physicality to dominate the middle of the park, but his mobility in the Premier League has looked suspect. His surging runs from deep have become a trademark characteristic, but too often the opposition can play around him.
Klopp famously identified Sir Alex Ferguson's misuse of Shinji Kagawa at Manchester United, so perhaps he has similar ideas for Emre Can's best role in the starting XI.
Daniel Sturridge
Rodgers had been careful to play Sturridge back into full fitness, and you'd imagine Klopp will carry on in a similar vein. Rodgers' failure to find a way for Liverpool to attack, create and score freely without the England forward in the side was one of his ultimate undoings.
The German may not turn the former Chelsea striker into a relentless presser from the front – it was never part of his game under Rodgers – but instead his role will be to come alive when Liverpool do win the ball back, use his pace and intelligence to stretch play and involve his team-mates.
He can play the lone frontman role that Klopp prioritised at Dortmund, but Sturridge has shown how equally prolific he can be as part of a two.
Alberto Moreno and Lazar Markovic
Two signings from the fateful spree of summer 2014 who never truly felt wanted by Rodgers. The season started inauspiciously for both, with the left-back displaced by an 18-year-old centre-back and the flying Serbian sent packing to Fenerbahce for a year. Moreno eventually worked his way back into the starting line-up – and deservedly so – but only as a left-wing-back in a 3-4-1-2.
He has the boundless energy and lightning pace to cover the left side of the pitch but Rodgers never seemed to trust his defensive instincts. No one is expecting Klopp to continue the experiment with three at the back, so Moreno's attacking instincts and high-pressing may well be indulged by the new boss.
There has been talk of a January recall for Markovic, though that could prove fruitless. The Serb's pace and direct style make him a bona fide Klopp player in the mould of Marco Reus – as such, surely the German would find a place for him in the side that isn't at wing-back?
Now your turn
Who decides and who stays?
Quizzes, features and footballing fun
Get the best features, fun and footballing frolics straight to your inbox every week.
Thank you for signing up to Four Four Two. You will receive a verification email shortly.
There was a problem. Please refresh the page and try again.