Adam Johnson: Talentspotter
"I wanted to be a fireman but I probably wasn't clever enough. I just fancied sliding down those poles"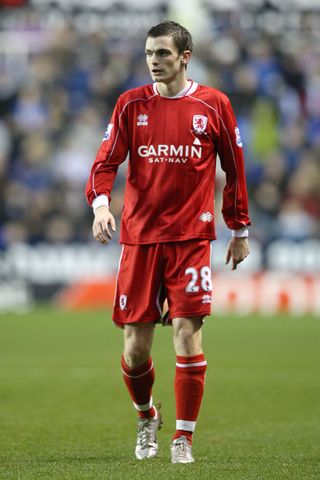 Born
Sunderland, 14/07/87
Position
Left-winger
Nickname
Just Johnno, I'm afraid.      
Club supported as a boy
I grew up supporting Manchester United, mainly because of Giggsy. I'm from Sunderland originally and until I joined Middlesbrough most of my family supported the red-and-white stripes. Now I'm here though, they all follow the Boro.
Strengths
I'm known for my creativity, so I'd say my dribbling and crossing are my strongest suits.
Weaknesses
My right foot's not the best, but I'm working on it. I don't score enough goals either, although I'm putting that right this season.  
I play a bit like...
Don't tell him, but I reckon I play in a similar way to Lionel Messi. I love watching him – he's different class.  
Highlights
Scoring for England under-21s was fantastic and making my Premier League debut for Middlesbrough against Arsenal was an incredible feeling too, particularly as we won 2-1 at the Riverside. Thierry Henry was injured but Bergkamp was playing for them, so just being on the same pitch as him was a dream come true.
Lowlights
I haven't had too many low points so let's hope that continues. Having a few injuries has been the worst thing that has happened so far so I can't grumble.
Toughest opponent
We played against Liverpool at the back end of last season and Steven Gerrard was just incredible. He carried their whole side and the drive and determination he showed was just frightening. Cristiano Ronaldo wasn't bad when we played United, too.
Best player played with
Mark Viduka, without a doubt. On his day he was just unplayable. He was great with all the young players at Boro – just a laidback Aussie.
Biggest influence
My family have been great. They're there every game, home or away.
Biggest joker at the club
Steve Harrison, our coach, is by far the biggest joker – he'll do anything for a laugh. He does impressions of us all and his Andrew Taylor is priceless. He talks and walks just like him – he's like his double.  
Latest car
I'm driving the new BMW M3 at the moment. It's one up on the Ford Focus I was driving when I first got here.
Flicks
Me and the missus watched Saw IV a couple of months back. I thought it was very good. We love our Saw movies.   
Chicks
The girlfriend obviously, but if I could chose another then Jessica Alba might get lucky.
TV programmes
I was a massive Lost fan when it was on but I think they've all finally escaped the island. I heard they were planning another one though – apparently they all want to go back. Not sure why, you'd think after spending so long there they'd be sick of it.
If I hadn't been a footballer...
I wanted to be a fireman but I probably wasn't clever enough. Not sure why it appealed... I just fancied sliding down those poles.  
Tell us something we don't know about you
I played at Wembley when I was 10 for Peterlee district in a seven-a-side Predator Cup. We came third and I scored a couple – I've got a video of it and used to watch it again and again.
If I could play alongside any player...
I'd love to play on the same side as Messi. I reckon we would wreak absolute havoc.  
Most embarrassing moment
There's been a few misses I'm not proud of. I hit the post against Reading earlier in the season when it would have been a lot easier to score, although I think I was more angry than embarrassed.   
In five years' time...
I would like to be playing regularly in the Premier League and challenging for a place in the England team. So far this season things have gone well so hopefully I won't be a million miles away by then.
Interview: Richard Edwards. From the March 2008 edition of FourFourTwo