Arsenal and Arsene Wenger are stuck with each other – for a year, anyway
For so long the Frenchman has bemoaned mega-rich clubs proving impossible to contend with, but with Leicester and Spurs gazumping them this time around, the excuse has evaporated. Gunnerblog's James McNicholas evaluates...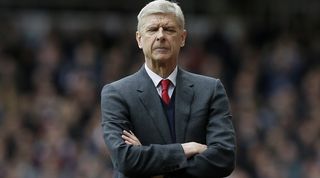 These days, it doesn't take much for the tension between Arsene Wenger and Arsenal supporters to bubble to the surface.
Over the past two decades, the patience of the fans has been worn perilously thin. It now takes just a handful of bad results for sticking plasters to fall from old wounds, and blasphemous banners to be hastily re-erected.
Unfortunately, 2016 has seen far more than a mere 'handful' of setbacks. Arsenal were top of the table back in January, and yet now find their top-four status under threat. A disastrous run has seen Gunners win just four of their last 13 Premier League games, and in the same period of time they have been eliminated from both European and domestic cup competitions.
Jam never
Relations between the manager and the fans are arguably at an all-time low. They've been in a steady decline since moving to the Emirates Stadium in 2006, when the club entered a period of enforced frugality. Wenger's vision of a new arena was an expensive one, and the club's cloth was cut accordingly.
At the time, Arsenal's spokespeople fed fans on a steady diet of 'jam tomorrow'. Well, we're a decade on – Arsenal's coffers are full again – and yet the supporters are still hungry.
Those pangs are made all the more painful by the fact that, while they wait for a first championship triumph of the Emirates era, one of Leicester or Tottenham seem set to claim this season's Premier League title.
Both eventualities would be particularly damning for Wenger. In recent years, he has frequently complained that his plans have been foiled by the petrodollar power of an elite set of super-clubs. For Leicester to leapfrog Arsenal and show what can be achieved on a relatively small budget would be nothing short of humiliating.
A Spurs success would be agonising in its own way. Wenger has yet to finish below Tottenham in the league table, but that period of dominance will be quickly forgotten if Arsenal's hapless campaign effectively hands the title to their local rivals. Arsenal's neighbours could be unbearably noisy come the end of May.
This time, unforgivable
The truth is that this ought to have been Arsenal's year. The stars aligned and presented the Gunners with a superb opportunity to seize the league for themselves, yet they squandered it.
However, the same could be said of 2007/08, or even 2013/14 – and on each occasion Arsenal found a way to let it slip through their fingers. That, increasingly, is what Wenger's teams do.
The tide of consensus is now turning against the manager. Wenger and Arsenal have run out of excuses.
At Leicester and Spurs, Claudio Ranieri and Mauricio Pochettino have constructed teams that are greater than the sum of their parts. Year on year, Arsenal seem to be less than theirs. Fingers are now understandably being appointed at the iconic figure hunched over in the dugout.
At one time, speaking out against Wenger prompted vicious in-fighting among the Arsenal fans. Arguments between supporters these days focus less on whether Wenger requires replacing, and more on the ethics of how to go about expressing that fact. The desire for change is almost universal; a passion for pointed placards is not.
Past expiry
There is a certain irony about the fact that Wenger, who has brought down the curtain on the careers of so many players with immaculate timing, may be about to outstay his welcome.
His reign at Arsenal has been characterised by stability, but also by a constant process of evolution. Stars were made and replaced in equal measure.
Wenger has been consistently ruthless when it comes to assessing the trajectory of a player's career. Ian Wright was dispensed with to make way for the emergence of Nicolas Anelka. Tony Adams was phased out after the arrival of Sol Campbell, and Patrick Vieira was sold off to allow Arsenal to build a team around Cesc Fabregas.
Yet Wenger has not applied the same stringent standards to himself. Had a player's performance dipped as his own has, he simply wouldn't stand for it. Wenger is obsessed with the idea that top-level sportsmen need to operate at their peak, so it seems a little curious that a manager famously reluctant to sign a player over 30 appears prepared to manage into his 67th year.
It might be a lot to ask to expect Wenger to turn his exacting eye on himself – but he should surely extend it to his staff.
Sir Alex Ferguson continually reinvented himself with the help of a host of outstanding young assistants. Wenger still largely relies on Boro Primorac, and even Steve Bould was only promoted after the enforced retirement of Pat Rice.
The recent decision to bring Liam Brady back to the academy less than 18 months after leaving was typical of a club where the coaching staff have become worryingly stale.
One more year?
That all adds to the purgatorial feel about Arsenal's current plight. Two consecutive cup wins papered over the cracks, but really they tell us as much about the weakness of Wenger's teams as their strengths.
For a Premier League team to lift the FA Cup, they only need to win six matches. Arsenal can do that without breaking a sweat, but they can't sustain the consistency required to emerge on top in a 38-game campaign.
And yet Wenger isn't going anywhere. His current contract runs until 2017, and there is no one on the board with either the fortitude or football knowledge to set about finding a successor.
Wenger was on the panel that interviewed chief executive Ivan Gazidis. When you hire your own boss, your security is all but guaranteed.
Typically in the cycle of Wenger's contracts, Arsenal begin to make noises around this time about their desire to secure an extension. Hopefully neither Wenger nor his supposed bosses are foolish enough to talk publicly about such a possibility this time around.
As bad as this year has been, the Gunners boss can console himself that he is sure to get another crack in 2016/17. However, on the current evidence, next year should surely be Wenger's last.
Quizzes, features and footballing fun
Get the best features, fun and footballing frolics straight to your inbox every week.
Thank you for signing up to Four Four Two. You will receive a verification email shortly.
There was a problem. Please refresh the page and try again.