Arsenal and Unai Emery: goodwill comes to those who wait
The Gunners may not win the league this season, writes Daniel Storey, but their new manager has already begun to reunite a divided club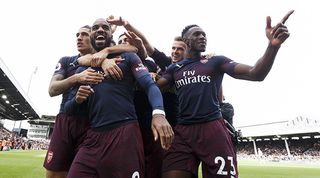 'Be careful what you wish for' is perhaps the least palatable thing to hear a pundit or journalist say. Even if it's not intended to be taken without condescension, it usually can't be avoided.
Telling any football supporter that their opinion is wrong is nonsense; we all experience the sport in different ways, but offering haughty advice to those who travel the length and breadth of the country to watch their team is foolish. We – journalists and writers – are paid to watch matches, fed and watered as we go, while fans spend an increasing percentage of their disposable income to do so. That financial and emotional investment earns them a right to an opinion that should avoid censure. Disagreement is fine, healthy even; dismissal is not.
Arsenal supporters were subjected to plenty of this last season. The fan base was at first divided and then increasingly united in wanting Arsene Wenger to leave. Protests did occasionally become personal and unpleasant, but their mutinous demands for change were well placed. No reasonable fan believed that Arsenal's problems ended with Wenger, but such was his omnipotence that every element of the club was watermarked by his decline. How could it not be, when this was the house that Arsene built?
Change in the mood
Taking over from a dynastical manager is usually difficult. Players, coaches and staff had all become ingrained in Wenger's Law. Changing that behaviour takes time, and the blend of bold new ideas and hardwired methods can result in a messy mush which causes further slump. There was as much chance of Arsenal dropping further down the league as rebounding. For Unai Emery, post-PSG sacking, a reputation was potentially on the line.
Those anticipating instant perfection, or even dramatic immediate improvement, were therefore guilty of harbouring unrealistic expectations. Emery was handed £70m for new players, but Manchester United parted with a similar amount, Chelsea and Liverpool doubled that figure and Manchester City spent almost as much. Arsenal finished 12 points behind fourth in 2017/18, and a whopping 37 points behind champions City. In terms of points, they were closer to the bottom than top.
Ask those Arsenal supporters who skipped out of Craven Cottage on Sunday if they regret demanding change. Ask ArsenalFanTV, recording their post-match messages in front of a now-meagre crowd of onlookers, if they have detected a change in the mood. Arsenal have won four straight away games for the first time in almost two years, but more instructive is that they have already reached 60% of their away league goals total from last season in four matches.
Emery may have had fewer than 150 days in charge of Arsenal – Wenger reached 7,985 – but he's already made significant changes. The most obvious tactical shift is the instruction to pass out from the back. Last season, Petr Cech's pass completion rate was 20% below Ederson's at Manchester City, and he mustered only 15.6 passes per match. In his six completed league games this season, Cech never completed fewer than 20 passes. Bernd Leno has continued in the same vein.
Up the effort
Arsenal are also pressing far more intently without the ball. Before the Chelsea defeat, Alex Iwobi spoke about the energy required to meet Emery's demands, saying: "He demands a lot. He's a lot more intense, a lot of high pressing and keeping the ball, so that it benefits us if we have the ball."
That increased output is only possible if players are correctly prepared for such a workload. Without the transfer budgets enjoyed by his peers, Emery must use the training ground to instigate improvements. The accusation against Wenger was that he had allowed training to become stagnant.
Arsenal's director of high performance, Darren Burgess, has revealed that Arsenal do far more work on defensive positioning than they did under Wenger – and it shows. Training drills are also more intricate, with the appointment of extra coaches to focus on particular skill sets, including fitness levels.
All of this is still a work in progress, and it will remain so for the entirety of this season and beyond. Arsenal's defending is still occasionally slapdash, and the team can still be too open in central midfield as Emery tries to balance an expansive attack with an unpredictable backline. But the overwhelming mood after nine straight victories is one of positivity. Arsenal have beaten teams worse than them and lost to those who are better, but that's still an improvement on last term.
Stasis over
Without underplaying Emery's role, Arsenal were crying out for change of any sort. The club had failed to move forward for so long – coaching, scouting, innovation – that it had become submerged in a comfort zone, and that had eventually led to suffocation. Stability had come full circle to make Arsenal unstable. Fear of the unknown is a lot easier to face when the alternative is continued stasis.
That's not to say that results don't matter, for they allow patience and goodwill to be accrued, but focusing solely on Arsenal's eventual league position this season misses the point. Supporters go to watch their clubs not just because they want them to win, but because they want to feel part of a positive shared experience.
Last season, Arsenal fans attended away games out of grim duty. This time around, they are enjoying a club moving in the right direction. Those supporters have always and will always love Arsenal; now they can even like them too.
Thank you for reading 5 articles this month* Join now for unlimited access
Enjoy your first month for just £1 / $1 / €1
*Read 5 free articles per month without a subscription
Join now for unlimited access
Try first month for just £1 / $1 / €1