The big interview: Edwin van der Sar - "After I'd pushed away Anelka's penalty, I felt like I was separated from the world for a couple of seconds"
Was Van Gaal always so bonkers? Why did Ariel Ortega headbutt him? Does he still laugh about JT's slip? Your questions answered in November 2017...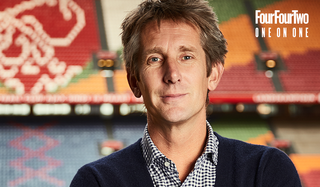 Photography:Pim Hendriksen
It's not often a club CEO is the subject of a FourFourTwo One-on-One – but it's not often that a CEO also happens to have won eight league titles and two European Cups. "The way I try to make the club more successful, in terms of raising revenue and winning trophies, is similar to how I captained teams as a keeper," Ajax's Edwin van der Sar says, before outlining the similarities between dominating an 18-yard box and a boardroom.
Van der Sar believes that, although he may not have a strong academic background or years and years of business experience on his CV, his two decades in the game give him invaluable insight into how to run a club. Particularly this club, where he played with distinction from 1990-99, lifting four Eredivisie titles, three Dutch Cups, the UEFA Cup and the Champions League, beating Milan in 1995.
All of that should stand Edwin in good stead when it comes to answering your questions about his glittering career, too...
Had you always dreamt of becoming a goalkeeper? Do you remember the first time that you ever went in goal?
Chris Ambler, Portsmouth
For the first one-and-a-half years I was an outfield player. But then one day our keeper didn't show up for a game and the coach said to me: "Edwin, you're the tallest, so you go in goal." That went so well that I just ended up staying there. For many years I'd played for a small amateur side called VV Noordwijk, and I didn't expect my dream of becoming a professional to ever come true. When I was around 19, I was approached by Sparta Rotterdam to be the third-choice goalkeeper. However, they only offered to cover my travel expenses, so I chose to stay where I was at Noordwijk. Then a few days later Ajax phoned and asked me to go and sign for them, which I did.
CLUBS
1990-99 Ajax
1999-2001 Juventus
2001-05 Fulham
2005-11 Manchester United
2016 VV Noordwijk
What are your thoughts on the rise of the sweeper-keeper? You were always good with your feet: did you inspire it?
Nav Singh, via Facebook
During the 1990s we deployed a system at Ajax where I was indeed involved in the build-up play, and it can be an asset if you want to use a certain style of play. Sometimes I believe that people attach too much importance to it. A goalkeeper is there mainly to stop the ball going in.

Louis van Gaal occasionally appeared a bit eccentric when he was managing in England. Was he like that at Ajax?
Laura Matthews, via Facebook
He hasn't really changed very much, in terms of how he deals with the press or how he is with people in private – like at a dinner party, for example. I visited one of his training sessions when he was at Manchester United and I still saw a very driven man who is continuously focused on improving his players. The way that he dealt with players, the key elements of his training sessions and his general rules – it was all still very recognisable to me, even after so many years away.
Do you think another Dutch team will lift the Champions League trophy? It's not very likely now, unfortunately.
Andy Green, Merseyside
That will be very, very difficult. Even in my time, like 20 years ago, it was still a massive achievement, but back in those days you had only one club per country and perhaps 16 teams overall in the final stages of the competition. With the new model the romance has somewhat gone, I believe. Even if they implement some new rules, I think the bigger teams will always dominate the tournament as they will overtake all of the other clubs with their huge budgets.
That Ajax squad was full of players every club in Europe wanted to sign. Who did Juventus have to compete with to finally land your signature?
Paul Kelly, via Facebook
When I left Ajax in 1999, I travelled to Liverpool and spoke to Gerard Houllier. I was shown around Anfield and also met with the chairman and a couple of the players. I thought about it properly, but when Juventus came to the table I came to the conclusion that it would be a bigger challenge to go and play in Italy. But just as I was about to sign for them, Manchester United approached me as well! At that time I talked to the brother of Alex Ferguson, though I was already at an advanced stage with Juve. I liked the thought of going somewhere that had a completely different culture and playing style, but it was a leap into the unknown to move to a Serie A club.
Later, I found out that Ferguson had always been really keen on signing me, but the chairman of United had a deal to sign Mark Bosnich on a free instead. So the idea had always been for me to succeed Peter Schmeichel, but it ended up taking six years longer than planned and they tried out some other keepers in that period. While I was with Fulham I also heard about vague interest from Arsenal but that never materialised into anything concrete, which was a pity at the time. That made it pretty nice when I won a few times against Arsenal with United later on in my career...
What is the most amazing thing you ever saw Zinedine Zidane do during your time together at Juve? And what was the Frenchman like as a person?
Will Clay, Yorkshire
He was a really normal guy. In Italy you also have those flashy boys, with nice cars and expensive clothes, but Zidane was always very casual. You would just see him in jeans and a white t-shirt. He was down to earth but he had incredible quality. If you ever passed or threw the ball out to him and the ball was slightly inaccurate, he would control it in such a way that it was instantly playable. He knew exactly what was going on around him and could pass the ball everywhere. Sometimes it seemed as if he was even quicker with a football than without it.
What did you say to Ariel Ortega just before the Argentine headbutted you and saw red at the 1998 World Cup?
Darren Walsh, via Facebook
Ortega had attempted to win a penalty by throwing himself over Jaap Stam's leg. As he was getting up, I leant over him and 'questioned his parentage'. He got irritated and stood up a bit too fast!
Do you get nightmares thinking about Francesco Totti's chipped penalty at Euro 2000? Do you think you could've saved it? And how heartbreaking was it to lose in the semi-finals like that?
Gustaaf Henriksen, Maastricht
The chipped penalty wasn't the hardest part to handle – a goal is a goal, whether it's done with a chip or not. No, if I had any nightmares about that one game, they would've more likely been about all of those penalties we missed. We missed two spot-kicks during normal time, then another three in the penalty shootout. Francesco Toldo saved three – two of them from Frank de Boer – and Patrick Kluivert hit a post with one. The other one from Jaap Stam is probably still somewhere in that top tier behind the goal! We managed to miss five out of six penalties, which is probably a few too many if you want to reach a final...
How did you feel to be ousted by Gigi Buffon at Juve? Looking back, did they make the right choice or do you think they should have just stuck with you?
Jimmy Wainwright, Cardiff
It didn't happen in particularly pleasant circumstances, although I must admit I didn't reach the level at Juventus that I had reached before in Holland. In that summer [2001] I had actually requested a meeting to hear about their ideas for the forthcoming season. They said they were looking to bring in one or two new players, but assured me I didn't have to worry. Then, probably a week later, they brought in Buffon for about £30 million. Obviously that deal must have been in the pipeline for some time, though they decided not to tell me anything about it when I went for that meeting. So, yeah, it took me by surprise and I had to start looking at my options to find a new club.
NEXT: Why did he decide to join Fulham from Juve?
Why did you decide to sign for Fulham from Juventus? We weren't exactly the biggest club around at the time!
'Raf M', via Twitter
Around that time, there was quite a lot of movement among keepers in Italy, with Buffon signing for Juve, Francesco Toldo going to Inter Milan and Sebastien Frey moving to Parma. It was a kind of jostle between goalies at the top clubs, but I was left out. I then spoke to Ajax, to Liverpool and to Dortmund. The latter two wanted to wait until the end of the summer transfer window. I didn't want to be hanging on for that long. Fulham had some big ambitions – they had just won the First Division title to go into the Premier League and were signing a lot of new players. I just wanted to play some football. I consulted Louis van Gaal, who was the Netherlands' national coach at the time, and he was really positive about the move. I saw it as maybe taking one small step back in order to then try to make several steps forward further down the line.
What was Mohamed Al-Fayed like as a person during your time at Fulham? Did he do anything particularly odd?
Matt Bagnall, via Twitter
He was an eccentric man – he definitely did a few unusual things. Before games, he would turn up pitchside and walk on the pitch waving a scarf. Usually he'd make sure he came round to say hello to me while I was doing my warm-up. He would often talk to players – on matchdays he would come inside the dressing room to see us, and sometimes he even turned up at training in his helicopter. On more than one occasion, after a good run of results, he would treat all of the players to a big hamper from his Harrods store.
Were you surprised that Jean Tigana got sacked as Fulham boss in 2003? It seemed a little harsh given he'd got them up to the Premier League in '01 and kept them up the following year.
Trevor Bailey, via Facebook
It was a pity, particularly for me, as he was the manager who had brought me to the club. Jean had a good knowledge of football and you could tell he played at a high level. Sometimes he'd join in training and you could see his quality.
Did you ever wish you'd gone straight from Juventus to Manchester United in 2001, rather than having to spend four seasons at Fulham in between?
Darren Chin, Brunei
I really enjoyed my time in London, but I hadn't anticipated that I'd be playing for Fulham for four years. I was thinking it would probably be about one or two years, then I would take the next step. Towards the end of my Fulham career, I even signed a little contract extension so the club could get a transfer fee for me. I was told I wouldn't be playing if I didn't agree to extend my contract! I found out that United were going to sign me when I discovered a voicemail from Alex Ferguson. That was a special day. That was the moment I thought: 'This is why I came over to London – to eventually make this next step forward.' Ferguson told me he needed someone who could lead and give guidance to the defence. He said he knew I wouldn't get flustered if the side was under pressure.
What would you look for when doing your homework on the opposition's penalty-takers? And what was going through your mind as Nicolas Anelka stepped up to take his in the 2008 Champions League Final shootout?
'PenaltyKickStat', via Twitter
I remember studying a lot of Chelsea's penalties on DVD before the match. So, for example, I think I probably analysed about 40 that Frank Lampard had taken in the past. I had made plenty of notes and noticed that Nicolas Anelka would almost always take his penalties to the goalkeeper's right. Later on, I heard that Chelsea had also done their homework on me and learned that I usually dived to my right. So I think their players were told to shoot to my left, which most of them did. I'd anticipated Anelka would choose to shoot the other side, though, and thankfully that is what happened. After I'd pushed away his penalty, I felt like I was separated from the world for a couple of seconds. I don't think I'll ever experience a more ecstatic moment than when I realised we'd just won the Champions League final and noticed all of my team-mates running towards me. It was the highlight of my whole career.
How often do you think back to John Terry's slip and have a little laugh?
Peter Johnston, via Facebook
No, I don't laugh about it, as I realise it was a narrow escape. We were lucky in that moment. I have to admit that the pitch was bad – I slipped a few times.
You've been credited with ending the long-running feud between Ruud van Nistelrooy and Marco van Basten, so that Van Nistelrooy could a be part of the Euro 2008 squad. What was it you said to them to smooth things over?
Thijs van Damme, via Facebook
I wouldn't say that I was the one who managed to bring them together again. I just expressed my own opinion, as the captain of the team, about what I felt would be good for the squad. I pointed to the value of Van Nistelrooy – that he could be important to the team during the tournament. I think they are quite stubborn characters, really. I generally empathise quite well between different people and groups, so I expressed my thoughts. But it wasn't like I organised a meeting or anything and demanded they put their differences behind them.
Did you ever get bored during the run of 14 straight clean sheets in 2008/09, with Gary Neville, Nemanja Vidic, Rio Ferdinand and Patrice Evra proving an impregnable barrier in front of you?
Griffin Pyle, via Twitter
No, absolutely not! But at the time, I said that the run wouldn't count for anything if we weren't champions come the end of the season. Everything was geared towards that goal. Perhaps the media and people around me were getting a bit more concerned about the run of clean sheets than I was myself.
How annoyed were you when the long run without conceding was ended by an error at Newcastle, allowing Peter Lovenkrands to score on the rebound? I bet you wish it had been a screamer.
Lewis Meagor, via Facebook
Yeah, I would rather the sequence had been broken by a rocket, right in the top corner. Sure, I could have set the record a little bit higher. But on the other hand, I can also remember the moment when a West Brom player hit the post just 10 minutes before I was about to break the record, so they evened themselves out.
NEXT: Why Ronny overtook RooneyIt's often said that Wayne Rooney and Cristiano Ronaldo were at very similar level as youngsters, but went on to hit different heights because Ronaldo was more dedicated to improving himself as a player. Would you say that's fair?
Sam Hirst, Leicester
SEE ALSO
Greatest individual seasons: Cristiano fires Manchester United to glory at home and abroad (2007/08)
They both worked incredibly hard on the pitch, but Cristiano took it up a level. Off the field, he was also focusing on everything extensively, such as resting up properly and strengthening his body. After training sessions he would often work on his free-kicks and then come to me and say: "Edwin, can you go in goal?" I'd say I was old so he would be better off using one of the youth-team keepers, but he would insist I went in goal as he wanted to score past me. I would tease him a lot and say things like: "You won't score against me, Ronnie, you know it. Ask the reserve goalie, that's better for your confidence." He'd get agitated and reply: "No, no. You've got to go in goal!" Cristiano is a really good guy, however, and the common perception of him is not a true reflection of his personality.
Is the United team you played in that lifted three successive Premier League titles and also got to three Champions League finals in four years underrated? They don't get talked about as one of the best but few have won as much...
Brian Woodford, via Facebook
Well, if we wanted to be a really great team, then we should have won two of those three Champions League finals we played in that period. For example, if we had won in 2009, we would have been Europe's best for two seasons and also the first team ever to win consecutive Champions League titles. So if we'd won the final against Barcelona in Rome, we would have been a great team. But of course, if you look at the players we had back then, we were certainly very good.
What did you make of all the pressure David de Gea was under when he first arrived at United? Is the English media a little harsh on foreign goalkeepers?
Aaron Cassidy, Coventry
No, I didn't find the criticism too harsh at the time. He didn't play very well and made some errors, which is maybe to be expected if you go to such a huge club like United at such a young age. It's a new country where the people speak a different language and the style of football is very different. But since then he has worked very hard and been able to turn things around. He has developed into a really good goalkeeper now.
What's happened to the Dutch side, Edwin? The Euros last year weren't the same without the Oranje fans...
Ryan Byrne, Liverpool
I think every now and then you face a setback in your qualifying record, like in 2002 when we missed out on the World Cup. At the moment I feel we are lacking top players at a peak age – those 25, 26 and 27-year-olds who can carry the team. When you lose twice to Iceland, you don't deserve to be a part of a European Championship.
COUNTRY
1995-2008 Netherlands (130 caps)
Twice during your time at United, you had to depart the field and we ended up with an outfield player in goal. Rio Ferdinand went in goal vs Portsmouth and John O'Shea against Tottenham. What advice did you give them both?
Hannah Stewart, via Twitter
In those situations I didn't really have time to pass on much advice! Against Portsmouth, I sustained a groin injury and my replacement Tomasz Kuszczak got a red card later on in the match, so by the time Ferdinand was going in goal I was already sat high up in the stands. In the match against Spurs I broke my nose after a collision with Robbie Keane and went down the tunnel to get some treatment. A few minutes later I heard a massive roar, and it turned out O'Shea had actually made a pretty good save!
How much can you actually hear from the supporters behind the goal during a match? What's the weirdest heckle that you've ever received from a fan?
Michael Baker, London
The West Ham fans weren't that nice. Let's just say they all seemed to have quite a, er, limited vocabulary... but the kind of abuse you would receive at an away ground usually depended on whether your side were winning or losing the game. When you were in front, you didn't need to rush the goal-kicks and the fans would all get angry. When you were behind, and you had to rush to collect a ball from behind the goal, then everybody would be jeering in the stands. But on the whole, the atmosphere with English fans was great and I felt at home when I was living in England.
I heard that you did the New York Marathon in 2012 – why did you do it and how long did it take to run?
Nathaniel Bullock, Leeds
A few years before, a friend of mine had told me he was going to be running that marathon. The idea really appealed to me so I said to him: "Why don't you just wait for a little while and I will join you when I retire from football." But it then took a few more years as I extended my United deal a couple of times. In the end, I had about two-and-a-half months to prepare for it. It was a huge burden on my body and it needed quite some time to recover, but eventually my time was four hours and 19 minutes.
This feature originally appeared in the November 2017 issue of FourFourTwo. Subscribe!
Thank you for reading 5 articles this month* Join now for unlimited access
Enjoy your first month for just £1 / $1 / €1
*Read 5 free articles per month without a subscription
Join now for unlimited access
Try first month for just £1 / $1 / €1
Get FourFourTwo Newsletter
The best features, fun and footballing quizzes, straight to your inbox every week.
Arthur Renard has been writing for FourFourTwo since 2013, when Ronald Koeman hosted him for a Readers interview in a small room in stadium De Kuip. Two years later Arthur moved to London, where he still lives and from where he covers English football, while he has also been travelling the world to cover events like the World Cup and Copa America.