Bin the long balls, Busquets the linchpin: Luis Enrique's big changes at Barcelona
The new boss at Camp Nou has a few tricks up his sleeve to wrench back the La Liga crown, says Spanish-based journalist Lee Roden...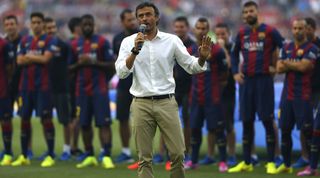 In one of his first press conferences as Barcelona manager, Luis Enrique laid down a clear outline of what he hopes to achieve in the coming months. The Asturian drilled home the need for Barça to become unpredictable once more, for the team to be versatile, and explicitly stated that minor changes in an effort to surprise opponents will be habitual.
It was music to the ears of the supporters, who had noticed Barcelona's increasing rigidity under Tito Vilanova and Tata Martino in comparison to the days when Pep Guardiola made a weekly habit of springing traps on rivals with an adjustment to his side.
The Catalan press, who never turn down an opportunity to speculate when Barça are involved, proceeded to run their hypotheses on how the Blaugrana could change over the coming months. Enrique would use a double pivot with Busquets and Mascherano together, some writers insisted. No, he'll play five at the back, cried others. Lionel Messi was set to be a No.10, right winger, or something else entirely depending on who you read. 
With Barcelona's pre-season over, we now have a fairly accurate image of the initial changes Luis Enrique has made to the structure of his team. While most of those alterations are subtle, they are likely to be a talking point in the coming months as rivals attempt to adapt. 
1) No more long balls from the back
Gerardo Martino's brief stint at Camp Nou was marked by a change in how the Catalans initiated play, or rather, how they struggled to initiate play. More than any other season in recent memory, Victor Valdes was asked to kick the ball long from his goal, and the strategy was largely ineffective as may be expected considering the modest stature of his targets. Leaks in the local press suggested the mechanisms of building from the back were no longer being worked on in training, and come matchday it showed.
Under Enrique that has changed. From the manager's first game in charge against Recreativo it was already evident that Barcelona's goalkeeper of choice will be asked to pass the ball on the ground. The two centre-backs split wide to receive possession once again, while the full-backs make sure to create a solid passing angle for them in turn. Whether it's Marc-Andre ter Stegen, Claudio Bravo or Jordi Masip between the sticks, the team's last line of defence will also be its first line of attack, and that only works when the hard graft is put in on the training pitch each week.
2) Variety from the full-backs
At times over the last two seasons it seemed like Barcelona were playing a back two, with Jordi Alba and Dani Alves so far up the pitch that Gerard Pique, Marc Bartra and Javier Mascherano were expected to defend the entirety of their own half. A prime example was Gareth Bale's dramatic winner in the Copa del Rey final, when Bartra was forced to step in to what is essentially the right full-back's position, with Alves nowhere in sight.
Enrique has already shown that he will be far more savvy in his use of the two full-backs. Over the course of Barcelona's five pre-season fixtures, the positioning of both wide defenders varied depending on the quality of opponents. Against Napoli, a strong counter-attacking side, both Martin Montoya and Jordi Alba were asked to play more withdrawn roles, while against Leon, Alba and Alves were both regularly involved in the attack, with one tending to push on while the other maintained a more restrained position.
3) Narrow forwards and a tight block
When it comes to his forward line, Enrique has shown that he doesn't expect too much width – that will come from the full-backs – with the strikers kept relatively tight in an effort to encourage association and passing between them. The fruits of that tight line were on show in Barcelona's 6-0 win over Leon, when Lionel Messi and Neymar linked up on several occasions in the build-up to goals, and youngsters Sandro and Munir combined similarly for further strikes in the second half.
The forwards aren't the only ones playing close together on the pitch. At times in pre-season, Barcelona's entire team minus the goalkeeper was in the opposition half, yet despite that they rarely looked vulnerable to counter-attacks.
That was all made possible by the solid structure from defence through to attack. When the ball was lost, midfielders were in a good position to win it back as quickly as possible – Sergio Busquets and Ivan Rakitic excelled in that regard – while the centre-backs were never scared to step up and win the ball back in midfield themselves.
The lack of structure last year meant playing 10 men in the opposition half would have been suicidal, but Enrique has clearly put a lot of work in to make sure all of his players are in the right place at the right time going forward. An injection of pace and physical presence from the likes of Jeremy Mathieu and Ivan Rakitic hasn't hurt either.
4) If in doubt, shoot
Barcelona have many strengths, but shooting from distance has never really been one of them. In Rakitic they have the answer, and the Croatian's love of a shot from medium range has been on show throughout pre-season. With knowledge of the midfielder's ability in this capacity, Enrique has clearly instructed him to shoot from the edge of the area if he sees an appropriate opening. This should prove to be a useful resource against the countless number of opponents that will look to sit deep and stifle Barcelona's passing in the final third.
5) Sergio Busquets will be key
More than any other detail, the most notable change of Enrique's is the varied role of the deepest midfielder. The entire structure of the new man's Blaugrana side tended to hinge on this player's position. In five friendly encounters, the midfield pivot has adopted a number of different base positions, with changes even coming in the middle of a game.
In Barcelona's first match against Recreativo, the deepest midfielder was very much fixed at the base of the midfield triangle, rarely looking to initiate play from deep with the centre-backs. In the second game, the exact opposite occurred, with Busquets dropping back until he was parallel with the two central defenders, forming an auxiliary back three and allowing Barcelona's two full-backs to push on without the fear of conceding too much space behind them. It wasn't the 'five at the back' some Catalan journalists had speculated about – the starting shape was still 4-3-3 – but there was some resemblance.
Something entirely different happened in the latter games of the summer, however. Against Leon and HJK Helsinki in particular, Busquets would often push far further up the pitch than is habitual for him, looking to win the ball back near the final third as well as spread passes out to the wings. The Catalan was free to do this because Rakitic would drop back slightly to cover the space behind him. It's surely no coincidence that the more adventurous version of Barcelona's No.5 was on show against weaker opponents.
It's already clear that Busquets will be at the heart of Barcelona's tailored approach to each game this season. With stubborn, smaller opponents he may be asked to get closer to the opposition area and use his passing to help overload them from the flanks. Against quick counter-attacking sides, he may effectively become a third central defender. His more traditional role certainly won't be abandoned, meanwhile, and it's likely that Enrique will ask him to change things in the middle of a game should Barcelona struggle to find their rhythm. With the midfielder inheriting the No.5 from Carles Puyol this summer, it's fitting that he will be asked to lead the team in some capacity. 
... and the rest
The alterations mentioned above are by no means an exhaustive list of the changes Luis Enrique wants to implement at Camp Nou. Most notably, the huge question of how Luis Suarez, Messi and Neymar will line up together is still two months away from being answered. Mascherano's role when playing as a midfielder has yet to be specified, while Rafinha Alcantara's own qualities can be used in a number of different positions.
What is clear from the summer is that Barcelona's traditional 4-3-3 structure and their love of the ball won't change. What Enrique wants is for his side to have a number of different tricks at its disposal, ready to pull them out in an effort to confuse opponents when necessary. Elche are the first side tasked with tackling this unpredictable Barcelona side in La Liga. Wish them luck.
Quizzes, features and footballing fun
Get the best features, fun and footballing frolics straight to your inbox every week.
Thank you for signing up to Four Four Two. You will receive a verification email shortly.
There was a problem. Please refresh the page and try again.