Ex-Argentina goalkeeper Carlos Roa: "I decided to devote myself to religion…"
By Dan Brennan
Roa helped knock England out of the 1998 World Cup on penalties – then joined a religious retreat, saying the end of the world was nigh. We caught up with him in April 2005 to find out more...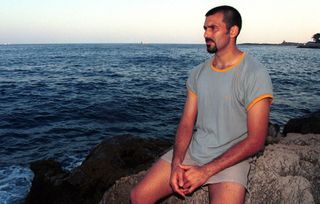 "I know it will come as a bit of a shock to people that the man who knocked England out of the 1998 World Cup is now the goalkeeping coach for Constancio del Inca, a small team in the Balearic Islands. I'm only 35, which many people think is the peak for a keeper, perhaps the perfect age in terms of maturity. But then football, like life, is impossible to predict.
In 1999, I decided to devote myself to religion. The reaction I met everywhere was one of incomprehension. As a follower of the Seventh-day Adventist Church, I'd always taken my responsibilities as a Christian very seriously. For example I never ate meat – which is how I got the nickname Lechuga. My wife and I had always been heavily into meditation, and we both understood that it was time to embrace a deeper level of devotion.
I spent a year in a countryside retreat, in Santa Fe, New Mexico, doing a lot of reading and learning how to live a better, more meaningful life. Because it's such a personal thing, only those very close to you can fully understand the meaning behind the decision.
It was based on that same kind of reflection and meditation that I decided to return to play for Mallorca a year later… with just one condition; that I wouldn't have to play on Saturdays, instead observing the day of rest, as taught by my church.
Getting back into shape was tough. The hardest thing for a keeper to get back is his timing. And trying to return to the same level I had reached in 1998, when I was at my peak, seemed impossible. But I battled very hard and I was lucky enough to be playing well for Mallorca, a team on the rise. There were reports at one point that I was about to join Man United. I don't pay much attention to the newspapers, but this was impossible to avoid. They said they'd offered $10 million, but there was never an official approach. It would have been a huge pleasure to play for them, especially as they'd just won the Treble.
I also spent five days on trial with Arsenal in 2002. Arsene Wenger wanted to sign me but I didn't have a European passport and I was no longer playing regularly for the Argentina, which would have opened the door.
Strangely, my old Albacete understudy Manuel Almunia is now Arsenal's keeper, enjoying a privilege that I almost had. It's a shame it came to nothing because I'd love to have played in the Premiership, but I have no regrets.
Anyway, my comeback at Mallorca was really tough, because the Spanish league is very competitive and nobody was going to gift me a place in the team. So when the chance to sign for Albacete came up I didn't hesitate, even though it meant dropping down a division.
Everything was going really well, but then God threw another crucial test in my path: testicular cancer. I had faced a similar test at my first club Racing, when during a tour of Congo, I contracted malaria.
Being a Christian helped me, the strength of my faith enabling me to put up a tremendous fight against cancer. It's not something I can describe in detail, because you have to live with it to really understand what it's like. It was by far the worst experience of my life, but God sent me a sign telling me I was meant to carry on living. I felt as if I'd been born again.
Now, my priority is to ensure that my career has a good swansong. The Balearic Third Division might not be the ideal place to be, but I'm still very excited. I train like a kid who is trying to earn his first professional contract. As time goes by, my chances of signing for a bigger club are slipping away, but you never know.
If I can't find another [bigger] club for next season, I'd seriously consider quitting. But after the illness, I now enjoy life day by day, and don't make too many long-term plans. After so many years of praying, the first lesson you are certain about is that, no matter how good or how bad things are, you must face them with your head up.
Interview: Dan Brennan/Andres Garavaglia. From the April 2005 issue of FourFourTwo. 
Quizzes, features and footballing fun
Get the best features, fun and footballing frolics straight to your inbox every week.
Thank you for signing up to Four Four Two. You will receive a verification email shortly.
There was a problem. Please refresh the page and try again.