Confessions of Carlos Kaiser: football's biggest conman
He lived the dream as a globetrotting pro for two decades, yet could barely kick a ball. FFT meets the maverick Brazilian who used every trick going to dupe his clubs' coaches, team-mates and fans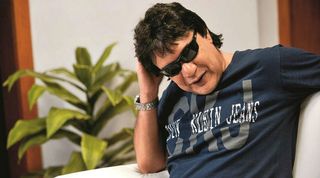 Pictures: Luciana Whitaker
It's an incredible story – the stuff of Hollywood movies. Much of it is even true, although exactly how much only one man knows. That man is Carlos Henrique: 'The Kaiser'. For 24 years he was a professional footballer at Brazilian teams such as Botafogo and Fluminense, in Mexico, the USA and France. He was friends with some of the biggest players of his day. And he spent his entire career avoiding the ball.
"He wanted the cake," says former frontman Mauricio de Oliveira Anastacio, who was with the Kaiser at Rio team America. "He wanted to be in the middle of the footballers, he wanted to be considered a footballer, but he didn't want the responsibilities of a footballer." And through a combination of guile, charm and sheer front, the Kaiser succeeded.
In the Rio gym where today he works as a trainer, Carlos Henrique smiles from behind his wraparound sunglasses and tells his story. "I didn't play. Literally, I didn't play," he says. "Because I didn't want to play."
"I wanted to have fun... I had no notion of professionalism"
Carlos Henrique was born in Porto Alegre on July 2, 1963. Or so he says – and with everything he says, caution has to be exercised (for example, with the idea that his nickname came from comparisons to Franz Beckenbauer). Marcio Meira, who trained the Kaiser at Fluminense, calls him the '171' of Brazilian football: 171 is the penal number given to conmen in jail. "That's the number he responds to!" says Meira, laughing. "He knew how to convince people. In conversation, he robs you."
Today, The Kaiser trains female body-builders. He has a rugged, easy charm and a conspiratorial grin. As customers and trainers wander in and out of the gym, everybody greets him. The Kaiser nods and grins. Everybody likes him.
Carlos was an adopted child, raised in Rio by his mother, a cook, and his father, who worked for an elevator company. Like a lot of kids, he would play barefoot in the street. "I had no notion of professionalism," says the Kaiser, who, like his dad, was a Botafogo fan. "I wanted to have fun. I liked to study; to read."
At 10, he was spotted by a Botafogo talent scout. His parents signed him to an agent, and he went to live in the Botafogo youth camp. "My family began to oblige me to play. This caused problems. The truth was that my mother saw salvation in me."
His parents died when he was 13, and at 16, he signed for Mexican team Puebla as 
a centre-forward. "The guys saw qualities in me," he says. "I shot well. I was strong."
But he didn't like Mexico, telling FFT: "As soon as I arrived there, I wanted to go home." He hated the food. And he hated playing football. "I didn't want to play," he says. He featured in a couple of friendlies and thinks he even scored from a free-kick. But the would-be Kaiser had already found a way out. He would call for the ball in training, prime a shot – then collapse in pain, clutching his thigh. "They did everything to make me play," he says. "I would say, 'I have muscle pain.' How were they going to prove it?"
Injury prone
The same muscle 'injury' pursued him for the rest of his career. Having signed him, coaches would convince themselves that the Kaiser would recover from this persistent injury; that he would deliver. Nobody wanted to admit they had signed 
a dud. "It was that expectation – 'he's going to play'," he says. "But on the day of the game, I had already injured myself warming up."
In the days before magnetic imaging, he could spin this out endlessly. Only once did the ploy fail. The Kaiser was on the bench for his team, Rio's Bangu, who were 2-0 down with eight minutes to go. The trainer had promised him at 4am the previous night in a disco that he wouldn't actually have to go on. But the walkie-talkie began to crackle: Castor de Andrade, the owner of Bangu, wanted the Kaiser on the pitch. The reluctant sub had to think of a plan – and quick.
"I started to warm up and the supporters behind the fence began to shout at me. 
I jumped over the fence to fight with the supporters, so I could get sent off and not play." It worked. The Kaiser was sent off.
Afterwards in the dressing room, De Andrade was furious. Using the formal term of respect for an older man, the Kaiser told the president that he had replaced the father he had lost at 13, that the fans had been calling De Andrade "a thief", and that he had vaulted the fence to defend the honour of his boss. De Andrade's rage disappeared. "He grabbed me and gave me a kiss, then organised a new contract for me," grins the Kaiser. "One more year."
Castor de Andrade has been dead for nearly 15 years, but the Kaiser's reputation still lingers at Bangu. "We know the stories. He was contracted by the club; at one point he did a whole season," says Bangu's director of marketing, Pedro Nardelli. "Castor liked someone who was an artist in the art of tricking." The club even tried to renew the Kaiser's contract – but he declined. "He got worried. He didn't want to stay another season," continues Nardelli. "He wanted to go somewhere else and trick someone else, as the lie didn't last for very long."
Next: "He didn't leave a trace... his story isn't credible"
"I wanted everyone to be annoyed with me and send me away, but they didn't"
The Kaiser went on to sign for Brazilian clubs Botafogo, Fluminense and Vasco da Gama – though again, he never played. Neither Botafogo or Vasco confirm, nor deny, he was there, while both Bangu and America confirm he was on their books. Former players put him at all five. And they would know, as the Kaiser was friends with many of them, like defender Ricardo Rocha – who was in Brazil's 1994 World Cup-winning squad and 'played' with him at Vasco. "We thought he was funny," says Rocha. "He managed to never play. He liked the football world; he liked to be with us."
Another was Fabio Barros, who says he helped the Kaiser achieve the dream of so many young Brazilian players: a place in Europe, even if it was at the second division French team Gazelec, from Ajaccio on the island of Corsica. "I helped him to come 
to Corsica. I liked him. I thought he deserved an opportunity," says Barros.
The Kaiser arrived in a blaze of glory – "like a star," says Barros. But at his official presentation to fans, he was already up to his old tricks. "I shot all the balls into the fans, and the fans loved it," says the Kaiser. It also meant there were no balls left for him to have to kick. Instead, he presented the club president's wife with a bunch of flowers. And stayed eight years.
At least, that's what he says. Michel Mancini was sporting director of Gazelec from 1976 to 1993, and while he remembers Barros, he has no recollection of the Kaiser. Baptiste Gentili was in charge of Gazelec when the Kaiser was on the playing staff, but the veteran coach doesn't remember the Brazilian. "I am a child of Ajaccio," says Gentili. "Not a lot of Brazilians came here and played. We know them. I can assure you that if he passed by the club, he didn't stay for eight years. 
His name is not part of the history 
of the club; he didn't leave any trace. 
His story is not credible."
However, both Mancini and Gentili remember two Brazilians passing through for a couple of months in the '80s – it seems more likely that he was one of these. The Kaiser also claims to have spent three months at a club in El Paso, Texas. The Brazilian left, he says, because it was too hot.
A footballer's lifestyle
Back in his homeland, the public believed every word. In this pre-internet age, his story was impossible to check. "In our era, football was on television but we didn't know much of what was going on in other countries," says Alexandre Torres, who was at both Vasco and Fluminense with the Kaiser. "He said he came from a team in France in the second division. You had no idea whether that was true or not – you just had his word, and a photo from a newspaper. I know he never played. It's an incredible story, what happened, because football is always very competitive. Everyone always wants to play."
One of the Kaiser's best friends was Renato Gaucho, who later became a celebrated coach. The Kaiser bore a certain resemblance to the Brazil international, and sometimes impersonated him in clubs and bars. One night, Gaucho arrived at a nightspot and gave his name at the door – only to be told that he was, in fact, already inside. Gaucho already knew who it was: the Kaiser. But the players didn't mind. They thought his scam was funny. "He is a friend. He is very dear to all of us," 
says former America squad-mate Mauricio. "He never did anyone any harm; he just wanted to be happy. And he had big hair!"
In the early-'90s, at Botafogo, the Kaiser even employed a prop in his subterfuge: 
a clunky, brick-shaped mobile phone he talked on huddled in a corner of the dressing room. Overheard snippets of conversation, sometimes in English, suggested other clubs were trying to lure him away. Until one day Ronaldo Torres, a trainer, hid behind him and discovered the mobile was a toy. "I pretended to be talking to other bosses," laughs the Kaiser. "I wanted everyone to be annoyed with me, and send me away. But it didn't work out."
There is a tradition in Rio of the malandro – a street-wise hustler who plays the angles and gets the girls; a ruffian with charm, celebrated in the lyrics of a thousand sambas. "He was very malandro," says Mauricio. "From Rio, smart, and a beach kid." The two men hung out. "Parties, women. We went out a lot. We were single. It all happened." Carlos had the patter. "Women liked him because he had the language of a goalscorer and hung out with footballers, but he wasn't a footballer."
Next: "Everyone realised he wasn't a player"
"They would call him Maradona as he looked like him... the fat Maradona"
The Kaiser's ineptitude on the pitch became increasingly obvious to his team-mates. 
"I had to train him like all the other players," says Marcos Meira, who met the Kaiser 
in 1989 as a fitness coach at Fluminense. "The way he looked – fat, with those dark glasses – and his manner... everyone knew he was a joke. Nobody could understand 
how he got to be at Fluminense.
"He always had a little problem; always injured. He arrived overweight and wasn't in any condition to train," says Meira. "He shot badly, he played badly. The players joked, 'Where did this artist come from?' They called him Maradona – 'Hey Maradona!' He looked like Maradona, but the fat Maradona."
But whenever the cameras were rolling at training, the Kaiser was suddenly in the middle of the action. "'Can you take a photo of me?' he would say," recalls Meira, who nevertheless couldn't help but warm to this imposter within the ranks. "He has good conversation. He knows how to make an entrance; how to make friends."
Friends such as Carlos Alberto De Araujo Prestes – 'Tato' – who already knew the Kaiser when he pitched up at Vasco. Tato remembers the moment he was marked as a fake. Before training one day, seven or eight players formed a circle, put one guy in the middle and began passing the ball around him, the idea being that the piggy in the middle had to win the ball to get out of the circle. Carlos was the piggy, and in the circle Tato was joined by several other top-class players, including World Cup-winning striker Bebeto. Tato laughs at the memory: "He couldn't get out of the middle. It was really difficult for him. Everyone realised he wasn't a player. Kaiser is a good guy, a cool guy, but if you play football you could see he didn't have it."
At the time, the presence in the squad of a guy who didn't actually play wasn't unusual though, says Alexandre Torres. "In the '80s, players stayed a long time at a team. Sometimes they would bring a friend, a guy who was fun, who could make a barbecue, make jokes, and would hang out with the players." If this 'mascot' was in reasonable shape, if he looked like he could be a player, his presence would be tolerated – even encouraged. "Coaches would let this person become part of the day-to-day of the club," explains Torres. "He doesn't play, but he is there on the bus and at the stadium. This happened a lot."
Another role of this 'vibes-master' might be to organise parties and women – one of the unofficial roles in which the Kaiser seemed to excel. At one club – he won't say which – he organised 10 girls to entertain players in an out-of-town hotel before a Saturday game. "We arrived on Thursday and I was two floors below with the girls," he says. "The players came down to the rooms without having to leave the hotel at night, and went up again afterwards. Nobody knew anything." There was no alcohol involved, he insists, and the women were not being paid for their presence. "They were all artists, not prostitutes." Like the Kaiser himself, perhaps.
"I feel guilty: a lot of good people had expectations and I never delivered"
Since being outed in Brazil early in 2011, the Kaiser has become better-known for not playing than he ever was as a player. He told TV Globo that he was part of Argentine team Independiente's Copa Libertadores-winning 1984 squad, but it was another Carlos Henrique, an Argentine. He turned an interview with Jo Soares – a sort of Brazilian David Letterman – to his own advantage when he invited one of his female bodybuilding gym clients with him into the TV studio, to strip to her bikini.
Another, Carmen Cardoso, was also there. "He demands a lot of his students," she says. "He's a very, very good teacher."
She giggles about his football past, which she found out about just recently. "I thought it was funny," she says. The Kaiser himself says he regrets his years of subterfuge. "I feel guilty I didn't fulfil people's expectations. A lot of good people created expectations around me and I never delivered results," he says.
But for the other players, all retired now, he was more than just a guy they liked. He was unique; an odd sort of football genius in a country full of them. Says Tato: "To have managed to do all this, to do all these tests at different clubs, convince people he was injured, convince all these people he was a genuine player but never to have played... he was an artist."
This feature first appeared in the February 2012 issue of FourFourTwo magazine. Subscribe!
Thank you for reading 5 articles this month* Join now for unlimited access
Enjoy your first month for just £1 / $1 / €1
*Read 5 free articles per month without a subscription
Join now for unlimited access
Try first month for just £1 / $1 / €1