Eight-year-old Leicester fan unaware his life has peaked
Foxes fan's joy destined to overshadow everything for evermore, Back of the Net report...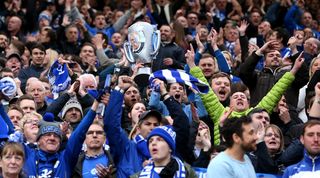 Overjoyed Leicester City supporter Josh Anderson, eight, has no idea that his life will never be this good ever again.
Anderson, whose emotional well-being over the next eight decades will be intimately connected with the fortunes of his favourite football team, is blissfully ignorant of the fact that neither he nor anyone he knows will ever again attain this level of joy.
"I liked it when Leicester won the league," Anderson said of the crowning glory of his time on this mortal coil. "I can't wait for Leicester to win the league again," he continued, referring to an event that will happen only after he has been dead for more than four centuries.
"Jamie Vardy's having a party!" he added, blissfully unaware that his every future achievement, from his wedding, to the birth of his children, to the fulfilment of his dream career, will be judged against this moment and found wanting.
End of the road
Anderson's father Nigel, 41, confirmed that this was the greatest day of his life too, but that his elation was tempered by the knowledge that it was all downhill from here.
"Right. That's it. Might as well die now," Nigel Anderson told FourFourTwo. "The only thing that could top this would be… no, I've got nothing. See you in Zurich."
Josh Anderson's next-best Leicester moment will be when the King Power Stadium is the scene of a triumphant final battle against demon lizards from outer space in 2040, an experience he will describe as "a distant second to watching Eden Hazard score against Tottenham".
Please note: This fictional news story is not real. But you already knew that, right?
Quizzes, features and footballing fun
Get the best features, fun and footballing frolics straight to your inbox every week.
Thank you for signing up to Four Four Two. You will receive a verification email shortly.
There was a problem. Please refresh the page and try again.