England are waving goodbye to Wayne Rooney – but also bidding good riddance to an era
The Three Lions' all-time record goalscorer will be back for his final cap against the USA on Thursday, and with it closing the door on an age of disappointment for England as a whole, writes Richard Jolly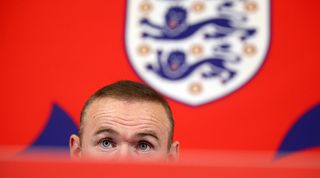 It is thank you and goodbye. In a way, it should also be good riddance.
Wayne Rooney's valedictory international appearance will be a celebration. Yet if England can praise the player, they can also rejoice that an era has ended. Rooney, unwittingly, was its last remnant.
Too young to be a bona fide member of the golden generation – David Beckham, Paul Scholes, Gary Neville and Sol Campbell are all a decade older – he nonetheless came to symbolise its failings. England's most gifted group since the 1966 World Cup winners had a tendency to over-promise and under-deliver. They became defined by fame, not achievement in an England shirt. They were – almost to a man – great club footballers but, at best, good international ones.
Pick your moments
Statistically, Rooney was the best of the bunch. The Three Lions' fifth centurion will win his 120th cap, the most by an outfield player, against the United States on Thursday. He will search for a 54th goal, taking him five clear of Sir Bobby Charlton.
The World Cup winner showed great dignity in surrendering his Manchester United and England scoring records to Rooney, yet some goals count for more than others. Charlton scored two in a World Cup semi-final. Rooney only scored one in a World Cup, and that was the tournament when England made their first group-stage exit since 1958.
Instead, the 2018 World Cup – the one Rooney hoped would provide his farewell before Gareth Southgate's selections and his own decline forced him to fast-track his retirement – produced a host of anti-Rooneys; of less heralded players who under-promised and over-delivered.
John Stones scored more goals in the first half against Panama than Rooney managed in his three World Cups. Harry Maguire, with his 'Slabheader' against Sweden, got more in the knockout stages than the former captain mustered in his career. Kieran Trippier scored in a World Cup semi-final and was named in the team of the tournament. Those were the sort of feats that the prodigious Rooney long looked destined to accomplish.
Jordan Pickford, not Rooney, became the first Everton player since Ray Wilson to start for England in a semi-final. Nick Pope, Fabian Delph and Ruben Loftus-Cheek can always say they were part of a group that reached the last four. Rooney never was. Jordan Henderson, Jesse Lingard and Ashley Young had genuinely good World Cups. Rooney never did.
One among many
It's unfair to damn him on the basis of collective failure, and make him the symbolic scapegoat for a generation. The celebrity culture, with fame distorting judgments, was becoming entrenched before Rooney was established in the team. He didn't create it, but it took Southgate to dismantle it.
England's no-show in the second half of the 2002 quarter-final against Brazil came before his debut. That was not his fault. He had been scintillating in Euro 2004 when he went off injured against Portugal; Beckham and Darius Vassell missed the subsequent spot-kicks, not Rooney.
Yet look at his fortunes thereafter. The 2006 World Cup? He was sent off. Euro 2008? England failed to qualify. The 2010 World Cup? Rooney mocked England's booing fans after a 0-0 draw with Algeria. Euro 2012? He started it suspended and was out of shape after a post-season holiday in Las Vegas.
The 2014 World Cup? Rooney was one of England's better players, but they were still out after two games. Euro 2016? An exit to Iceland, England's most embarrassing tournament loss since the 1950 defeat to the USA.
Ultimately, Rooney was England's finest small-game player, their king of qualifiers; that was where 30 of his goals came, many against countries that used to be part of Yugoslavia or the Soviet Union. He was the scourge of the splintered Eastern Bloc, the nemesis of new nations adapting to life after communism.
Rooney was gone by the time a cultural reset took effect. Southgate stopped the unofficial policy of crowbarring the famous into the team; there was no repeat of Rooney's quarterback role against Iceland, which came to the detriment of Dele Alli.
A player who lost his dynamism was disqualified from playing in a midfield defined by running power. With the possible exception of Harry Kane in Russia, the semi-fit were not indulged by being chosen, as Rooney had been in the past. The system was paramount and it gave England a tactical advantage until they faced Croatia.
Fearless
The reality that no one else in the current squad has 50 caps underlines how experience was no longer seen as an advantage. The tried were no longer trusted: not after England's underachievement. Exit not just Rooney but Joe Hart, Jack Wilshere and Chris Smalling, whose past and pedigree would probably have got them the nod under previous managers.
Enter instead, the late developers, the unusual suspects, the men whose potential Southgate had spotted. Some – Lingard, Trippier and Maguire – belong in at least two of those categories. No one ever compared them to Pele as teenagers, but they helped forge a unit that was greater than the sum of comparatively undistinguished parts. England cast their past aside before the World Cup. They gave themselves a clean slate and drew something entirely different.
Rooney's belated recall amounts to a strange exercise in nostalgia, then. Maybe it's the least he deserved. Maybe Geoff Hurst, stranded on 49 caps since 1972, would have merited another appearance more.
So if England can celebrate Rooney, they can also savour the sense that his successors are so unlike him; in their profile but, in particular, in their international exploits.
Quizzes, features and footballing fun
Get the best features, fun and footballing frolics straight to your inbox every week.
Thank you for signing up to Four Four Two. You will receive a verification email shortly.
There was a problem. Please refresh the page and try again.