Gabriel Batistuta
"You and the horse need to be at one with each other"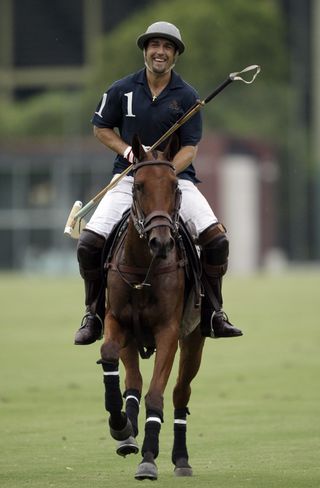 I've always liked horses – I've ridden them since I was a very young child, so it's in my blood. In my hometown on the Argentine pampas plains, Reconquista, we always rode. But I didn't start playing polo until a few years ago, when I was still a footballer for Fiorentina in Italy. Every time I went back to Argentina on holidays, friends would invite me to play polo. I was curious to know whether I would be able to do it. I tried out, and I ended up loving it.
It's a hobby, but I always try to improve my standard, because the better I play, the more fun I have. Playing polo gets my adrenaline going; it's a similar sensation to the one I used to get when I walked onto a football pitch in Serie A or for Argentina.
Back home in Reconquista, I have a stall for polo horses and my own team called La Gloria Polo Team. We wear purple t-shirts and a badge similar to Fiorentina's, the club where I played for many years. La Gloria has taken part in several competitions and we're growing and establishing ourselves little by little.
It's not at all easy to play polo. I found it very difficult to get used to the saddle at first, because I'd always ridden a horse without one. There are also many skills that have to be performed at the same time: riding properly, handling the mallet, working together with the horse – you need to be at one with each other – and striking the ball properly. It's demanding and really exhausting. Polo players end every match completely knackered!
As a player, I'd say I'm a worker who sometimes gets rid of his marker and opponent and scores a goal, ha ha! But it's very difficult to become a scorer in polo. It is a very tactical sport and I'm devoting time to getting better. I'm having fun, but my character demands that I do things well, so I'm making and effort to learn and practice.
In September 2005, I met Adolfo Cambiaso, the world's best polo player, and he invited me to play a match with his team Loro Piana. He's a great guy. He was in need of a very skilful non-scorer so he called me! We entered the Stella Artois Cup and we won it, which was fantastic.
In one game, we had to take a penalty shot with only thirty seconds left in the game. Supporters of the team were chanting for me to take it. They sang "Bati, Bati, Bati!" from the stands. But I didn't even consider it – Adolfo took it and scored, of course. What would I have done if I'd missed? I got my first cup and it was a great joy, although it doesn't stand comparison with playing football for Argentina at El Monumental in Buenos Aires.
I feel some pressure from the supporters when I play polo, because they ask for goals, reflecting my football career. But to be honest, I have no idea of how to do that properly in this sport. The posts don't even have a crossbar! But I'm just as demanding as I was as a football player – I want to succeed and win. It's a little bit ridiculous, but it's the way I am.
I'm taking my first steps and people treat me very well – it's as if I always belonged in this setting. I say I don't even play polo right now; I just hang around with those who do. 'Playing' is for the professionals.
There should be a superclassico Boca-River match at polo. I think that attempts are being made to start such a game. I could be the captain of Boca and [Adolfo] Cambiaso could be River captain. But although I love polo, I can't even think of playing professionally. I'll just enjoy it for now until I go back to football – which is something I know for real.
FIVE REASONS I LOVE POLO...
Adolfo Cambiaso
The world's best player and a great person. I have lots of fun with him.
Campo Argentino de Polo
It's the polo cathedral and I feel proud of having won a championship there.
Loro Piana
The team with which I won my first tournament!
La Gloria Polo Team
My team, with Fiorentina's colours!
Cavalleria Toscana Polo Challenge
Another championship I won. It was in Firenze playing for the Italian Firenze Polo Club.
Interview: Eduardo Alberto Martins. From the February 2010 issue of FourFourTwo.
Thank you for reading 5 articles this month* Join now for unlimited access
Enjoy your first month for just £1 / $1 / €1
*Read 5 free articles per month without a subscription
Join now for unlimited access
Try first month for just £1 / $1 / €1
Get FourFourTwo Newsletter
The best features, fun and footballing quizzes, straight to your inbox every week.