How Mesut Ozil's Germany turmoil could help him back to his best for Arsenal
He divides opinion like few others in the Premier League, but Ozil's spectacular fallout with the German FA could have unexpected benefits for the Gunners, writes Richard Jolly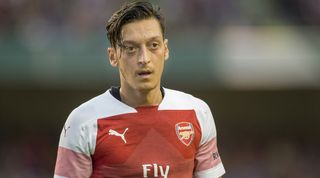 There were 2,320 words in it, and one that was missing. When Mesut Ozil announced his international retirement, his statement was a lengthy and eloquent explanation of his decision to pose for a photograph with Turkish president Recep Tayyip Erdogan. It illustrated the issues around multiculturalism faced by those with dual heritage, and was an attack on racists (some, he felt, in senior roles in the German FA) who sought to conflate his ethnic roots with failure in the World Cup by scapegoating him.
There was no mention of Arsenal. Understandably, too. It would have been an awkward segue to then say his priority was to take his club back into the top four, to mention the start of Unai Emery's reign or to insist he was looking forward to playing with new signings. It would have diminished a powerful message.
Yet the reality is that Ozil is now purely a club footballer. He was a Germany and Arsenal player, often seemingly in that order. When he missed the end of last season with a back problem, it was greeted with scepticism in some quarters; the assumption was that he would be fit for the World Cup. And so he was, though that does not mean the injury was invented or exaggerated.
There was a temptation to see Ozil in a German tradition of players who were better for their country than their club; whose club achievements can be debated but who invariably tended to be found at the business end of major tournaments. He was a 21st-century Thomas Hassler.
The last act
Yet now the context has changed. He is now the new Stefan Effenberg or Mario Basler, exiled from Die Mannschaft in contentious circumstances. Sunday's game against Manchester City marks the start of the next – perhaps last – act in the 29-year-old Ozil's career. Ambitions will have to be realised at club level.
It casts his January decision to sign a new contract at the Emirates Stadium in a different light. Had events gone differently, Ozil may be beginning a reunion with Jose Mourinho and Alexis Sanchez at Manchester United while thinking of Euro 2020 and a 100th Germany cap. Instead, Arsenal has become the be-all and end-all for him.
Perhaps they will be indirect beneficiaries of international football absences. Their front four could feature two not currently playing for their countries, in Ozil and Alexandre Lacazette; and two, in Pierre-Emerick Aubameyang and Henrikh Mkhitaryan, whose main chance of competing at elite level lies in their club careers.
For each player, it should serve as motivation. Ozil's has often been questioned, perhaps because of an obsession with body language. His capacity to look like a vaguely sullen student can foster more of an impression than the statistics showing distance covered or chances fashioned. Pep Guardiola, for one, believes that is unfair. It nevertheless contributes to the image of Ozil, the most misunderstood man in football.
Arsene Wenger was accused of not getting the best from his one-time record buy. The numbers suggest that perception is wrong: despite starting only 24 league games last season, Ozil still ranked fourth in the league for chance creation. Year in, year out, he, Christian Eriksen and Kevin De Bruyne figure near the top of the charts, yet the German is castigated where the Dane and Belgian are celebrated.
A wanted man
There is always a greater focus on Ozil's psychology; a sense there is something extra to come from him. It relates to the criticism of his record in major matches, especially away from home, and highlights the contrast with the 2010 World Cup when an elusive, spritely, irresistibly influential playmaker sprang to global prominence. Guardiola wanted to sign him; Jose Mourinho did. Wayne Rooney asked why Sir Alex Ferguson didn't buy him. Cristiano Ronaldo was grateful Real Madrid had.
Fast forward eight years and only seven players created more chances in this World Cup; all played in the knockout stages, six in the quarter-finals or later. Ozil nevertheless became a face of German failure, a target for condemnation with an undercurrent of unpleasantness.
Under the circumstances, it seemed an astute piece of man-management when Emery spoke of creating a welcoming environment for him: the use of words like 'normality', 'family' and 'home' indicated an aim to make Arsenal a shelter from the storm.
Installing Ozil as captain for the 5-1 win over PSG in pre-season was a way of giving responsibility to one who has a centrality. It will nevertheless feel odd if, with Laurent Koscielny injured, an armband more associated with Tony Adams and Patrick Vieira is worn by Ozil against Manchester City.
Yet if it is a way of helping get the man who is reportedly the second-highest earner in the division play at his peak, it has merit. Ozil and Arsenal haven't always felt perfect bedfellows. Now, with no one else to complicate their relationship, they have to be closer than ever.
Thank you for reading 5 articles this month* Join now for unlimited access
Enjoy your first month for just £1 / $1 / €1
*Read 5 free articles per month without a subscription
Join now for unlimited access
Try first month for just £1 / $1 / €1