"I'm a black man, so I get stared at wherever I go – but it's not a problem for me" – Ex-West Ham teenager Jordan Brown, the inverted Sancho
Not all English youth prospects go to Germany and thrive. But after a difficult spell at Hannover, the striker still has his sights set high on Champions League football – in the Czech Republic...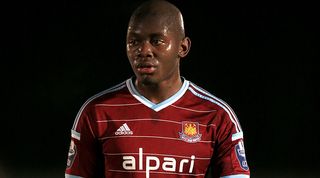 Moving abroad as a talented teenage footballer is very much in vogue thanks to the glowing experiences of Jadon Sancho and Reiss Nelson, who both swapped Premier League U23 teams for the Bundesliga and have been richly rewarded in 2018/19. There are plenty of others with similar ambitions – but their route to the top isn't always so simple.
Jordan Brown left West Ham aged 19 to join Bundesliga side Hannover in 2016, when he didn't envisage a pathway to the first team at the London Stadium. The Londoner had come through the ranks at Arsenal but turned down professional terms to move across the capital, hoping for greater opportunities.
For a while, it looked like he might get them – when he was 18, the striker got his first-team debut in the Europa League, playing the final 10 minutes of a defeat to Astra Giurgiu alongside the likes of Kevin Nolan and Manuel Lanzini as West Ham were dumped out of the competition in 2015.
Pastures new
But that was it: a succession of injuries and lengthy list of strikers above him in the pecking order made Brown – a former England U17 international – decide that he wanted to head abroad in January 2016. His move to Hannover was delayed as he'd already played for two clubs that season following a loan, however, so the north Londoner had to wait until the summer before he could kick a ball for the Bundesliga club.
"I think I was the second or third [young English] player to head to Germany – Mandela [Egbo at Borussia Monchengladbach] was there already," Brown tells FourFourTwo.
"I thought at the time that it was a big club and the league they play in is competitive, so that way my football would count for something. A lot of young players in England are caught in the system, playing football that doesn't mean anything. They could be playing games and scoring goals but I don't know where that gets you."
Obstacles have never been far from Brown's future, though, and Hannover was a case in point: injury hampered his first pre-season, which forced him to miss the start of the campaign. Back then, the first team's head coach was Daniel Stendel – now managing Barnsley – who had previously been in charge of the club's U19s.
"I was doing well and scoring goals in pre-season but I got an injury on the inside of my knee and that put me out for the start. I was supposed to be the frontrunner for the second team, which play in the fourth division, but then I didn't get the opportunity to start games."
Barriers
Eventually, starts were more forthcoming. As Brown learned German and adapted to a complete change in style, he enjoyed his first consistent experience of men's football by playing in Germany's fourth tier against seasoned professionals – something he craved after years in English youth football.
Despite his endeavours, though, there was still a barrier preventing him from reaching the first team.
"The guy who was supposed to be behind me in the pecking order started and ended up scoring, and the coach who he had at U19 level then became the first team manager.
"He ended up taking him with him because he was scoring goals, playing him in the Bundesliga and then giving him a first-team contract. From then I knew it was a mountain to climb when those kind of politics happen in football.
"It doesn't matter what you do from then – nothing could really happen after that. I trained hard for my two years when I was there, when I started games. My record was 17 starts out of 40-odd games and I scored nine goals, so I think my goals-per-minute ratio was very good for Hannover."
After 18 months in Germany, Brown decided that he needed to move on and agreed a mutual termination with Hannover – not that the club ever publicised it. The striker moved back to London and earned a deal at Barnet, but never featured for the Bees after a lengthy wait for international clearance and change of manager put paid to his move. Six months of his career, wasted.
Turning heads
In search of pastures new, Brown looked far and wide for the best place to progress his career. The answer was the Czech second division to join Znojmo, a town of just 33,000 people near the German border.
"I had options to go to an under-23 team in England. There was no contract on the table but I could have gone in and got something. I decided that if I was to stay in England then it would have to be to play men's football, and there was nothing that would make me excel and give me the best opportunity to take me to the next level. So I chose Znojmo and now I'm here playing men's football, like at Hannover."
Differing languages and footballing cultures are two things Brown is used to now, but being in the Czech Republic has made him centre of attention in Znojmo, where the colour of his skin turns the heads of locals.
"It's not a secret – I'm a black man, so I do get stared at wherever I go. I have a different mindset, so I know what comes with it, and I have a strong mindset.
"The last day I was there before I left for my winter break was the first time, other than my team-mates, that I saw another black man. But I haven't experienced any racism – no name-calling or actions.
"It's a different environment but if you want to travel the world and get outside your comfort zone, you have to get used to different cultures. They're just wondering why this person is in Znojmo. It's just human nature. I wish everyone could see past that but it's not a problem for me."
Brown is focused on football in Eastern Europe and is aiming to impress for Znojmo, hoping he can move up to the top flight or get noticed in another country.
"It's a good league. It's second division but it's respected in the Czech Republic, so if I can do well here I could go on to play in the first division. Four teams in there are playing in Europe this season, and Viktoria Plzen are in Real Madrid's Champions League group.
"If it's a choice of the National League, where a lot of young players end up going, or second division of the Czech Republic, then I'd pick this all day. If you do well from the National League it's maybe League One, and that's if you're starting every week, but from here you go to the first division in the Czech Republic and maybe even a Champions League team. That's the goal."
More interviews • New features you'd love on FourFourTwo.com
Quizzes, features and footballing fun
Get the best features, fun and footballing frolics straight to your inbox every week.
Thank you for signing up to Four Four Two. You will receive a verification email shortly.
There was a problem. Please refresh the page and try again.