Jill Scott: 'My final act was winning the Euros in front of 87,000 fans at Wembley. Nothing will beat that'
Now Lionesses legend Jill Scott can add winning I'm A Celebrity alongside her Euro 2022 success with England. Here, she talks FourFourTwo through her whole 18-year playing career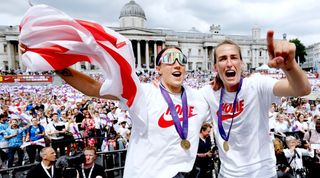 (Image credit: Getty Images)
I still remember my first experience of the Euros. It was 2005 and I was in my little Peugeot 106, driving to the Etihad, to watch England's opening game as
a fan. I was 18. My grandma bought me that car for £400, but we were on the motorway and it was screeching.
"Jill, change gear!" said my friends. "It's only got four gears!" I told them...
When I joined Everton the following year, I drove on that motorway a lot. We were part-time and had the last training slot, 8-10pm on Tuesdays and Thursdays. That was women's football. Back in Sunderland at 2am, then I'd coach at Gateshead College the next day. Later, I commuted from Loughborough University to Everton – no wonder I never finished my degree! This summer, though, I was playing in the final of Euro 2022, my 10th tournament, in front of 87,000 at Wembley. All I was thinking was, 'You can't let people down'.
My story is probably similar to that of a lot of girls. I started playing football in the back lanes around my house in Sunderland, when I was about five. I was the only girl, playing against boys. I joined a local boys' team called Fulwell, but when I got to nine years old, they said that girls couldn't play for them any more. It was a pivotal moment – I thought I might have to stop playing football. But my mum found a girls' team, and I went to play for them.
I didn't follow women's football until a leaflet came through our door when I was a teenager. I remember it had a photograph of the England captain, Faye White. I joined Sunderland's centre of excellence, then made the step up to the women's team at 14, playing against 30-year-olds. I had an obsessive personality - I always wanted to be better. Even if it was just a fitness test, I wanted to win. On a Monday morning, I'd use my planner to write down the score of the weekend game, and how I felt I'd done.
I was selected for England Under-15s and U16s but, to be honest, I wasn't good enough. It wasn't until I got picked for the U19s that I became obsessed with the England team. I'd always check their results – there wasn't really any video available then, so I'd check Google or She Kicks magazine, when it used to be called Fair Game. I remember reading that there was a midfielder called Katie Chapman, so I'd look for her results at Charlton and follow her in the England games.
My Lionesses debut came not long after I signed for Everton, against the Netherlands in August 2006. We won 4-0 – Kelly Smith scored a hat-trick, Rachel Yankey scored, and I came on for the last 10 minutes. I was playing with my heroes: Chapman, Yankey, Fara Williams, Rachel Brown. The attendances were... I'm not going to describe them as bad, because the team had a following, but it was nothing compared to now. There'd normally be around 5,000.
In 2007, I went to my first tournament, the World Cup in China, and scored in a 6-1 group stage victory over Argentina. Two years later came the goal that meant the most to me, at Euro 2009. In the semi against the Netherlands, I came on, then scored the winner late in extra time. We were in the final of the Euros – the magnitude of that goal was huge, even though we ended up losing to Germany.
That year, I became a full-time player. The FA introduced central contracts for 17 women's players – they invested in us, giving us £16,000 a year on top of our part-time contracts with our clubs. Having that money meant you didn't have to think about having another job. Before that, I'd be doing a little bit of media work for Everton, writing match reports, stuff like that.
I moved to live nearer Liverpool, but I was so bored! Suddenly I had time on my hands that I'd never had, and I didn't like that feeling. We still trained later in the day, so in theory I could stay in bed if I wanted, but it wasn't in my character to do that.
I was always known as one of the bigger personalities around squads, and it probably went against me when I was younger. When I first went away with England, I think they thought I was too loud and not as focused. Maybe I was too much in the dressing room, too much on the team bus, but as soon as I crossed that white line I was fully focused. You need personalities in a squad – team spirit is vital. Over the years, I like to think I contributed to that.
I even tackled Prince William once. He was opening a facility and we were playing a bit of a match. I slipped and nearly wiped him out. He's always remembered it! Every time he came to wish us good luck for a tournament, he always commented on me being an aggressive player – he'd say, "Jill, don't tackle me today!" He's so down to earth.
At the 2011 World Cup in Germany, I had a video camera and was doing video diaries. The best feeling I ever had for a goal I scored was at that tournament, in the quarter-finals against France – when I see it back, it looks a decent goal. People ask, "Did you see the keeper off her line and chip her from 30 yards?" Actually, I was looking for Ellen White to pass to, shouting, "Ellen, Ellen!" She just kept getting smaller and smaller, the ball got stuck under my foot as I kicked it, and I toe-punted it over the keeper!
During that World Cup, there was a big rise in media interest, but
it soon died down again, as it had done in 2009. The 2012 Olympics was different. We were at home, we were Team GB and had 70,000 at Wembley when we beat Brazil. We kept that interest a little bit more. I never really got recognised when I was out and about before that, but after the Olympics we were recognised a lot more.
At Euro 2013 though, we failed miserably. We didn't get out of the group. Then came the 2015 World Cup in Canada, when we finished third. That's when you could really see things starting to take off here. People started to give us a chance. If someone comes up to me and says, "Look, I'm just not a football fan", then that's fine. You don't have to like everything. But a lot of people used to say, "I hate women's football". You'd ask, "Well, have you even given it a chance, or watched a game?" The answer was usually no. When people did actually watch it, I hate to say that they were surprised by the standard, as if we should be rubbish or something, but loads of people did admit they were pleasantly surprised.
By then, I'd got my first professional club contract, at the age of 26, when I joined Manchester City in 2013. I loved my time with Everton, and when I left, many people thought, 'She's moved for the money'. But I was on exactly the same wage at Manchester City. The only thing I wanted was to train every single day. I wanted to be better.
Manchester City was so good – the setup, everything. We really set a level to show 'this is how it should be'. The club deserve a lot of credit for that. The facilities they have for the men's team are incredible, and they used that for the women's team as well. It was 'one club, one philosophy' – we all played exactly the same way, even the six or seven-year-old kids. I loved that about City.
If we saw Pep Guardiola, he'd always speak to us and wish us good luck. We were always welcome to watch their sessions, and we did joint photoshoots, too. There were times when we were training, and Kevin De Bruyne or Kyle Walker would come over to watch. You had to stay on an even keel. Instead of being like, 'Oh my God, Kevin De Bruyne's watching our session!', you had to think, 'It's a professional, watching a colleague'. I always got told off for that – when I was younger, I'd want pictures with people. I'm still like that now. If I ever spot somebody famous, I'll always want a photo. But they told us, "When you do interviews, you need to stop saying, 'Oh my God, we get our kit washed, we get this, we get that'." We had to start seeing ourselves as top professionals.
When I first moved to City, the club had a plan to win the league within three years. It was hard, because we were building a team from scratch, they didn't just throw loads of money at signings. But we won the league in the third year. The manager Nick Cushing really took my game to the next level. Look at the England squad for Euro 2022 – we took a picture at Wembley of myself, Keira Walsh, Lucy Bronze, Georgia Stanway, Ellie Roebuck, Demi Stokes, Ella Toone. There were so many of us who worked under Nick. He was brilliant for us.
ALSO READ
It helped, too, that the Women's Super League is now really competitive – Chelsea have made some huge signings over the years, such as Sam Kerr and Pernille Harder. As players, we loved that. We wanted that. Previously when you went away on international duty, it used to feel like a step up in level – in a domestic match, you'd only run 70 per cent as much. Now the WSL is replicating that standard and the running stats are right up there. That's made the England team better.
I went into Euro 2022 without a club. At 35, I left Manchester City after eight-and-a-half years this summer, having had a loan spell with Aston Villa last season. I felt like that loan had been successful, even if my knee wasn't in a great place.
You might think it would feel strange to go into such a massive tournament without a club – but, you know what? It wasn't. I'm someone who only thinks about the next day – I knew that if I was going to make the Euros, I'd have to dedicate literally everything to it. I went to St George's Park a month before the girls met up, doing four weeks of rehab. There were times where my knee wasn't great, and I was thinking, 'Am I even going to make it?'. In the end, I did. Players like Steph Houghton picked up injuries and didn't make the Euros – I felt so fortunate that mine hadn't stopped me from going.
Sarina Wiegman was so nice with me, and with all of us. She has a rapport with players away from the pitch – she's so incredible that I'd actually describe her as a genius. People say you can't prepare for all eventualities in football, but she prepared us for 99.9 per cent of them. It felt like whatever was happening in a game, she'd have an answer. Alessia Russo, Ella Toone, Chloe Kelly and Alex Greenwood all came off the bench and made an impact – it was almost like we had secret weapons. We gave her everything. We had such a great group.
As a senior player, I tried to help too. I always say with teams, that if you put diesel in every single car, only 50 per cent of them will run, so you have to figure out what works within that particular group. It wasn't really a group that needed motivational talks. Some of them wanted to know about my history with England, too. When we were sitting having a coffee, I'd chat with Lauren Hemp and Chloe Kelly about previous tournaments, and Alessia Russo asked about my first tournament. But when it came to game day, I said to every single one of them, "Just go out there, do exactly what you've been doing, and make sure you enjoy it."
I didn't really have any expectations for myself going into the Euros. I was simply happy to be there. I'd wanted to get myself 100 per cent fit so that if I was needed, I'd be ready. I had one conversation with Sarina for about 10 minutes before the tournament and she said, "I see your role as, if we're protecting the lead, you'll come on in midfield to shut up shop and be aggressive."
When we went 1-0 up in the final at Wembley, I was about to go on. As I was warming up, though, Germany equalised. I asked the assistant, "Am I still going on, or has the plan changed?" I was still brought on, thinking, 'You can't let them down, you've got to do a good job'. I hadn't played in every game at the tournament, which can be tough, mentally, because you have to keep yourself in the moment. But as soon as I stepped over that white line at Wembley, it felt like the same game I'd played my whole life.
I know I was trending on Twitter after the match because of an argument with a Germany player. Yes, in the heat of the moment, I might have told one of them to, "f**k off, you f**king prick!" But I just wanted to win. Off the pitch, I was always so different to the person on it – that aggression was how I could perform. Plus, if you'd flipped the camera, Sydney Lohmann swore at me, too! I reacted because she had hold of my leg – my reaction was like, 'You've grabbed my leg, and now you're swearing at me'. I always say, "Try not to react emotionally", but I hold my hands up... I did!
Icon on the pitch and now @JillScottJS8 is the Queen of the Jungle! 🌴 pic.twitter.com/Oc3XuOOYqoNovember 27, 2022
My emotions were completely different when Chloe Kelly scored the winner. For a brief second, we thought it was going to be overruled by VAR – when they said it was a goal, if you could bottle up any emotion and keep it for the rest of your life, it would be that. What a moment. Chloe whipped her top off and I thought, 'I'm not doing that!' I just chased after her!
After that, I remember trying to tell the team, "Take a breather", as some of them had played more than 100 minutes. But everyone was on cloud nine, so I don't think that plan worked.
To win the Euros, I literally couldn't have been any happier. We had such great celebrations that week that I didn't get much sleep – I was feeling pretty rough! From never getting recognised at the beginning of my career, it was happening everywhere – people saying well done, beeping horns, coming up to us when we were having food. I never mind stopping for pictures – it's been an incredible difference.
I had messages from so many people, too – old school friends and teachers. Plus, I'm a Boyzone fan, and Shane Lynch sent a message. People like Phil Foden, Mason Mount, Declan Rice and Conor Coady were at the game – the men's team passed on some advice before the tournament, they were incredible. My family had a surprise party back in Sunderland for me – I was singing Sweet Caroline and 'It's Coming Home' with my grandma, who's 88, dancing around with my medal on. It was so nice to share those moments with my family.
When we'd had our team celebration event at Trafalgar Square that week, someone asked Lucy Bronze what made the team so special and she joked, "Jill Scott". I think she was playing up to the cameras, Lucy was so funny after the final, but throughout the tournament, some of the team would make comments like, "Jill, we really want to win this for all your hard work". I was so touched that people would say that.
The medal I won is for everybody, though. We were looked after so well during the tournament – the FA did exactly what they do for the men, which was incredible. It created no excuse for us not to perform, and we repaid them with the trophy.
In September 2022, I announced my retirement from football. The final of the Euros was my last ever match. It wasn't a very difficult decision. During my life, I've always gone with my gut feeling – if you do that, you can never have regrets. I just had the feeling that it was the right time to retire.
I'd given absolutely everything to get selected for the Euros, to be able to play at all. Inside, I knew that meant it would have to be the last thing I did as a player. A few offers came in, and I would have enjoyed another year at Aston Villa, but I would have had to manage my training and not be available for every single game. I didn't want that. Throughout my career, I was always all or nothing.
When I look back, I think about all the incredible moments I was lucky to experience. I never thought I'd put the shirt on for England, let alone 161 times, plus nine for Great Britain. When I think about that, I can't feel sad about retirement. My final act completed a tough but memorable journey. Being at Wembley in front of 87,000 people, getting that gold medal, was such a special moment – in my life, I don't think anything will ever beat that.
We achieved it all thanks to a fantastic, humble group of players – I told the younger ones, "This isn't usually what happens, you're not supposed to get a gold medal at your first tournament!" It was a much longer journey for me.
All of us who were part of that Euro 2022 squad have such a special bond now, one that I don't think will ever be broken, for the rest of our lives. Even now, I still struggle to believe that this summer actually happened. But it did.
Interview by Conor Pope
Thank you for reading 5 articles this month* Join now for unlimited access
Enjoy your first month for just £1 / $1 / €1
*Read 5 free articles per month without a subscription
Join now for unlimited access
Try first month for just £1 / $1 / €1