Ranked! The 10 best women's centre-backs in the world
Who are the best women's centre-backs in the world? Here are our top 10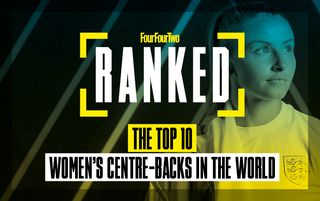 (Image credit: Future)
Being a centre-back can sometimes feel like a thankless task. The pressure on not making an error for your team is high whilst it is rarely a position which is seen as a glamour role.
But in the women's game, many of the world's best women's centre-backs have previously moonlighted in more attacking roles, leading to a wide range of ball-playing and goal-scoring centre-backs. Here are the ten best women's centre-backs in the world right now.
Best women's centre-backs in the world: 10. Dominique Janssen (Wolfsburg)
The growing influence of Wolfsburg within European women's football might come from their sparkling attacking line up but Dominique Janssen has been an important part of building the solid base from which they can attack.
Janssen moved to Wolfsburg in 2019, having previously made 100 appearances for Arsenal. The Dutch defender, who won the Euros in 2017, is two-footed and often uses her physicality to great effect in order to defend against opponents. Janssen is also famed for her ability from dead ball situations, pitching in with seven goals for the German champions last season, including two penalties.
9. Magda Eriksson (Chelsea)
Chelsea's Swedish captain Magda Eriksson has presided over the most successful period in the club's history. Under Eriksson's leadership, Chelsea have won three WSL titles, two FA Cups, two League Cups and reached their first ever Champions League final. Eriksson's ability in possession has been key to their success as well as her calmness in defence. Capable of playing in a back three or a back four, as well as currently deputising at left-back, Eriksson has established herself as one of the most reliable defenders in world football.
8. Wendie Renard (Lyon)
No one has won more Champions League trophies than Wendie Renard, who lifted her eighth one with Lyon last season. One of Renard's greatest assets is her height. Standing at 6'2", she towers above most other players helping her both defend her own box and attack the oppositions. Whilst Renard who is now 32 has lost some of her speed over the past couple of years she remains an important leader to both Lyon and France.
7. Kadeisha Buchanan (Chelsea)
The destination for out of contract Kadeisha Buchanan was one of the most anticipated reveals of the summer's transfer window. Buchanan had played a key role in Lyon's recent dominance of European football, having spent six seasons at the club, winning five league titles and five Champions Leagues in that time. She also helped Canada win gold at the Olympics in 2021, playing more minutes than anyone else in the squad.
Buchanan is well known for her ability to step out from defence and progress the ball. Despite a tough start to life at Chelsea having conceded a penalty in her opening match and also scoring an own goal, she already looks to have nailed down a starting spot.
6. Alex Greenwood (Manchester City)
For a long time, Alex Greenwood was predominantly viewed as a left-back but under Gareth Taylor at Manchester City, she has moved back into the left-sided centre-back role she played earlier in her career. Greenwood's passing ability is central to her skill, with the fact that she is left-footed also being a big asset. She marshalled Manchester City's defence in a season where they struggled desperately with injury, helping them secure Champions League football as well as the League Cup.
Greenwood made more passes into the final third than anyone else in the WSL last season, and with Manchester City having lost their key progressor of the ball in Keira Walsh over the summer, Greenwood's role looks set to be even more essential.
5. Griedge Mbock (Lyon)
A lot of Lyon's poor start to the season can be put down to the absence of Griedge Mbock. The 27 year old French international suffered a knee injury at the start of the season and Lyon's defence has struggled without her. Much like Renard and Buchanan, Mbock has shone as a long term member of the Lyon squad who kept the rest of Europe at arms length over the past five years.
Mbock also partnered Renard at international level, helping France reach the semi-finals of Euro 2022, the first time in the country's history that they had got so far in a competition. Her relationship with Renard has been the backbone for both club and country.
4. Irene Paredes (Barcelona)
Barcelona Women's team have shocked Europe with their fast possession-based football but a huge part of their tactical plan comes with relying heavily on their two centre-backs to defend large amounts of space. The recruitment of Irene Paredes from Paris St-Germain, where she had helped them win their first ever league title in 2020-21, was part of a plan to allow them to take even more risks going forward. Paredes is good in the air and reads the game well, enabling her to make up the ground when teams break on Barcelona.
Irene Paredes has also previously been captain of the Spanish national team, but objections to the coaching of Jorge Vilda have left her ostracised from the team, along with many other Barcelona players. It remains to be seen whether Paredes will return to the Spain squad for the 2023 World Cup.
3. Leah Williamson (Arsenal)
If there had been any doubt about Leah Williamson being named captain of England ahead of Euro 2022, it was firmly extinguished during the tournament. Despite only having played 7 minutes of tournament football previously for England, she led her side to lifting the trophy capably.
Williamson's ability on the ball is well known, even prompting England manager Sarina Wiegman to use her in midfield for large parts of the year. Whether it is carrying the ball out from the back or passing it forward, Williamson is incredibly versatile when it comes to progression. Her ability to make big switches of play is essential to Arsenal, who have relied on her at the heart of their defence for the past six seasons.
2. Mapi Leon (Barcelona)
Whilst Irene Paredes is used at Barcelona to mop everything up, it is Mapi Leon who is the other centre-back more often seen on the halfway line. Leon helps recycle possession to Barcelona's famous midfield whilst also allowing left back Fridolina Rolfo to bomb forward by shutting down oppostion wingers.
Her ability from set pieces is one of the best in the world with Leon already scoring once and assisting twice in the Spanish league this season. Her left-footed corners rarely miss their target with pinpoint accuracy. She is no stranger to a last ditch tackle either and at 27 years old is really entering her prime.
1. Millie Bright (Chelsea)
For a long time Millie Bright was the player who you wanted in your team but who always had that one mistake in her. A mistimed tackle, a miskicked clearance. But over the past two seasons, she has slowly ironed those individual errors out of her game to become one of the most reliable players for her club and country. Bright is still never afraid to boot the ball out the ground if required but her no-nonsense defending has won her many admirers.
A quiet leader (Bright is vice-captain for both Chelsea and England) who is always ready to step up when needed, she can also be relied upon for the occasional rocket. It has led England manager Sarina Wiegman to put her up front more than once, with Chelsea coach Emma Hayes following suit.
Thank you for reading 5 articles this month* Join now for unlimited access
Enjoy your first month for just £1 / $1 / €1
*Read 5 free articles per month without a subscription
Join now for unlimited access
Try first month for just £1 / $1 / €1