Krasnodar: Only six years old, never promoted, no fans – but a threat to Everton
Michael Yokhin fills you in on the stuff you need to know about FC Krasnodar, Russia's community club on the rise...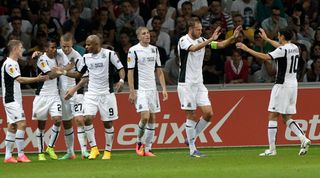 Who are they?
FC Krasnodar are a weird club. Established just six years ago, never promoted in their own right and lacking a significant fanbase, they nevertheless possess a positive philosophy that makes them rather attractive to neutral football lovers.
Their rise has been remarkably fast, and Krasnodar could soon become a well-respected force, both in Russia and in Europe, thanks to visionary long-term planning.
The club is a private initiative of Sergey Galitskiy, a local businessman who owns an extremely successful chain of supermarkets. The town of Krasnodar already had a traditional football club, Kuban.
However, Galitskiy wanted to make something special – a team that plays pleasant attacking football, and an academy that educates local children and helps the community. He started the unique project in 2008, and both dreams have already become reality.
FC Krasnodar's football academy is a state-of-the-art complex that would make many Western European clubs jealous. Meanwhile, the senior team is packed with highly technical players who try to turn on the style and entertain in every game. Unlike the failed adventure of Suleyman Kerimov at Anzhi Makhachkala, Galitskiy doesn't buy established superstars, but prefers to rely on good scouting.
The progress was helped by somewhat bizarre promotions. In 2009 Krasnodar were asked to make up the numbers in the second division after a couple of clubs went bankrupt, and a similar scenario occurred two years later when they were upgraded to the Russian Premier League.
Galitskiy made necessary adjustments to the squad, and the team improved almost on a monthly basis. Last season they reached the Russian Cup final and were fifth in the league, finishing ahead of Kuban for the first time and qualifying for their debut Europa League campaign.
It is easy to underestimate a team that is virtually unknown outside of Russia, but one would be very unwise to do so. Real Sociedad discovered that when they were thrashed in the qualifying round – the Basques, lucky 1-0 winners at home, were totally outplayed in the return leg as the Russians beat them 3-0.
Drawing 1-1 at Lille in the first group game was also a great result, and Krasnodar have the potential to surprise their illustrious opponents and make it a European season to remember.
Strengths
Krasnodar are fearless and very self-confident. They have absolutely nothing to lose, both domestically and in Europe, and are almost obliged to play an attacking brand of football.
They are a stable club who have changed coach only once in the last three seasons, and built their squad steadily with no revolutionary changes along the way. A good atmosphere in the dressing room helps a lot, and coach Oleg Kononov is well respected by players and management alike.
Kononov has two excellent goalkeepers at his disposal in veteran Ukrainian Andriy Dikan, signed from Spartak Moscow in the summer, and penalty specialist Andrey Sinitsyn, who stopped two spot-kicks in four minutes against Rostov in August. Constantly rotating them might not be the best idea, though.
Weaknesses
They might be bold, but that can't make up for pure inexperience. Yuri Gazinskiy, for example, is a promising holding midfielder who is frequently called into provisionary Russia squads by Fabio Capello, but this is only his second season in the top flight and he rarely faces opponents like Everton.
Tactically speaking, Krasnodar can be vulnerable down the flanks, while their Scandinavian duo in central defence, Ragnar Sigurdsson and Andreas Granqvist, lack pace.
The gameplan
The basic formation is 4-5-1, but Krasnodar are versatile and unpredictable up front with players frequently changing positions. They don't have a classic centre-forward, and players who are used to filling that spot, Brazilian stars Wanderson and Ari, tend to drift to the wings, opening spaces for their team-mates to explore. Both full-backs are usually attack minded, making Krasnodar vulnerable on the counter. Opponents should be wary of Odil Akhmedov's fierce long-range shots – he loves to try his luck from distance.
Key player
Everton are lucky enough that Krasnodar's most important star, Brazilian playmaker Joaozinho, is suspended after receiving a foolish red card in injury-time against Real Sociedad. Without him, Ari must take responsibility. The 28-year-old can play anywhere across the frontline, and is vastly experienced.
Ari was crowned top scorer in Sweden with Kalmar in 2006, won the Dutch title with AZ Alkmaar in 2008 and spent three eventful seasons at Spartak Moscow, taking part in two poor Champions League campaigns.
He has good memories of his partnership with Aiden McGeady – he's a self-confessed admirer of the Irishman. Another important player is veteran midfielder Marat Izmailov. At the beginning of the century, when starring for Lokomotiv Moscow, he was considered Russia's brightest talent ahead of Andrey Arshavin.
Knee injuries completely ruined his career, however, and he never fulfilled his potential at Sporting and Porto, but the 32-year-old has settled very well at Krasnodar so far and his vision is a very dangerous weapon.
Famous for…
Krasnodar are not exactly famous yet, but might be in the near future. In the meantime, they are catching the eye as far as statistics are concerned. Joaozinho is the shortest player in Russian Premier League at 165 centimeters (5ft 4in), while midfielder Ruslan Adzhindzhal is the oldest outfield player at 40.
Club legend
With such a short history, no player has reached legendary status yet, especially taking into account the club doesn't have too many fans. Russia captain Roman Shirokov spent a few months at the club at the beginning of the year, on loan from Zenit after coming to blows with Luciano Spalletti. The real legend is the owner – Galitskiy is a doing a phenomenal job, showing the rest of Russia how footballing projects should be handled.
Quizzes, features and footballing fun
Get the best features, fun and footballing frolics straight to your inbox every week.
Thank you for signing up to Four Four Two. You will receive a verification email shortly.
There was a problem. Please refresh the page and try again.