Lee Dixon on Anfield '89: "The present side hasn't got what it takes; what we had to make it happen"
By Joshua Jones
To celebrate the cinematic release of '89', FFT sat down with Dixon to talk all things Anfield, Arsene... and whether Alexis would get in that fabled title-winning team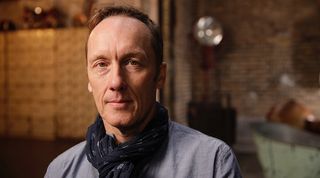 Lee Dixon is still as animated talking about Arsenal's title-winning side of 1989 today than at any other point over the last 28 years.
His eyes still light up as he recalls that incredible May night when the Gunners went to Anfield needing a two-goal win to wrench the title away from Merseyside – and got it in the last minute.
You can hardly blame the 53-year-old for wanting to keep those memories burning bright today, as part of the film-making team that has encapsulated the drama of that thrilling title finale in new film 89.
Dixon's role in Michael Thomas's 92nd-minute winner is well remembered: with the seconds ebbing away, it was his upfield ball that started the move off. Two-nil to the Arsenal, contrary to the chant that would define their early-'90s success. The title was theirs, snatched from opponents and champions-elect Liverpool on goals scored with virtually the last kick of the season.
Don't throw it to Dicko
But it could have been so very different had John Lukic listened to anybody when he collected the ball at 1-0 with seconds remaining.
"I didn't want it. I shouted, 'Don't throw it to me!'" Dixon recalls to FourFourTwo with a chuckle. "Apparently Theo Foley and George [Graham] were shouting, 'Don't throw it to Dicko!' So he threw it to Dicko..."
"John threw it because he was exhausted, mental fatigue. He couldn't raise a gallop let alone kick it. I'd asked the referee just before, 'How long?' He went, 'It's done'.
"Alan Smith had come short into the channel. It was the only ball I had, so I just hit it and fortunately it went to him.
"Then the rest is a beautiful; silky touch from Smith, the flick into Thomas... Thomas through the midfield. Then how long did he take to put it in?! Come on! I was 50 yards away, screaming.
"I could just see a yellow shirt, No.4 running away, and these red shirts. I saw Nigel's [Winterburn] hands go up so I knew it was in. I just burst out crying on the pitch, crying my eyes out. I hoped they didn't kick off and come down my side, because I couldn't see!"
Such a storyline always felt like it was from a film – so actually turning it into one was a no-brainer after The Guardian's Amy Lawrence asked Dixon if he wanted to do 'a documentary'.
"What about?"
"Eighty-nine."
"As soon as she said those two words I went, 'In. That's it. Whatever. I don't care what it is,'" Dixon recalls.
The 53-year-old has been an executive producer, to his bewilderment, rallying together former team-mates before taking up a directing role, sitting and chatting with the editor.
"It's been a really exhilarating 10 months and I've loved every minute of it, seeing loads of different aspects of how films are made. It's been a real eye-opener," Dixon notes.
Golden Graham
The mastermind behind the 2-0 win for Arsenal that night was George Graham; notorious for his defensive-mindedness, but also for being an excellent strategist. Still, the Scot's side were written off. They'd blown their chance in their last two matches, said the media.
But Graham had other ideas – and if anyone could prepare a team for 1989's title decider, it was him.
"I couldn't think of anybody better to go into that game with his positive attitude, his belligerent style of, 'No, we're going to do this'," says Dixon.  
"He had a game plan that was literally written down on a piece of paper that worked out word for word. Nil-nil at half-time. Try to put a bit of pressure on them, get a goal in the first 20 minutes of the second half and then nick it near the end. It kind of worked like that..."
"George was very strict with his discipline," Dixon adds. "A bit over the top, you think at the time, but looking back it was the best thing for a group of young players.
"He's very good on the training pitch: 'You do it this way or I'll tell you off. You do anything other than that and you're in trouble.' It worked. It created something very hard to beat, very well-drilled with and without the ball.
"Arsene Wenger's the complete opposite. He will let a training session go without saying anything. His strengths are preparing players to play in games; physically, mentally, a great man-manager.
"He's not a coach like George; not an organiser, not a shifter of people around the pitch. He suggests ways he'd like to see the game played and you work it out yourselves.
"The similarities are that they're both winners, both passionate about winning. They're both bad losers. The comparisons probably end there.
"There are lots of pluses and minuses from both. Having George as a youngster and Arsene as an older player was perfect, rather than the other way around. I think I would have been a lesser player if I had it the other way around."
Then and now
Graham's influence was one of many factors behind Arsenal's win that night. In the end, a combination of pressure, skill, luck and mental fortitude culminated in the greatest season finale in living memory (sorry, Sergio).
Dixon wouldn't expect today's Arsenal crop to be capable of getting the same result under those circumstances, and believes the team of '89 are stronger in almost every department.
"Would they keep a clean sheet? I'd probably suggest not, so they would have to get three, maybe four," Dixon says. "They could probably do that. On that night, the clean sheet was imperative because the thought of scoring three goals at Anfield was unthinkable.
"I don't believe this present side has got what it takes, what we had to make that happen. Alexis Sanchez in the '89 team wouldn't play like he does now. Sometimes it looks like he down tools when things go against him. That wasn't allowed in our team.
"Is John Lukic better than [Petr] Cech now? There's not a lot in it. Certainly the Back Four would get in from a unit point of view, hands down. Would Michael Thomas get in from midfield? Yes. Would David Rocastle get in? All day long. Would Alan Smith get in up top? Yes."
Trash talk
It's fair to say that Dixon sees a chasm between the Arsenal sides of today and yesteryear; a lack of team spirit, possibly – a lack of defensive discipline, definitely.
"Team spirit is talked about a lot in football, and everyone gets on, and there's team spirit at a club. That's a load of rubbish.
"The one thing that stands out for me at the moment is that when a goal goes in, you don't see a lot of talking. That to me says something's not quite right. Because when a goal went in against the teams I played in, somebody would be asking questions.
"I would suggest that if George was the manager today, he would instill more discipline on the pitch about positions. He would go back to a back four, there's no doubt about that.
"He would drill them time and time again. He would be drilling that back four and trying to get them into a frame of mind and a method of winning the ball back.
"It's pretty obvious to me looking at the side now, what they're doing on the training pitch without the ball doesn't work on a Saturday."
ACTION REPLAY
Arsenal certainly didn't take the orthodox route in 1989 – they only set up their unthinkable scenario against Liverpool by slipping up in their crunch penultimate matches of the campaign against Derby (1-2 defeat) and Wimbledon (2-2) respectively. Chuckling, Frank Sinatra fan Dixon acknowledges the angst – and wouldn't have had it any different.
"Absolutely," he grins. "We did it our way."
'89' is available now on DVD, blu-ray and digital download
Quizzes, features and footballing fun
Get the best features, fun and footballing frolics straight to your inbox every week.
Thank you for signing up to Four Four Two. You will receive a verification email shortly.
There was a problem. Please refresh the page and try again.