Luke Shaw given two-week fine for behaviour in Mourinho's dream
England international hit with another punishment, report Back of the Net.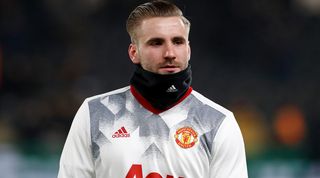 Manchester United boss Jose Mourinho has slapped full-back Luke Shaw with a two-week fine for "unacceptable conduct" in a dream he recently had.
Mourinho has grown increasingly frustrated with the 21-year-old, who has proved himself unable or unwilling to be Daley Blind, and Shaw's latest infraction may see him forced out of Old Trafford altogether. 
Unacceptable behaviour
"I was back home in Setúbal, in my old school, except it was also an airport," Mourinho told FourFourTwo.
"My teacher was giving out jetpacks, and Luke Shaw was suddenly there, and he said my jetpack was stupid, and my friends laughed at me.
"Then I was flying over Old Trafford, except it was really Stamford Bridge, and I realised I was naked because Luke Shaw had stolen my clothes.
"I will not allow any of my players to steal my clothes, and Luke must understand this or he will not play.
"Then we were in a restaurant, Luke and I, and Rui Faria, and Bob Hoskins.
"Luke had the face of my first girlfriend, but I knew it was him. And then he threw wine all over me and accused me of fancying his sister.
"He must learn to behave better in my dreams, like Marouane Fellaini, who I recently dreamed saved me from orcs in the Battle of Helm's Deep."
During his exile from the first team, Shaw will have plenty of time to reflect on his own recent dream, in which he battled his way to the centre of a labyrinth to decapitate a monster with the head of Mourinho.
Please note: This satirical news story is not real. Like, obviously.
More funny stuff • New features every day on FourFourTwo.com
Quizzes, features and footballing fun
Get the best features, fun and footballing frolics straight to your inbox every week.
Thank you for signing up to Four Four Two. You will receive a verification email shortly.
There was a problem. Please refresh the page and try again.