Meet your new favourite German side with a boss on course to better Lulu
Archie Rhind-Tutt introduces the men battling Bayern Munich and impressing in Europe against the odds...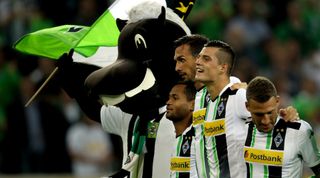 At 56, Borussia Mönchengladbach's Lucien Favre is the oldest coach in the Bundesliga. He's a man who insists on tactical discipline, yet in his younger years he had a bit of a rebellious streak.
In the west Switzerland village of Saint-Barthélemy where Favre grew up on his parents' farm, he was only 12 when he smoked his first cigarette with his teacher's daughter. "I could have got into a lot of trouble but she was pretty, I had to risk it," he once recalled.
This sort of calculated risk taking would prove useful for Favre's later career, but something else happened when the Swiss was 12 – Borussia Mönchengladbach won their first Bundesliga title. The year was 1970 and that championship was to be one of an eventual five won under legendary coach Hennes Weisweiler in the space of eight seasons.
It was under Weisweiler that Gladbach gained their 'Foals' nickname as a newly promoted side five years earlier, due to the average age of the team being just 21-and-a-half. These were the club's self-proclaimed golden years, and it was then that Gladbach's rivalry with Bayern Munich was forged.
Battling Bayern again
Today, Bayern's games against Borussia Dortmund may be known as the Klassiker, but it was their matches against Gladbach that were the original big one; a rivalry that gripped Germany.
Over nine seasons, Bayern won four titles; Gladbach five. After the seventies, Bayern became dominant. But no side since, not even Borussia Dortmund, have challenged the Rekordmeisters in the same way that the Foals did back then. Gladbach have failed to add to the fifth title they won in 1977. Since then, Bayern have collected the Meisterschale in 19 of the following 37 seasons.
On Sunday, there were echoes of the rivalry as second played first in Germany. Gladbach, labelled the 'Bayern hunters', took on the team that had left Rome in ruins just five days before. With Dortmund out of the title race already, talk before the game centred around Favre's side being Germany's last hope to rival Bayern.
Even though it finished goalless, thus leaving Gladbach four points behind their powerful rivals, it felt like Favre & Co. had prevailed. Had it not been for Manuel Neuer's excellent performance in the Bayern goal, Gladbach would have actually done so.
Nostalgics may have enjoyed how the game followed the seventies narrative; Gladbach most effective on the counter, while Bayern placed a greater emphasis on controlling the game (72% possession to 28%).
Keeping the ball in such a way has become synonymous with Pep Guardiola. The same, however, can be applied to counter-attacking and Favre in the Bundesliga.
He didn't win on Sunday but it was still testament to the Swiss, who has helped to transform Borussia into a side capable of challenging at the right end of the table.
Love at first sight
Favre took over as coach back in February 2011, Valentine's Day to be exact, but this relationship was to be no pre-pubescent crush. When he arrived, Gladbach were bottom of the Bundesliga.
By the end of the season they'd risen two places into the relegation play-off spot, where they faced VfL Bochum. Tied at 1-1 on aggregate with 19 minutes left in the second leg, a 21-year-old forward called Marco Reus scored the goal to keep the club in the top flight.
The very next season, Reus helped spearhead Gladbach's finish in a Champions League-qualifying fourth place. The highlight of the campaign was Favre's masterminding of home and away wins over Bayern Munich – the first of only two occasions a team has done the double over Bayern in the last eight years.
Inevitably, though, after Gladbach's highest finish since 1996, their best players were picked off. Reus went to Dortmund, Dante to Bayern and Roman Neustädter to Schalke. "It's like Barcelona losing Messi, Xavi and Piqué all at once," Favre mourned.
He wasn't too far off – Reus and Dante were playing against each other in a Champions League final the season after they left Borussia Park. It would be up to sporting director Max Eberl, who originally recruited the duo, to help rebuild the squad.
Striking gold
The success of that subsequent reconstruction can be seen in the eighth and sixth-placed finishes that followed. Putting them into context, before Favre's arrival they hadn't finished in the top half of the Bundesliga for 15 years.
It's even better when you consider what Favre pointed out to Bild before the Bayern game last weekend: that Gladbach are currently working on a budget ranked somewhere around 10th or 11th in the division. Clubs like Hamburg and Stuttgart would long for the Foals' stability.
It's tricky to pick the best of Eberl's signings but last summer's batch were a fine vintage. Attacking pair Raffael and Max Kruse managed 27 goals and 19 assists between them last season, with Gladbach paying just under £6 million altogether for the pair.
Following his excellent debut season, Kruse had an interesting summer. After missing out on Germany's World Cup squad the striker was forced into surgery on a ureteral stone, but not before winning a cool $36,000 at the World Series of Poker in Las Vegas. Last season, meanwhile, his camouflage-sprayed Maserati was named the ugliest car in the Bundesliga by Bild.
Elsewhere, Christoph Kramer was signed on a two-year loan deal from Bayer Leverkusen, and his first Bundesliga season was so good that he went on to become a World Cup winner with Germany in July, starting in the final before being forced off with concussion.
Kramer was excellent again in the draw with Bayern on Sunday – a result that meant Gladbach remain the only Bundesliga team unbeaten in all competitions (if you count Bayern's Supercup defeat to Dortmund in August). Title talk will linger for now, but a repeat of the top-four finish achieved in Favre's first full season would still be mightily impressive all things considered.
That said, Gladbach did fail in the subsequent Champions League qualifier against Dynamo Kyiv, so a top-three finish is needed to guarantee an appearance in the lucrative Champions League group stages. That would be new territory for the man nicknamed 'Lulu' during his time in Switzerland.
By chance, Favre's singing namesake never achieved a chart position above 4 in Germany, just as he never has in the Bundesliga. Currently then, he's on course to become Germany's most successful Lulu in May. Which is nice for him.
Quizzes, features and footballing fun
Get the best features, fun and footballing frolics straight to your inbox every week.
Thank you for signing up to Four Four Two. You will receive a verification email shortly.
There was a problem. Please refresh the page and try again.