Morale hits new low as West Ham players realise they are fundamentally pointless
The Hammers are undergoing an existential crisis, Back of the Net reports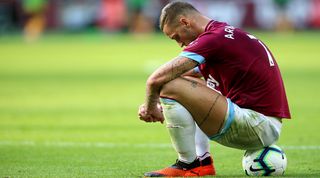 The mood around West Ham United is bleak as officials, fans and players are facing up to the fact that the club is pointless.
The sudden awareness that the club, founded in 1895, is absolutely pointless, coincided with Adama Traore's injury-time winner for Wolves at the London Stadium and has had a marked impact on the atmosphere at training this morning.
While all the players turned up, many on time, their usual tactical and physical drills were ditched in favour of sitting in a darkened room and quietly sobbing.
Manager Manuel Pellegrini won plaudits from his players for the dignified manner in which he led the session, not offering any false hope to his assembled troops but reminding them that ultimately all human endeavour is pointless, albeit not as obviously pointless as wearing a West Ham shirt.
Marko despair
"It's hit the boys hard," Marko Arnautovic told FourFourTwo. "We're all a little bit nihilistic to be honest.
"One minute you're sprinting for a loose pass, believing you've picked up an unspectacular but mildly encouraging draw, the next you've realised that you've lost and your very existence is meaningless; you're a hollow husk in the shape of a functional marksman, a vessel of insignificance in a claret shirt.
"I might keep an eye out for a move in January, but there is definitely an upside to playing for a club where I can blaze chance after chance over the bar without it mattering at all."
West Ham's owners David Gold and David Sullivan are reportedly dispirited that the news their club is pointless has emerged shortly after spending £100m in the summer transfer market; money that would've been more effectively spent on quite literally anything else in the world.
"I did kind of suspect we may be pointless," West Ham season ticket holder Ian Lathey told FourFourTwo.
"The clues were there. We don't win any trophies, our most famous song is about bubbles, which are the ultimate symbol of futility, and our stadium is essentially a cold, soulless limbo.
"I'm gutted but of course I'll still be headed up to Everton. Any true fan sticks with their team for the good times and the bad. Or in this case through the eternity of exactly equal senselessness. It's still better than being a Chelsea fan."
Please note: This satirical story is not real. Honestly.
Quizzes, features and footballing fun
Get the best features, fun and footballing frolics straight to your inbox every week.
Thank you for signing up to Four Four Two. You will receive a verification email shortly.
There was a problem. Please refresh the page and try again.