Moses Swaibu shared a Crystal Palace changing room with Victor Moses and Nathaniel Clyne as a teenager - by 24 he was in prison for match fixing
Coming through Crystal Palace's academy, Swaibu showed promise of a successful career in football, before it all came crashing down. Here, he explains to FourFourTwo the steps he took in his career that led to him serving 16 months in prison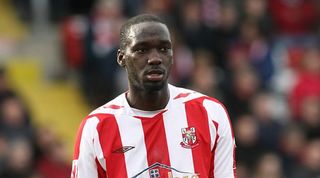 (Image credit: Getty Images)
Moses Swaibu had his whole career ahead of him.
Joining Crystal Palace's youth team at 16, Swaibu quickly progressed to earn a professional contract with the South London side upon the conclusion of his two-year scholarship. He won the Scholar of the Year and Vice-Presidents Young Player of the Year for the 2006–07 season, and everything looked extremely positive.
Among the Crystal Palace dressing room in the academy at that time were future Premier League stars Nathaniel Clyne and Victor Moses - however, Swaibu ended up having an altogether completely different career to those two.
"How? Explaining that takes a bit of work," Swaibu tells FourFourTwo. "For the papers, mine is a story of match-fixing, corruption and being one of the first UK footballers convicted of bribery charges. For me, there is no glorification. It is about how gambling and organised crime groups are able to prey on young people with dreams.
"I left Palace at the end of that season [2007/08], Neil Warnock replacing Taylor in October. Warnock had named me on the senior bench and loaned me to Weymouth, but thought I was too light and needed to improve my heading and aggression. He told me, 'I have to let you go, but this is the best thing I can do for you because you need to go off and learn men's football.'
"So, I asked my friend to pretend he was an agent and ring around non-league teams. The first one we phoned was Bromley, and I was signed for the next campaign."
Swaibu ended up spending just five months at the club, making 20 appearances. He swiftly moved to Lincoln City, after having a successful trial with the then-League Two side.
"From there, League Two Lincoln soon picked me up and I breezed my way through some reserve matches, winning 10 consecutive man of the match awards and another Young Player of the Year prize in the first team. My confidence was through the roof.
"Premier League sides started to show interest and the club rejected bids from Birmingham and Aston Villa. Lincoln had offered me a new two-and-a-half-year deal and my stance was: 'if it's Aston Villa now, imagine who it could be after another good season'. Making a different decision would have changed my life.
"I was in great form for Lincoln when I was introduced to the world of match-fixing. We were at a hotel in Northampton before a game when a senior team-mate, striker Delroy Facey, called my room, asking me to come downstairs with a few of the lads. I went down to go and chill, and when I walked in there was Del, another bloke and a bag of cash sitting on the bed."
Swaibu explains that encounter with a vivid memory. Clearly that day will live with him for eternity.
"'I want you to lose tomorrow,' said the other man, a match-fixer. 'No pressure, but if you do, it's X-thousand-pounds each – and there's plenty more where that came from.'
"Delroy then told us that the bag on the bed contained £60,000, and he counted it out in front of us. 'Don't say anything,' he insisted. When we headed back to our rooms, I'd already made up my mind: I didn't want any part of it, but I was certain that I wouldn't mention anything to anyone else at any time.
"One of the players took the cash to bed with him, but the following day we were all benched or out of the squad anyway, and that money sat in the changing room when the gaffer revealed his team. The next day, somebody came to Lincoln's training ground and the money was returned. I knew it was strange, but even if I did have the opportunity to report that, who was I going to tell – the first-team manager?"
By December 2011, two-and-a-half-years after leaving the club, Swaibu was back in non-league with Bromley, via a brief spell at Kettering Town. He left Lincoln by mutual consent, after falling out of favour towards the end of his time there.
"I returned to Bromley in December 2011," Swaibu explains. "We were playing OK and I was made captain, having received a signing-on fee as one of the top earners, but we were told that we wouldn't be paid for a while. In meetings with the vice-captain, we'd hear that we were being paid next week, then the next week, and that turned into months. I had a daughter on the way and, as players, we were training twice a week for nothing.
"As soon as we got in the car, everyone started counting the money, and it was more in one night than most of us earned in a whole year. Was it illegal to take cash from a stranger? We were normal, aspiring, lower-level footballers trying to achieve the best we could, and here someone had just covered a year's wages in return for doing nothing. I remember looking at a text message from my missus, who was heavily pregnant and had sent a list of things we needed to buy for the baby. The lure and my loyalty started that night we first met, as they explained how they saw me as a leader, not having to do what the others were asked.
"That's when I was approached by match-fixers for the second time in two years. A team-mate told me that he had an opportunity, and to bring a few other players to a hotel in central London. I knew what that meeting was for. The same day – New Year's Eve – I'd texted the Bromley manager to request a day off, to sort out some family issues. He replied in the evening, saying I could but I'd have to accept a fine. 'Happy New Year, mate.' That was it: in my head, I had the green light."
From there, everything spiralled. This is where Swaibu truly entered into the world of match fixing and accepting bribes.
"In the hotel room, I met one of the match-fixing bosses for the first time, which happened to be his first visit to London. He spoke through a translator and much of what he said was, 'There's no pressure.' Often, match-fixing isn't about winning or losing, or the correct score, but goals scored in a game or a half, so they wanted us to concede twice before half-time in an upcoming match. There were still 101 thoughts racing through my mind when they ended the conversation saying, 'That's it, thank you for coming.'
"So, I began to understand how they worked and how an underworld syndicate operates, becoming a figurehead that knew their business. As the season progressed, I became more and more involved in their world as they established a network in English football. I saw with my own eyes how millions of pounds were placed in gambling on fixed sporting outcomes globally – not solely football – all leveraged in the course of a week. Mentally I was living in a TV drama series, but the reality was that no one in my position had ever been caught and sent to prison. This was betting's black market. I was in so deep that it became everyday life, almost like having a day job while I trained and played twice a week.
"But on the pitch I became empty. I walked out with no aggression, no drive to lead, and it sat heavily on my heart knowing that players who worked so hard every day of every week would never know they were playing in a rigged system. I'd opened a door without knowing what was on the other side. That's the biggest mistake I've ever made."
As the 33-year-old explains, money eventually didn't become the motivation for continuing to accept bribes. Instead, he simply had no other choice but to continue, for fear of his life amid threats being made.
"By the time things started to go drastically wrong, I was no longer involved for money. I recall talking directly to the boss and telling him that I couldn't do it any more, after he expressed his desire to punish a team for not following through in one game. At that point, a group of players were sent a bullet each. A poison was penetrating the sport, and I was right in the middle of it.
"Although I didn't receive a bullet, having that communicated to me was undoubtedly a threat. By 2013, I was no longer in touch with the boss and back playing football to love the sport again. I was travelling from London to Brighton three times a week to play for Whitehawk, where the floodlights would turn off halfway through training or the showers wouldn't work after matches. And I knew that every game could be rigged. I asked myself, 'What am I doing?' I certainly wasn't in it for the money.
"I officially retired at half-time against Gosport, in the last competitive game I'd ever play. I was 24 and should have been in my prime. I still can't describe the resentment that football gave me because of what I'd become within it."
Swaibu retired in the Conference South, having played just four times for Whitehawk. His career had promised so much in the Crystal Palace youth team, but instead he had walked away from the sport he still had so much left to offer on the pitch.
His past would quickly catch up with him, though.
"I'd put my daughter to bed one night when I got a phone call from a mate, inviting me to a meeting at AFC Wimbledon vs Dagenham & Redbridge. Little did I know that the people I'd been speaking to were also talking to the National Crime Agency, and that the first half of the Wimbledon game would be the last I watched for some time.
"I went with a friend and met another set of match-fixers, who told me what was happening and asked me questions as we left the game and went for dinner at a nearby restaurant. I engaged but could feel something was up, especially as a young man and woman were turned in our direction next to us. Why were they sat alone on a cold Tuesday night without ordering food?
"I wasn't interested so called my friend, who'd stayed to watch the game, and got up to leave. Everyone was inside the stadium and we started walking via a long, dark alley when the NCA officers shouted, 'Stop! Don't move.' We froze. I remember looking at my friend and thinking, 'Oh f**k'."
In January 2014, Swaibu was charged with conspiracy to defraud, arising from an investigation into match fixing and an alleged betting syndicate.
"Following my arrest I was taken to Birmingham, where I was tried at Birmingham Crown Court and sentenced to 16 months in prison for conspiracy to commit bribery, serving alongside Delroy. Even before the trials, I knew I'd go down and that I had to prepare for it, but it didn't really sink in until the first night. While I was being processed, I looked around and thought, 'This can't be how it's going to be...'
"That night taught me how important football is. I realised its size and value and how it connects people. A lot of the guards were West Brom supporters and knew Delroy from his time there, so when we got onto the wings we were the footballers. To some of the guards that meant we were silver-spooned, and they tested our patience throughout my four-month stint. When I asked other inmates how to earn extra time out of my cell, that led to seeing a therapist and opening up in a way I'd never done with anyone. That's where I began to understand what had got me to that point.
"Inside is where I fuelled the fire to come out and make a difference. When I was released, a part of me felt ashamed because my journey as a footballer involved family, friends, coaches and team-mates, and finished with the FA banning me for a suspended 15 years. During my tribunal, I sat across from the FA and said, 'How can I give back? How do I help you?' And, along with the PFA, they told me, 'We'd like you to tell your story.'"
Swaibu has done exactly that, teaching young players lessons he ultimately never received. With his support, Swaibu is hopeful academy players coming through the ranks now won't make the same mistakes he did.
"I've taken full accountability for my actions now, but I received no support as a young player and no education. The life I live today tries to change that, because aspiring and current footballers can make better decisions if they have the right information. My story in football is a lesson; a near-perfect vehicle to convey a positive message about the importance of integrity for each individual in sport. I've managed to make a clear distinction between my past and present, and I work every day to improve integrity throughout sport in the future.
"How did I end up in prison? Ultimately, I made bad decisions. Today I work to address that, as receiving no education or support killed my boyhood dream and no young sports professional should have to go through that. They should have the option to say 'no' without fear or backlash – and be proud of it."
Thank you for reading 5 articles this month* Join now for unlimited access
Enjoy your first month for just £1 / $1 / €1
*Read 5 free articles per month without a subscription
Join now for unlimited access
Try first month for just £1 / $1 / €1
Get FourFourTwo Newsletter
The best features, fun and footballing quizzes, straight to your inbox every week.