Oscar: Some were surprised that I went to China, but I can't decide my life on what other people think
Felipe Rocha catches up with Shanghai SIPG's latest big-name recruit ahead of the CSL season kick-off on Saturday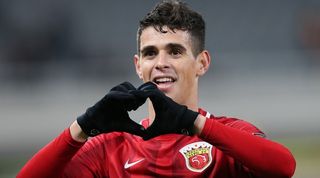 What have your first weeks with Shanghai SIPG been like?
It's never easy when you move to another country, but things are running well for me. I spent a few days in Shanghai and then we travelled for training abroad, in Qatar. So I'm already working hard with the boys, training every day to get ready for the season. So far, so good, I'd say. I'm quite impressed with my first days at this club and I like Shanghai as a city as well.
You travelled to Shanghai after signing: what was that experience like? What were the fans like?
It was a great experience. There were many supporters waiting for me; it was a special day in my life. My first impression was that Chinese people are crazy about football. And I already knew that Shanghai supporters are some of the best over there, so it's no surprise what they did for me. I'm very happy to be part of Shanghai SIPG.
Was that the first time you'd been to China or Shanghai? What do you think of the city? What are the differences to London?
It was my first time in Shanghai, but not in China – I've been to Beijing with Brazil before. I found Shanghai a really nice city, there's everything you need. And that counts too. At the end of the day, it's not only about football, the place where you live is very important. So if you can play for a club from an interesting city, that's the perfect scenario.
This is one of the reasons I was so happy playing for Chelsea, as London is a fantastic city. My first impressions of Shanghai were good too, and I'm just happy with the whole package of this new challenge. Shanghai is a metropolis which reminds me of New York in many aspects. People say it's about money, but the city played its part in my decision to accept the offer.
What else was important in your decision to move to China?
I had an offer from Chinese football last year as well, but I didn't want to go further at that time. Now, I listened to their offer and the project sounds perfect. In every conversation we had they were coming with an even more attractive offer. In the end, it was something good for me, Chelsea and Shanghai.
The financial aspect was important, but it's not all about money. The city where you live is very important. I'm not going by myself, I have my wife and kids, so the city must be nice and Shanghai has all we need. I wasn't playing that much for Chelsea recently as well. So when I heard about their interest I was just happy to go.
How hard was it to leave Chelsea?
Very hard. I played there for five years, I arrived as a young boy and experienced so many nice moments with the club. I have a lot of respect for the supporters and the club itself. Beyond that, I knew people would be surprised to see a 25 year-old leaving the Premier League for Chinese football. But I can't decide my life on what other people think.
How big a factor was the fact that you weren't playing?
I can't deny it was important too. I wasn't playing as much as I would like to, and that's normal in football. But I'm the kind of player that just want to play, you know? I don't like to sit on the bench, and that was my place in the last seven or eight matches.
When these situations happen in football, other clubs show an interest and then you have to decide. There were offers from European sides as well, but things just didn't work for all parties. Then the Shanghai offer appeared and it was perfect for me, Chelsea and Shanghai.
Did you speak to Antonio Conte about things, and if so what did he say? Did he want you to stay at Chelsea?
Conte is a nice guy. He respected my decision and understood I want to play more regularly. When he arrived in Chelsea, I told him there were clubs interested in me. He said that I was part of his plans and I decided to stay. However, things in football change quickly and I lost my place in the team, which is absolutely normal. With a nice project like Shanghai crossing my way I thought it was time to go, and he understood.
Do you hope Chelsea win the league? Will they do it?
Of course, I do. The team is playing a great football and deserves to be at the top of the table. Conte's found a system that works perfectly for the squad and things look pretty good at the moment. I'll be supporting the team from China and hope they can go all the way to the title. It's still a long way to go and this is something my former team-mates know very well. There is a lot of work to be done yet.
Will you miss some things about Chelsea and the Premier League? What things? Might you come back one day?
I'll definitely miss many things about Chelsea, England and the Premier League. Derby days are maybe on top of the list; the atmosphere in English football is something different to everything I've experienced in my career. Every game seems like a final. The stadiums are always packed and every game is really important for the table.
The organisation of the league is brilliant and I really had fun playing there for several years. England is such a nice country to live in and hopefully I can come back one day. But honestly I'm not thinking about it now. I'm only focused on my new challenge in China.
Axel Witsel explained that he decided to move to China because the wages on offer will look after his family for many years to come, and that he had to think about them rather than just his own career. It's been reported that you were offered £400,000 a week. Is looking after your family a factor for you too?
Obviously the financial part was important in my decision, as it would be for any professional, not only for me. Money is important. Every employee would prefer to work for the company that pays you best. It's like this in football, as it is in any other profession. But as I said, the city, the life in China and club's project were also crucial aspects for my decision.
Did you speak to your wife about moving to such a different part of the world?
My wife was the first person I spoke to, she was the first one to know about the possibility of going to China. We talked a lot about it, actually. In the beginning, we didn't even ask for anybody's help. We went to the internet and researched what life in Shanghai is like, and we liked it. Then I asked some friends who have been or lived there for some tips. And people were saying great stuff about the city.
Does it help that you'd already made a big move from Brazil to London, so you know how to adapt?
I think so, that's a good point. When you're a young boy in Brazil the dream is to become a professional footballer and play for one of the big sides in the country. Then, you dream of going to Europe. I had the privilege of doing both.
Football is dynamic and there's always another place investing more at some point. It's the case of China now and I'm ready for this new challenge. Everything I experienced before will be helpful now. I'm not the boy who arrived in England five years ago. I'm more mature and I look forward to experiencing new things in Shanghai. I'm happy.
Some people have said that at 25 it's too early for a player to move to China. What do you think of that opinion?
I understand their point. The best football is played in Europe, no doubt about it. But I just want people to respect my decision. I didn't stay a single season in Europe, I experienced many things there and played for one of the biggest clubs in Europe.
One day I might come back, who knows? But now I am totally happy and convinced I made the best decision. Chinese football is getting bigger and bigger. I'll have fun there.
You're working with Andre Villas-Boas and Hulk. What did they say? Did it make the club more attractive knowing that people like them are there too?
Yes, definitely – two great and successful guys. There's also Elkeson, a very good player, and Ricardo Carvalho, such an experienced defender... a winner. And even better they're all Portuguese speakers. I'm happy to work with them.
What's the standard of your new team been like so far?
I found a huge level of professionalism in the club – actually more than I expected to be honest. Villas-Boas brought his coaching staff, so it's pretty much the same as what I was used in Europe. And the club's level of organisation is very high too. Shanghai are much more organised than many big clubs in Europe, I'd say.
It's a nice feeling to be here and I'm impressed with this club. On the pitch, I'm confident we can do great things and try to be champions of China – and hopefully, Asia too. Let's see how we get on with each other when it comes the competitions, but from what I've seen in training sessions, I'm confident.
How different will it be when you'll be one of the best players in the league by some distance, and not surrounded by many other top players like at Chelsea?
It might not be the same as Chelsea yet, but there are more and more good players coming to China. In Shanghai, I look to one side and see Hulk, to the other and see Ricardo Cavalho, my manager is Villas-Boas and there are many other great players and coaches working for our opponents as well – players who could easily be at a big European club. The football isn't bad in China.
Are you learning the language already?
Shanghai is an international city, which is helpful because everyone speaks English. Wherever you go, you can survive speaking English. It makes things easier, as it will be very hard to learn their language.
Do you think that you can get back into the Brazil squad in China? Paulinho, Gil and Renato Augusto have all been selected while playing there...
To be selected you must be playing. Nowadays, people have access to every league in the world. As you said, there are other guys in the Selecao playing for Chinese clubs so I don't feel like I'm hidden here. I wasn't playing in England, so if I play here I might be closer to being selected now than when I was at Chelsea, right?
Your club get attendances of nearly 30,000, too?
That's right. And they told me there's no way back from this number. The stadium capacity is around 80,000 and the board expects attendances to increase next season to around 40,000. People in Brazil and England usually don't know much about Chinese football, but their project is to become one of the biggest football powerhouses in the world. I think they're on the right path for it.
Do you want to play a role in the Chinese league really growing?
I do, but it's not only about me. There are many guys coming from Europe. I'm one of the youngsters, but there are plenty of great players. Obviously all of us will benefit if Chinese football gets bigger – and I'm proud to be part of their project.
Thank you for reading 5 articles this month* Join now for unlimited access
Enjoy your first month for just £1 / $1 / €1
*Read 5 free articles per month without a subscription
Join now for unlimited access
Try first month for just £1 / $1 / €1