7 managers who fought back against the fans (and why they had to)
After Carlo Ancelotti flicked the middle finger to Hertha Berlin supporters, Tim Ellis picked out other bosses who were feisty enough to give some back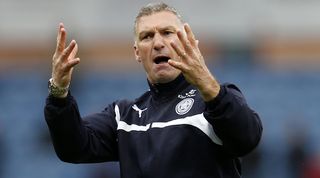 1. Lombardi fuels fight at petrol station
Disgruntled Sarmiento fans found manager Ricardo Caruso Lombardi filling up his car at a petrol station after the side's latest loss saw them fall to the bottom of the Argentine top flight last year. Unpleasantries were exchanged, and Lombardi was determined to hold his own.
"One began to say things to me," he explained. "I looked at him and asked him what was wrong with him. He said that I was scared and that we were going to be relegated. It was chaos. I don't understand."
The 54-year-old eventually resigned two months later, although he did at least keep Sarmineto up.
2. Pearson turns the air blue
Nigel Pearson came under the cosh following Leicester's 3-1 defeat by Liverpool in December 2014, which kept the Foxes rooted to the foot of the table. "It's our club not yours," one punter shouted, followed by: "you're all out of a job and you know it."
Pearson duly told the fan to "f*** off and die", although his official (and edited) reaction later on was slightly more considered. "I had a spat with a fan towards the end," he said. "If they can't see the players are having a proper go maybe they need to stay at home."
Thankfully, the supporters continued to turn out en masse as Leicester completed a remarkable escape act to stay up.
3. Mick offers 'em out
After a 1-1 draw with East Anglian rivals Norwich at the beginning of the 2016 campaign, Ipswich boss Mick McCarthy launched a withering attack on the Town fans who were "up and down like a bloody fiddler's elbow". One pleasant type 
The no-nonsense Yorkshireman went on to express his discontent at one supporter in particular, suggesting that the offender would be welcome to a pint if they'd been in closer quarters. Well, sort of.
"I get sick to death," McCarthy fumed. "We play one bad half and we're all s*** and we can't play. The manager doesn't care. Get somebody who cares.
"I'm a boring c***, somebody called me last week. I wish they would call it to my face on my own because he would have been wearing his pint of lager."
Ipswich beat Preston the following week, with McCarthy describing the victory as "a real bloke's performance". Must have had someone in mind…
4. Ex-Gunner Nelson goes gung-ho
In 2013, Nelson Vivas was dismissed from his managerial position at Argentine Primera Division side Quilmes for punching an abusive supporter in the head following his side's 1-1 draw with Atletico Rafaela.
The Quilmes fan on the receiving end, known as Carlos in the local media, had a surprisingly sympathetic view of the incident. "He shouldn't have to apologise to me because it was all in the heat of the moment," he told the press. "I think Vivas should continue."
Club president Aníbal Fernández disagreed, though, and insisted the former Arsenal man had to go. "Professionals like Vivas can't get angry about these things; they need to be able to show level-headedness," he huffed. "What happened was crazy."
Vivas has done just fine since, though: he's currently bossing Argentine giants Estudiantes and a now-41-year-old Juan Sebastian Veron. 
5. Harry gives Hammers fan an earful... and a game
During a pre-season friendly with Oxford City in 1994, Harry Redknapp pulled aside a mouthy fan who'd been hammering West Ham frontman Lee Chapman. "He had a t-shirt and shorts on, and every spare inch of him was covered in West Ham tattoos," Redknapp recalled of supporter Steve Davies. "He didn't fancy our striker one bit."
'Arry grew so tired of the tirade that he eventually shouted back: "Oi, can you play as good as you talk?" Davies wasn't going to back down at this stage, so on he trotted in place of Chapman for the second half.
Incredibly, his Roy of the Rovers moment arrived in the 71st minute, when he belted one past the Oxford goalkeeper. "It was like time stopped still," the courier from Milton Keynes admitted. "It was the greatest moment of my life." 
Even Redknapp admitted that Davies was better than Chapman on the night...
6. Vickers tackles Borat streaker
Dorchester Town's player-manager Ashley Vickers was sent off for tackling a pitch invader dressed in a mankini during his team's Conference South 3-1 defeat by Havant and Waterlooville in March 2011. 
"I'm dumbfounded and speechless," he subsequently told the Dorset Echo. "I thought I was doing them a favour."
Giving full rein to his inner Borat, Havant fan Alan Young was allowed to patrol the midfield for a full 30 seconds before the Dorchester player took him down. "It was only a bit of a joke, we all agreed at my local pub on Sunday I'd do it as a bet," Young explained. "The security there were too slow but Vickers caught me quite well. He should be a rugby player." 
Vickers' red was eventually rescinded, but Young was charged by the FA with "supporter misconduct". Justice!
7. Sherwood hands over gilet
Tim Sherwood's final appearance as Tottenham boss was memorable for the anointing of his temporary replacement – a fan from the stands during a 3-0 win over Aston Villa in May 2014.
The Spurs manager singled out a familiar mouth giving him grief midway through the second half and invited him to take his place in the home dugout. Out of his comfort zone of anonymity, the supporter soon made his way back to stands with Sherwood's gilet in tow.
"That guy is an expert," the ex-England international quipped. "Every week he tells me what to do. We've got the police looking for him because he's nicked the gilet."
When asked if his stand-in was in the running to replace him at White Hart Lane, a somewhat bitter Sherwood replied: "No chance. He's English."
Quizzes, features and footballing fun
Get the best features, fun and footballing frolics straight to your inbox every week.
Thank you for signing up to Four Four Two. You will receive a verification email shortly.
There was a problem. Please refresh the page and try again.