Spilled milk and fallen trees: the rise and fall of Palmeiras, destroyed by a dairy company
By Luke Ginnell published
Twenty-five years ago, Palmeiras were obliterating all around them with an all-star team bankrolled by an Italian company. And then it all went wrong...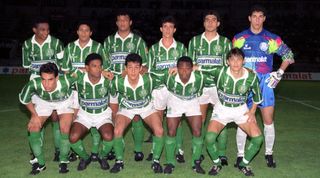 "Who could stop an attack formed by Rivaldo, Evair and Edmundo?" asked Brazilian magazine Placar in 1994, before providing the simple answer to its own question: "Nobody."
The same year Brazil won its tetra in the USA, that 'trio mágico' fired Palmeiras to its fourth Brasileirão title. They laid waste to all defences that dared oppose them, and these three players scored 38 of the team's 58 goals that season. They were the sharp end of one of Brazil's most attractive modern club sides; a team powered by Sampaio, Mazinho and Zinho, and fortified by a backline including the great Roberto Carlos.
This was Parmalat-era Palmeiras: a Brazilian dream team bought with Italian milk.
Twenty-five years later, Palmeiras are back on top after claiming two of Brazil's last three league championships. But only five years ago they were unrecognisable from their present incarnation, when the dairy millions evaporated and the Verdão (Big Tree) were almost relegated for a secondtime in three seasons. On-field struggles were exacerbated by incessant boardroom chicanery, and as journalist Mauro Beting pointed out: "There's no money, no team and no leadership."
The recovery since has been remarkable.
Dairy dare
The nineties felt like a dream. In 1992, the club signed a three-year contract with Italian corporation Parmalat. Run by Calisto Tanzi and once considered a paradigm of virtue in Italy, the dairy giant had been involved in sport sponsorship since the mid-1970s.
Perhaps the most notable example of this was their relationship with Parma, a team in which Parmalat had already invested significantly by signing stars such as Tomas Brolin, Faustino Asprilla and Gianfranco Zola to promote the company through football.
Having become interested in hawking their wares to the Brazilian market, Parmalat wasted no time in developing a local version of Calcio's nouveau-riche outfit. There was an obvious candidate for their attention: a club born as Palestra Italia, now known as Palmeiras; a club representing the vast Italian community of São Paulo, Brazil's biggest city.
"According to the Brazilian joke, God made São Paulo ugly so that its people would go to work each morning," says Garry Jenkins in The Beautiful Team, his tribute to the World Cup-winning side of 1970. "In reality, it was the Italians who built Brazil's equivalent of Chicago."
The Italians also built Palmeiras. From the émigré community came the founders of Palestra Italia – the club adopted its current name in 1942 – as well as renowned players like Jose Altafini, Humberto Tozzi and Anfilogino Guarisi, who represented Italy in the 1934 World Cup. Perhaps the most notable or these oriundi was the moustachioed, rocket-powered star of the 1970 generation, Roberto Rivellino, of whom Jenkins remarks: "As a boy with Italian blood in his family he was inevitably a palmeirense."
Unlike Tozzi, Altafini and Guarisi, Rivellino never represented his boyhood team on the pitch and was enticed away by a fat contract with their fiercest rivals Corinthians. But the point remains: he was 'Italian', so he supported Palmeiras. To this day, a defining part of the club's identity is its Italian heritage, and it was partly this longstanding bond that encouraged Parmalat to finance the Palmeiras revolution.
On top of this, Palmeiras boasted a dedicated following and good infrastructure, but significantly they had won nothing for 17 years. By investing in a popular club going through a lean spell, Parmalat bought itself a free hand to dictate business within the organisation.
As highlighted by José Carlos Brunoro, an executive employed by Parmalat to handle the Palmeiras project in its early days, the title drought meant the Italians could demand some bang for their buck: "[Parmalat] wanted to participate in management, which was normal for the company. Palmeiras accepted this arrangement, and the partnership was formed."
Star gazing
Parmalat modernised the board, rejigged the club's image with a new striped kit, and exercised overall financial control through Brunoro, their very own man inside. Millions were pumped in through sponsorship, and much more on top of that added to a transfer kitty then unparalleled in Brazil. Early in 1993, Verdão signed Roberto Carlos, Antônio Carlos, Edílson and, of course, Edmundo – a man once described as a "liability to mankind", who is believed to have cost around $1.2 million.
It subsequently came to light that Parmalat harboured even grander plans, and had gone so far as sending Brunoro to Argentina to negotiate the transfer of a decaying but iconic fantasista by the name of Diego Maradona. Regrettably, but unsurprisingly, El Diego was not willing to ply his trade in Brazil.
Within a year, 'The Animal' and his team-mates had already conquered the Brasileirão, and by the time Rivaldo joined in 1994 from Mogi Mirim, Palmeiras were the strongest team in Brazil. The arrival of the bandy-legged genius merely served to make them unstoppable. Indeed, his signing was something of a publicity coup: after Corinthians dithered on paying the fee demanded by Mogi Mirim following a loan spell at Timão in 1993, Parmalat showed no such hesitation, and got their man.
In spite of their fractious natures, Rivaldo and Edmundo hit the same frequency almost immediately, the former's gangling posture and unhurried ease on the ball contrasting with the brutal flair of his partner-in-crime. They made a striking pair; the one all controlled grace, the other a study in madcap improvisation. Combined with the poaching instinct of Evair, Palmeiras possessed a forward group comparable in relative terms to Brazil's 'Three R' attack in 2002.
The side played with a free-flowing style encouraged by their new coach, Vanderlei Luxemburgo. Dismissed as the man of the 'magic quadrilateral' while managing Real Madrid, Luxemburgo's favoured 4-2-2-2 formation was in fact a reflection of the one used by Tele Santana's Brazil in 1982. As noted by Jonathan Wilson in Inverting the Pyramid, the system "seemed to suit the Brazilian mentality, the two deep-lying midfielders providing a platform for four out-and-out attacking players". Luxemburgo employed it to good effect at Palmeiras, albeit with some variation.
Behind the frontmen, the precocious Zinho frequently appeared to be pulling the strings of those around him. His subtle puppet-mastery was sometimes undervalued, but he received enough recognition to form part of Brazil's World Cup squad in 1994. A combination of Mazinho, Sampaio, and Conceição supported him in midfield, an extra layer of protection for an unyielding central defence where Antônio Carlos, Cléber and the jheri-curled Tonhão all vied for starting berths.
Allied with the diabolic energy of Roberto Carlos on one flank, Claudio or Mazinho on the other and reinforced by Velloso in goal, this was a formidable defensive collective that allowed the creative arsenal assembled by Parmalat's chequebook to fire at will. Arguably, the team became the strongest Brazilian domestic side since Zico's Flamengo in the early 1980s, or even Pelé's Santos.
With back-to-back victories in the Brasileirão, Luxemburgo's men had simultaneously provided palmeirense with the glory they craved and Parmalat with their perfect marketing tool. The 1994 triumph was made all the more sweet given the decisive win came against Corinthians, but after this second title the side fell apart.
Edmundo fled to Rio to pursue a career feuding with Romário, while Rivaldo jetted off to Europe for a life of affluence; as did Conceição, Mazinho (the father of Bayern's Thiago Alcântara) and several others. The golden generation disbanded as quickly as it had been thrown together.
Further glory would follow in 1999 with a Phil Scolari-led Copa Libertadores triumph but, predictably, Felipão's Palmeiras was an infinitely less glamorous specimen, built around discipline rather than flair. The spirit of '94 was not to be recaptured, and Parmalat gradually began to reduce its investment in Palmeiras.
Slippery slope
Shorn of its stars, the team's performances took an alarming and rapid downturn. In 2002, exactly a decade after the Italian takeover, Palmeiras were relegated from Série A. Several years later, it became clear why the Italian company was paring back its investments.
"Even as far away as South Africa, Australia and Brazil, children have grown up with cartons of Parmalat milk and yoghurts on their kitchen table," wrote Sophie Arie in The Observer in 2004. "For now the cartons are still sitting on the supermarket shelves. But in a matter of weeks, the multinational company, a symbol of Italian industrial success, has imploded in a fraud scandal rapidly becoming one of the biggest in history."
As it turned out, head honcho Tanzi had been siphoning off funds from his company for years; about €8bn was unaccounted for. The Parmalat empire foundered, almost taking down its grandest symbol, Parma, in the process. Though their involvement with Verdão had wound down to virtually nothing since the turn of the millennium, the subsequent arrest and imprisonment of Tanzi was the final catastrophic indicator that Parmalat-Palmeiras was no more – a fleeting glory now consigned to memory.
SEE ALSO The Parma story: Hernan, Hristro, Gigi and the dairy dream gone wrong
Despite some level of sponsorship from another Italian corporation, FIAT, Palmeiras struggled to recover financially from losing Parmalat, and found itself a bit-part player for most of the 21st century. It was a bitter pill to swallow for its reputed 15 million supporters, more accustomed to Verdão being one of the big boys.
Mercifully for them, they are once more. In November 2018 they landed a second title in three years, only months after Phil Scolari returned as manager. Palmeiras had been sixth when teh ex-Chelsea manager returned in July 2018, having led Guangzhou Evergrande to three straight Chinese Super League titles and an Asian Champions League crown. It could have been even better too, had they not been knocked out of the Copa Libertadores semi-finals by Boca Juniors.
These are great days once against at Palmeiras – but they still have some way to go before evoking nostalgia quite like the class of '94.
While you're here, why not take advantage of our brilliant subscribers' offer? Get 5 issues of the world's greatest football magazine for £5 (opens in new tab) – the game's greatest stories and finest journalism direct to your door for less than a pint in London. Cheers!
NOW READ
LONG READ The making of Marco Silva and Luis Boa Morte the managers – a journey through Portugal
INTERVIEW Jimmy Glass after football: "No matter how bad things got, I never wished the Carlisle goal hadn't happened"
Thank you for reading 5 articles this month* Join now for unlimited access
Enjoy your first month for just £1 / $1 / €1
*Read 5 free articles per month without a subscription
Join now for unlimited access
Try first month for just £1 / $1 / €1