Jimmy Glass after football: "No matter how bad things got, I never wished the Carlisle goal hadn't happened"
His unbelievable last-gasp goal for Carlisle United on this day 20 years ago will be remembered forever, but what happened to Glass after he saved the Cumbrians from Football League oblivion? He tells all...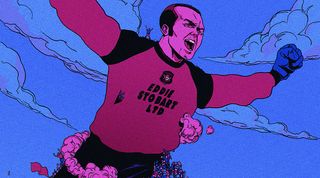 Illustration: Paul Lacolley (opens in new tab)
It was my first day at Carlisle United and I was jogging around a pitch with a young keeper called Paul Heritage. "We've been crap all season – if we go down it won't be your fault, and if we stay up, you could be a hero," he told me.
"What if I got the winning goal?" I said, tongue in cheek.
Three weeks later, it happened.
When I agreed to sign for Carlisle on loan from Swindon, I didn't even think about where they were in the league. I phoned my dad to tell him about the move, but 30 seconds later he called me back. He'd put Ceefax on and said, "You do realise where they are, don't you?" I said, "Yeah, they're up north."
He said: "No, in the league – they're second from bottom." I asked him which league. "The Third Division," he replied. Swindon were in the First Division, but my career had been faltering. Having done quite well for Bournemouth, I went there thinking I was going to play.
When I didn't, it was a big shock. If I'm honest, I had an indifferent career – I played in the FA Youth Cup final for Crystal Palace, against the Class of '92, but then I had injuries. In my previous two games for Swindon in the 1998/99 season, we'd conceded 10: four against QPR and then six against Ipswich, when I turned my ankle and had to hobble around for 80 minutes because we had no goalie on the bench.
A desperate situation
Carlisle had sold their keeper, Tony Caig, on deadline day and then signed Richard Knight on loan, only for Derby to recall him with three games left. So they were given special permission to bring in another keeper. I didn't hesitate. I didn't get on with Swindon manager Jimmy Quinn and I wanted to play. We drew the first two games I played for Carlisle – I was man of the match in a 0-0 draw at Hartlepool against Peter Beardsley, playing one of the last games of his career.
But in the midweek before the final match, Scarborough won their game in hand to go above us. Only one side went down to non-league and Carlisle were now bottom for the first time all season. They were a sleeping giant – they'd been in the First Division during the '70s – but there was a despondency. No one would say it, but everyone thought Carlisle were virtually down. They'd been in the Football League for 71 years, so dropping into non-league would have been massive. Michael Knighton (opens in new tab) owned the club and was hated by the supporters. He asked for a police escort to help him get to the last game against Plymouth, but they refused it.
The day before the match, we played five-a-side in training. I played outfield and scored a hat-trick. For a long time during my youth career, I was torn: I never knew if I was a better forward or goalkeeper. At 16 I'd be running around up front in training next to Ian Wright and Mark Bright at Palace, with Steve Coppell cheering me on. Sometimes I think maybe I made the wrong decision by becoming a keeper – whenever I played outfield, I had this habit of being able to sniff out a goal.
Even when I had my gloves on, I was always looking to score goals – I'd be pinging free-kicks and trying to catch the keeper off his line. I went up for a couple of corners when I was playing for Bournemouth but never got anywhere near them – my manager would be swearing at me and telling me to get back.
Game of my life
The players were nervous in the dressing room ahead of the Plymouth game. Nigel Pearson was in his first job in management and started to hand around a bottle of brandy. The players were taking a swig from it – unbelievable when you look back now, but the manager was trying to settle everyone down.
It was 0-0 at half time, but our game got delayed due to Paul Gibbs breaking his leg for Plymouth. Scarborough were drawing at home to Peterborough: we had to win to stay up. Soon into the second half, we went 1-0 down. There was real dismay around the ground and people were thinking: 'We've struggled to score all season, so the chances of getting two are slim'.
But David Brightwell scored from 25 yards just after the hour, which gave people hope. The guy on the Tannoy tried to get the crowd going – shouting things he probably shouldn't have been – but it didn't look like we were going to get a winner.
It all came down to the last 10 seconds in the fourth minute of injury time. I lumped a ball forward and it went out for a corner. I looked to the manager and he waved me up. I was galloping up the pitch trying to get there in time – you look like a right plonker if you get there and the corner's already been taken. Scott Dobie managed to get a header on target and the goalkeeper parried it straight out. I'd headed for the six-yard box, knowing that whenever I dropped the ball as a keeper, it usually fell to someone who'd toe it over the line. As I arrived into the six-yard box, I was the only one in there. The ball fell to me perfectly. I blasted it in.
The first thought that flashed through my head wasn't, "I've scored and saved Carlisle", or "I'm a goalkeeper and I've just scored". It was just, "I've scored" – the same as when I scored in a park on a Sunday morning. My hand went up in the air, the classic celebration, before I got pole-axed. The boys jumped on me, David Brightwell pulled me to the ground and 50, 60, 100 fans piled on top of us. We genuinely couldn't breathe. We were shouting, "Get off! Get off!" Someone even jumped on the ref, too.
Where's my towel?
There were thousands of fans on the pitch, I was getting grabbed by people as I ran back towards my goal, and my nose was pissing blood – I think I must have got kneed in the face as I was on the floor. I got to my goal and thought, 'Where's my towel?' Someone had nicked it!
The referee blew for full-time as soon as Plymouth kicked off again. I ran across the pitch with my arms outstretched, and everyone was clawing at me. Someone shouted, "Lift him up! Lift him up!" Suddenly I was surfing a sea of thousands of people, and they all carried me off the pitch.
When I got back to the dressing room, I phoned my mum. I was 25 and I'd turned into a giddy schoolboy. I said, "Mum, I've just scored!" She said, "I know, I've been watching the TV!" Michael Knighton spoke to me and said, "If that ain't entertainment, I'm a banana!"
We went to a nightclub that night and when I opened the doors, the whole place erupted. People were cuddling me, kissing me... and that was just the blokes!
I drove back to Swindon the next day and I kept hearing snippets on all of the local radio stations. I thought, 'Are they talking about me?' I didn't know how football had reacted to that goal, that they'd talked about me on Match of the Day on Saturday night.
I got to Swindon halfway through their last game of the season, and as I went in the stand, the photographers taking pictures of the game turned around and started photographing me instead. I thought, 'This is weird'. I was invited over to Sky's studios in London, and then I got a phone call from the Daily Mirror. I went there and met Piers Morgan – they had some crazy ideas and wanted to make a double page with me as a kind of 'Magical Man', doing silly things like getting Mohamed Al-Fayed his British passport. It was surreal.
I didn't really see footage from the Scarborough match until a few days afterwards – the clips of their fans on the pitch, devastated about their relegation. Even then, I didn't really take it on board. It was only later I started to realise the effect I'd had on another club. Relegation essentially pushed them out of business five or six years later. You do feel guilty. It's the fans that suffer.
A changing life
Two days after my goal, Jimmy Quinn told me I could leave Swindon. And the day after that, I split up with my girlfriend of 18 months. I was slightly unstable at that point. We were coming to the end of our time together and it all got a bit too much for me. She'd been moaning about something and I just said, "That's it, I've had enough", and got in my car.
I was driving back to London, where my family lived, but the phone wouldn't stop ringing with more journalists. I got to London and kept driving. At Dover, I got on the ferry to Calais, but Calais was a shithole so I didn't want to stay there. It was either turn right to Spain, which seemed like a long way, or turn left and go to Belgium. I checked into a hotel in Brussels for two or three days, went to the cinema, went for a couple of meals, then came back. As soon as I got back to England, I turned my phone on and had so many messages.
It was a crazy time. I was quite immature and, as exciting as it was, my career hadn't been going that well and I had gambling debts of about £25,000. I had so many different emotions going on.
Michael Knighton was under pressure to offer me a permanent deal at Carlisle, but I don't think he wanted to. Having said I could leave for free, Swindon asked Carlisle for £20,000 and Knighton didn't want to pay my wages – although in some ways it was a good thing I didn't go back. Had I gone back and not done so well, maybe I wouldn't have been remembered by the fans in the way I am.
I went straight back to being a backup keeper at Swindon – playing reserve games with the cameras watching me because I was still big news. Every time there was a corner, the fans would shout, "Come on Jimmy!" It turned into a bit of a circus, and when you're struggling in your head already – because I wasn't the most confident of people and now you've got this added thing to deal with as well – it was a strange period for me.
I played for Swindon at Bolton. It was 0-0 and I'd made save after save, but we got to the 89th minute and I let in a soft goal. I walked into the dressing room afterwards and said, "Sorry fellas". But Jimmy Quinn went to town on me. At that point I'd had enough of the bloke, so I told him what I thought of him – then he went out to talk to the newspapers and crucified me.
End of the road
That was my career with Swindon done. I still had a year-and-a-half left on my contract, but Roy McFarland at Cambridge United wanted me so I said to Swindon, "Give me £25,000 and I'll tear up my contract." I left and went to train with Cambridge. Roy said, "I've just got to offload this keeper, then I'll sign you." He was a Dutch fella, Arjan van Heusden.
The day Swindon were supposed to pay my first £12,500, they went into administration. Suddenly I had no money and Cambridge couldn't offload the keeper so they couldn't sign me. I was stuck. Later I went on trial at Exeter City – I'm driving into the car park and out walked the Dutch keeper, the one from Cambridge. I said, "Have you signed?" He said, "Yeah", and I got back in the car.
I went to train at Crystal Palace, too – they had Fraser Digby in goal so they didn't need me, so I signed for Brentford instead. I was on the bench there and Fraser Digby got injured a few days later, so I would have got games for Palace. Wherever I went, it went wrong. It was so frustrating. It was a crap time for me. Although I wasn't the most confident guy in the world, I knew I was a good goalie. You'd have thought the Carlisle winner might have springboarded me to a better career, but it had the opposite effect. It became an albatross – English football wasn't ready for goalscoring keepers.
I thought the goal would have made me more desirable to managers, but it possibly made me less desirable. I signed for Oxford United in 2000 as cover but it wasn't going well. I woke up one day and realised it wasn't for me any more. I phoned the manager and said, "I'm not coming in."
Should I have given up? Probably not. I was 27. But there are only so many hits you can take in life – and as much as that Carlisle goal was a phenomenal moment, it wasn't enough to keep me afloat mentally. Football is a harsh world and if you're not mentally strong, it can leave you broken. I didn't straighten myself out. I lost £100,000 gambling in two years after leaving Swindon. Sometimes I would spend 14 hours in a casino. I'd go in when it opened and was kicked out when it shut.
I got to the point where I decided that football just seemed so unfair. I thought: 'The real world can't be unfair, it must be more logical. You see all these people in business making money'. So I said, "That's it", got a job in IT and played Sunday League. I was up front and loved it – I scored six goals for two games running, one from the kick-off after about three seconds. All these poor blokes were turning out for a nice easy game and there was me, charging around like a lunatic, slapping in goals like some goal-hungry 15-year-old.
"You're not a legend, but your goal is legendary"
But I didn't enjoy sitting at a desk all day long. I'd scored this goal for Carlisle that was famous and I couldn't work out why, only a few years later, I was working in IT. Rodney Marsh helped to put it in perspective for me. He'd been my agent for a little while and I remember asking him once, "Am I a legend?" He told me, "No, you're not a legend, but your goal is legendary."
I quit my job in IT and went back into non-league for a short period. I was earning the same as in IT and thought I'd get a taxi, do a bit of work in the week and earn some more money. But I felt the pressure in non-league: everyone thought I was still a professional goalkeeper and expected me to be perfect. I wasn't going to be, because I wasn't training like I was before.
It took me a very long time to come to terms with it all. You go from scoring a goal and being famous, all the way down to driving a taxi at 4am, £2.50 a fare, chasing a 'runner' around a supermarket car park. I struggled, wondering how I was going to pay my next bill.
I'd never really divulge too much to my passengers about who I was, but one day I picked up Gazza in my taxi. I'd never met him but he'd been at the dentist's and, poor old Gazza, he'd just had two implants so he wasn't talking that well. I said to him, "Gazza, I'm Jimmy Glass, the goalie who scored for Carlisle."
He knew who I was. Moments like that were enjoyable, when people like Gazza knew me. It was strange, though: I'd be listening to a World Cup match – Brazil vs Colombia or something. The keeper would go up and the commentators would say, "He's doing a Jimmy Glass" – while I'm sat at a taxi rank in Wimborne.
I was a footballer for 13 years, and even though I was driving a taxi for a long time, I still saw myself as a footballer. But the closer I got to 13 years as a taxi driver, I thought: 'If I'm a taxi driver for longer than I was a footballer, does that mean I'm a taxi driver?' That was when the opportunity presented itself with Bournemouth a couple of years ago – as player liaison officer under Eddie Howe, a former team-mate at Dean Court.
Story to tell
Some of Bournemouth's players knew who I was, but although the others knew I'd been a player, they didn't know much about me. We do a thing at Bournemouth where you talk about the best moment of your life, and it was my turn in the hotel before we played Manchester United at Old Trafford last season. I told the boys the story of my goal. Some of them were really amazed.
We'd lost four league games in a row but we drew 1-1, even though we were down to 10 men for the entire second half. Our goalie, Artur Boruc, had a phenomenal game and I got excited, so I went onto the pitch at the end to give him a big hug. He looked at me and said: "You inspired me last night. I wanted to score!" That was a nice moment – I don't get involved in the coaching, but things I've experienced in my life can benefit players.
After having no interest in football for years, I've reconciled with the game now. And no matter how bad it got, I never wished the Carlisle goal hadn't happened. You could never take it away from me and the glory that came with it. I don't know how many times I've seen it back over the years. Sometimes I've watched it because someone sent me a link – other times, during my time as a taxi driver, I watched it again to remember I was a footballer once. I still feel something every time I watch it – the emotion and pure excitement is still there.
It doesn't surprise me that my goal's lived on, as sometimes things like that can happen in football – moments like Ronnie Radford's goal for Hereford or the Russian linesman in 1966. It wasn't my goal, it was football's goal. I just happened to be in the middle of it.
Now I'm back in football, I get to enjoy the goal even more because I can enjoy football again. The game didn't give me a phenomenally long career or a lot of money, and maybe I didn't really deserve that. But I loved playing, and football gave me my moment – a moment as a goalscoring goalkeeper. I had a career that you don't forget, and in some ways that's just as valuable. Every time the goal is played, I still feel proud.
This feature originally appeared in the February 2018 issue of FourFourTwo.
While you're here, why not take advantage of our brilliant new subscribers' offer? Get 5 copies of the world's greatest football magazine for just £5 (opens in new tab) – the game's greatest stories and finest journalism direct to your door for less than the cost of a London pint. Cheers!
Thank you for reading 5 articles this month* Join now for unlimited access
Enjoy your first month for just £1 / $1 / €1
*Read 5 free articles per month without a subscription
Join now for unlimited access
Try first month for just £1 / $1 / €1