Long read: The making of Marco Silva and Luis Boa Morte the managers – a journey through Portugal
The coaching duo will join forces at Goodison Park after Boa Morte's arrival as assistant this summer – and Elliott Bretland finds a lot of love back home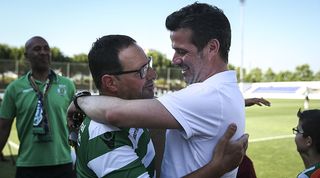 Sprawling beaches and sweeping foothills bathed in sun. This is the corner of the Iberian Peninsula, virtually Europe's most western point, where Everton's manager and deputy cut their teeth on the winding road from Portugal to Merseyside.
Estoril, the luxurious entertainment hub located on the Portuguese Riviera, 20 minutes west of Lisbon; to Sintra, a short drive north and famed for its historic, brightly coloured palaces and castles. It is here in the lower leagues of their homeland where Marco Silva and Luis Boa Morte first took to the touchline.
They were both born in Lisbon, less than a month apart, in the summer of 1977. The pair know each other well and worked together at Sporting CP back in 2014 – Silva as manager, while Boa Morte coached the reserves and youth side.
However, it was with Estoril Praia and Sport União Sintrense – two proud clubs located in beautiful tourist hotspots, forever battling under the huge shadow of Lisbon powerhouses Sporting and Benfica – where the Toffees duo took on their respective maiden managerial roles.
The story begins at the Estadio António Coimbra da Mota. It was here where Silva embarked on an extraordinary journey with Estoril, guiding the club from Portugal's second division to the Europa League in less than two years.
This is a seaside town club but with less of the novelty. Barring a grand casino, it is a paradise of sun, sea and sand. The tide flicks back and forth as people stroll across the beach, while light glistens off the water. This is one of the most expensive places to live in Portugal, but is humble and classy rather than flash, glitzy and glamorous. Palm trees line the streets, while murals on the side of the football ground depict buckets and spades, the local sea landscape and a huge yellow canary which gives Estoril their nickname. Apartments of orange, red and white protrude over the stands. Blue skies and trees engulf the modest rows of seats behind the goal. It's a small but perfect football arena.
Once inside, club captain Gonçalo Santos is clearly pleased at getting the chance to reminisce about three incredible seasons with Silva as he enters the Estoril press room.
Despite having played in the Champions League against Bayern Munich and Arsenal with Dinamo Zagreb before returning to Estoril in 2018, Santos's time with the current Everton manager was among the most special of his career.
"We keep in contact and I told him: 'Tomorrow I will speak about you so I will say nice things'," the midfielder jokes to FFT with a mischievous grin.
Thinking back to their first encounter, Santos remembers a battler on the pitch while comparing Silva to one of Goodison Park's stalwarts: "I played against him one season and Marco was right-back," the skipper says. "He was a fighter, a little bit like Seamus Coleman – strong, not so technical but played with spirit, with his heart; always with his heart.
"He was a little bit small at right-back, but in Portugal the game is a little bit different – it's not so fast or strong, so it was good for him."
Silva hung up his boots in 2011 after six years an Estoril player, and was immediately installed as director of football. A promotion to coach followed mere months later.
"When he started and called the players, he said we would make a team to go to the first division. Marco built the team and always wanted to be a coach," says Santos, who could have moved to England with Aitor Karanka's Middlesbrough before injury scuppered the switch.
"Marco always talked about coaching. He wanted to win, for sure, but he also wanted to coach. He looked at what coaches did, good and bad, and followed their opinions on things."
Silva's impact was instant. After taking charge with his team 10th in the table, Estoril were soon top of the second division and promoted to the Primeira Liga in 2012.
They were rubbing shoulders with the elite again after seven years away and enjoyed an extraordinary season, finishing fifth and sealing Europa League qualification. The following campaign they went one better, coming fourth.
"It was incredible, bottom to top in three years – nobody thought that possible," Santos adds. "Only Paulo Fonseca [now Roma manager] had done that in three years, to go second division to Porto; Marco, second division to Sporting."
In a heartwarming tale, head of operations Luis Silva explains how his namesake brought the club together during that momentous title-winning season.
"Marco was something special from the very first day," he insists as he takes a break from his hectic schedule – working in a team of only 15 people behind the scenes.
"When we went up, at the beginning of the season the goal had been to achieve promotion, but we weren't favourites. After three or four months under Marco, we were 12 points ahead. After that we were winning and winning, and won the league.
"Silva had the power of everyone around him. At the end of the season, Marco wrote a letter and delivered it to everybody at the club; from the man in the laundry room, the doorman, accounts – everybody received a letter. It was his way of showing his appreciation.
"For that, he had the power to make us like a big family. It was one thing that made the difference, especially in a smaller organisation like this."
Silva built a reputation as a fine man-manager, as Gonçalo Santos is only too happy to vindicate.
"All of the players believed in him," he tells FFT. "It was the best time for Estoril and a lot of players improved under him.
"The best quality is that he is like a friend; he asks everyone how they feel and he is always helping them. That's the kind of coach everybody likes, he is like a father. Even when I messaged him yesterday, I called him father because it's like that."
Such is their relationship and bond, Santos puts his arm around us as we head to the Estoril pitch and proclaims with a chuckle: "Let's take a selfie to show him."
He pauses as we walk down a metal staircase, then sends the snap to Everton's manager – at that point, putting his Premier League stars through their paces at a pre-season training camp in Switzerland. "Look," he says eagerly, tapping on the screen to show us his WhatsApp conversation with one 'Marco Silva', "we spoke last night."
As we pass the club's trophy cabinet, Santos proudly points out old team photos on the wall which features the two of them, player and coach.
Back then, Silva was being talked about as one of Portugal's brightest managers, having guided the club from relative obscurity to facing Sevilla, PSV Eindhoven and Panathinaikos in European competition.
"Not only were Estoril winning, but Marco was also growing as a man and as a coach because he was a big part of the family," adds Luis Silva. Belonging is clearly key at this football club.
"Marco's main qualities are the way he understands a player and the way he motivates as a leader. He knows everything about the experiences of a player, he knows every process a player passes along his career, and he has the capacity to motivate all of them for one purpose.
"If everyone is on the same page, the individual is going to show more and will grow more as a player – from signing contracts to winning championships, to achieving goals as a team and as an individual. That was Marco's main purpose, to bring everyone together.
"During our second year in the top flight, we had a second opportunity because everyone in the league was watching us thinking we'd just had a lucky season. But we went from fifth to fourth, in front of clubs that had 20 times the budget of ours."
Following his success with Estoril, Silva went on to win silverware with Sporting and Olympiakos. Stints in the Premier League with Hull and Watford followed, before he joined Everton last summer.
"He was very tactical, not a screamer," explains Santos. "He would sometimes ask us what we were feeling, what we wanted to do, how we felt about things he'd asked of us.
"He's different from game to game. When you're winning he's quite relaxed, but when you're not he is hard... hard," says the midfielder, emphasising the final word by slapping a clenched fist onto the flat of his palm. "He doesn't look like that as he's always smiling, but when he needs to be hard, he is. When he needs to push the players or they say the wrong thing, he has a big pulse. He's the boss, the leader.
"Away from the pitch, he's a quiet guy and a family guy. He's not a person who wants to show off too much – he likes things simple and that's Marco. Things go well because he is a good person."
There is one story in particular which sums up Silva's character and proves that the people of Estoril will always remain in his heart.
"The kit man, he lives here close to stadium. He had worked here for years," explains Santos. "Last time Marco visited, even though he's now at Everton and a big star in Portugal, he went to the kit man's home. He was alone and he didn't say anything to anybody. He just came to see how he is.
"Marco cares about the club and those who worked with him. He went to his home, stayed with him and cried. Marco is like that – he has a big heart."
After leading Estoril through such a glorious time, it's no surprise to see that Silva is still adored. Fans have named one section of the stadium after him – 'MARCO SILVA' is neatly daubed on one gate post sign in marker pen – and sing songs in his honour, five years since his last game.
Some have even given him the title which usually belongs to Portugal's most famous manager.
"They called him the Special One. When he came it was a small club, now it is a club with history in Portugal," Santos says. "The fans have his photo on a huge flag; they are big supporters and they love him. When Marco comes back, he is never alone."
Silva later won the Portuguese Cup with Sporting and Greek title at Olympiakos – achievements which Luis Silva says were practically inevitable.
"I'm not surprised he has had success. He has a lot to give to football," he says, before revealing a glowing reference from another former Estoril player and boss who later led Portugal to Euros glory.
"Fernando Santos, the Portugal manager, was at one of our club dinners as he also coached here. In his speech, Fernando told Marco: 'A few years in the future, you're going to take my place because this is where they start, at this club.'"
However, while leading his country may well be a career goal, Silva's prime focus is gatecrashing the Premier League top six.
"He has the power to help things grow," says Luis Silva. "Everton are a big club and they're trying again to get to the top. I'm following Marco and I know supporters follow him too, wherever he goes."
"I met him in his first year as a coach," adds Santos. "He didn't have experience, but after one month, one year, you could see he would make it to the top. The way he is with players, the way he makes you believe in his ideas, it's just a matter of time.
"Marco is in the best championship in the world and Everton is a big team; he will win, though it is very hard against Tottenham, Chelsea, Manchester City, United.
"I think in this moment he is very happy there and he likes England, he likes the Premier League. I think he wants to play in the Champions League and he wants to win titles.
"Marco is 42 – he has 20 more years. He is very clever, he has time and Everton have big fans, big people. It's a big club. I think Everton this season will be much better than last."
While Silva has worked in English football for the last two-and-a-half years, Luis Boa Morte has not been part of the Premier League narrative since he left West Ham in 2011. Before that, he spent seven years at Craven Cottage with Fulham following spells at Arsenal and Southampton.
However, it also comes as no surprise to those in Lisbon's football circle that he is working with Silva. Their story actually goes back further than their time together at Sporting.
"Boa Morte and Silva are friends," Santos explains. "One time when I was here, Boa Morte trained with us when he was without a club. Silva knows him very well and they've had a long relationship.
"Boa Morte came here to watch some games," Luis Silva says. "He and Marco knew each other. Portugal is a small country in clubs and numbers, and everybody knows everybody."
The former winger has indeed remained extremely busy since hanging up his boots. After finishing his playing career at Chesterfield in League Two six years ago, Boa Morte scouted for Arsenal, worked with Portimonense's under 23s and was named Maccabi Haifa assistant for the second half of last season. He joined up with Silva at Everton in June.
It was at Sintrense, though, in Portugal's third division, where he took on his first senior manager role in 2017. Boa Morte's son, Luigi, played for the club's youth team, and it was here where he took sole charge of their senior side.
He replaced Luis Loureiro, a man whose portrait adorns a wall of the club's training pitch, located next to the main 2,800-seater stadium. So too does that of Nelson Semedo, now with La Liga giants Barcelona, in tribute to two ex-Sintrense players who have appeared for the national team.
As the class of 2019/20 take part in their second day of pre-season training, the club's kindly groundsman – with slicked back hair, and wearing a long, very '90s blue and yellow Sintrense jacket – patrols outside his house. That too, situated in a corner of the club's ground, has a blue and yellow roof. His dog is now barking at the approaching stranger, but he smiles and points to where training has begun.
The Sintrense squad are being observed by current coach Tiago Zorro. Bleep tests are carried out at one end of the pitch, while others jog to what sounds like a generic '80s pop beat on a nearby stereo. Bushes grow tall above the white perimeter wall and mesh netting around the pitch.
Later, the players are in chatty mood; some in deep discussion across rows of team-mates as they stretch and warm-up during various full-body exercises. Then they get together for small passing games before the main kickabout, on what is a chilly lunchtime by Lisbon's standards.
Goalkeeper João Silva and midfielder Filipe Pipas are now winding down after the session, and reveal just how much they enjoyed playing for Boa Morte. A good laugh but ever ready for work on the pitch, they say – the ideal combination.
"He was a good person and a great coach with a good attitude," says João Silva. "He was a really funny guy, but when it came to training he had a different attitude and was very focused. He was a hard worker – always working, always. He was great for our fitness.
"Before games, he's very calm. At half-time, he is a guy with very different ideas but he doesn't speak too much. Five minutes of chat and then it's 'let's go'."
Boa Morte got an immediate response from his new team.
"He was very firm, you didn't dare not be on time," adds Pipas, who also revealed a curious coincidence about himself – some of his family hail from Liverpool and support Everton.
"Luis had respect for everyone and everyone respected him. He arrived in the middle of the championship at a difficult time. It wasn't very easy because we were used to another mentality, but he really helped the team."
With the third-tier campaign split into two parts, Sintrense had missed out on reaching the promotion stage of the season in the first half of the Campeonato de Portugal. Following Boa Morte's arrival, however, they were at least comfortable in the Group G relegation round and finished 20 points clear of the drop.
As a player, Boa Morte won 28 caps for his country and was named in Portugal's 2006 World Cup squad alongside Luis Figo, Cristiano Ronaldo and Deco – something that was of massive significance to the players he was guiding at Sintrense.
"In the past he was an international player, and for us that's important," says Pipas. "He has vast experience which is great to reference, and he gave us great responsibilities.
"This was because he had played in England, the best league in the world, and he had the English mentality in terms of training and physical conditioning. It helped us."
Boa Morte eventually moved on before taking up his position at Maccabi Haifa (a more 'professional' outfit, as Pipas puts it), but his former player is certain that the Toffees assistant will achieve big things with Silva in the Premier League.
"Marco Silva is an idol," Pipas says enthusiastically before referring to his triumphant season with Sporting. "It's the best party in Portugal – the cup final is amazing.
"Meanwhile, I think Luis has gone to Everton because he has great knowledge of English football. He had big ambition and will be a success in England. Marco Silva is a good coach and he chose Boa Morte."
It's clear that both Silva and Boa Morte were men of the people during their time in Portugal; each hugely respected after making a positive and lasting effect on those around them.
It seems only fitting that after such great days at home in Lisbon, they are now working together at what David Moyes once proudly called the 'People's Club'.
While you're here, why not take advantage of our brilliant subscribers' offer? Get 5 issues of the world's greatest football magazine for £5 (opens in new tab) – the game's greatest stories and finest journalism direct to your door for less than a pint in London. Cheers!
NOW READ
FEATURE David Moyes at Everton: a lost legacy underneath the glass ceiling
LIST 11 football shirts that were actually improved by a sponsor
ADVICE 27 essential Fantasy Premier League tips from old winners and experts
Thank you for reading 5 articles this month* Join now for unlimited access
Enjoy your first month for just £1 / $1 / €1
*Read 5 free articles per month without a subscription
Join now for unlimited access
Try first month for just £1 / $1 / €1