Playing against 10 men may actually be easier, suggests Hughes
Stoke boss suggests man advantage may actually be an advantage, Back of the Net report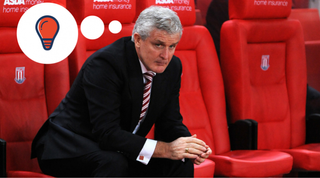 Playing against 10 opponents may be easier than playing against 11 opponents, because there are fewer of them, according to a revolutionary idea put forward by Stoke City manager Mark Hughes.
Stoke ran out comfortable 3-1 winners against Norwich City on Wednesday after Canaries midfielder Gary O'Neil was dismissed, subverting the expectations of most experts, who believed that O'Neil's dismissal would be the catalyst for Norwich to cruise to victory.
Hughes said: "Most people reckoned Gary's spirit would enter the bodies of his team-mates, leaving us with ten paranormally-boosted superhuman opponents. But I suddenly wondered if having more players on the field to create chances and score goals might actually help us instead.
One man down
"As a manager, I spent most of my career encouraging my players to kick the other team as hard as possible in the hope they'd be sent off," the former Manchester City boss continued. "When that wasn't possible, I liked to play with 10 men from the start, which is why I signed Steve Sidwell, twice.
"But maybe, just maybe, having fewer footballers might be, in football terms, a disadvantage."
Hughes cautioned that the theory was still in its early stages. and refused to say whether the fabled 10-man-advantage might instead kick in at nine, eight or fewer men. But his bold suggestion was given short shrift by his managerial colleagues, who insisted that having fewer defenders made it easier to defend.
Tactical mastery
Sam Allardyce, speaking after his Sunderland side beat 10-man Swansea, said: "It'd been fairly even with 11-a-side, but as soon as we outnumbered them, I didn't know how we were going to contain them. It was backs-to-the-wall stuff.
"If it hadn't been for my brilliant tactical manoeuvres, which more or less concealed our numerical superiority, we'd have been overrun."
Please note: This satirical news story is not real. But you knew that already, right?
Quizzes, features and footballing fun
Get the best features, fun and footballing frolics straight to your inbox every week.
Thank you for signing up to Four Four Two. You will receive a verification email shortly.
There was a problem. Please refresh the page and try again.