Why Portsmouth vs Southampton is more than a game: featuring navy larks, skates and scummers
It's the south-coast derby that hardly ever happens. And when it does, ancient maritime rivalries get out of hand – as Steve Morgan reported in the April 2004 edition of FourFourTwo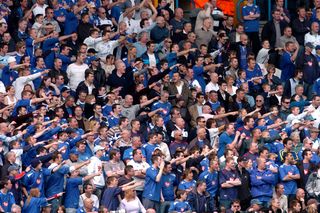 Portsmouth fan Steve Woodhead grimaces at the map hanging in the hallway of his home, little more than a decent defensive punt from Fratton Park. Dated 1829, it shows the town and surrounding area. In a spidery, old-world hand are scrawled the following words: County of Southampton. "I sent off for that," says Woodhead contemptuously, as if he's been palmed off with something contravening the Trade Descriptions Act. "I only keep it because it matches the wallpaper."
It may be a throwaway remark, but the devil is in the detail. Scratch the surface and this snapshot illuminates a deep-seated set of local not only geographically, but on cultural, social and economic grounds. For many Portsmouth fans, the insularity resulting from the city's island status and their perception of a raw deal from Hampshire down the centuries have driven a wedge between themselves and neighbouring Southampton – or 'skates' and 'scummers', to give them their disrespective sobriquets.
Skate, slang for sailor, supposedly has its roots in the fevered imaginings of how naval types might take the concept of "fisherman's friend" to the nth degree as they whiled away the lonely months at sea. Slightly less far-fetched is the derivation of the term Scummers. While details may be sketchy, the most popular version centres on a dock strike across the two cities by workers from the same firm. As the Portsmouth faction stuck to its guns, the 'Southampton Company Union men' swallowed their pride and went back to work; one acronym later and their brothers-in-arms had become the Scum.
An island insularity
However fishy these tales, the schism between these old maritime towns – one Royal Navy, the other merchant – just 17 miles apart, has become, for Pompey fans in particular, a chasm when it comes to football.
In the Artillery Arms, favoured watering hole for many of Portsmouth's 600-strong internet supporters' group the Pompey Anorak Brigade, Woodhead, a founding editor of the now-defunct fanzine Frattonise, takes a deep breath and lets me have it with both barrels.
"The rest of Hampshire repudiates Portsmouth," he says. "Southampton might as well be the county town, even though it's officially Winchester. The rivalry predates football by a couple of hundred years. Portsmouth has always been subsidiary to Southampton – until 1835, they owned the docks – and there's always been that thing of the navy having bred Portsmouth. The rise of the town from a collection of villages was at odds with the tenor of the rest of the area."
Woodhead believes the city's history of "breeding of people for war – with the blessing of the Crown for the most part" is almost woven into the DNA of anyone bom on Portsea Island. Its status as an island club makes Pompey unique in the English game. He admits to being simultaneously "proud and horrified" of the more vociferous side of Portsmouth's resolutely working-class support, and he's not alone.
"Aesthetically, there's not much to the place. I wish it were more cultural. I can't stress that insularity and tribalism enough. But there's affection: big-arsed shaven-headed blokes will cuddle you. lt's cheerful and violent. It's the end of the line – us against the world, out on our own little limb. It's a Portsmouth attitude. You trust your family, the people you went to school with and grew up with in your own little area, and no one else. There are a lot of parallels with the East End."
Attempts are being made to gentrify the area. On the seafront, the Gunwharf Quays development has a cinema multiplex, retail outlets, bars and restaurants galore – to be capped off by the £8m Spinnaker Tower project. But for all the facelifts, the inescapable feeling is of a city with a distinct edge.
Rough-and-ready Paulsgrove, to which many Pomponians moved following the huge swathe of post-war slum clearance, made the headlines in August 2000 for the residents' week-long protest against "paedophils" (sic) in the wake of the Sarah Payne name-and-shame campaign in the News of the World.
Crime writer Graham Hurley is a former producer of ITV's The Big Match, a resident of Portsmouth since 1977, who worked in Southampton for 20 years. The hero of his books, DI Joe Faraday, is based at Fratton nick. Hurley describes Portsmouth as "a gift" to the novelist, a diamond in the rough.
''Southampton is much less distinctive," he says. "It's wealthier and has, by and large, attracted a better quality of business. Portsmouth's lack of wealth has led to a particular kind of culture: it has no side. It doesn't matter what you do, if you're a brain surgeon, judge, novelist. People are not impressed. You're judged on what you are, and I think that's increasingly rare."
Divided and separate
Pride is not peculiar to the eastern end of the M27, however, as Nick Illingsworth, editor of Southampton fanzine The Ugly Inside, explains. "Southampton has had its bad years. The city was built on the shipping industry, and because of that it has a very cosmopolitan feel. But it went into steep decline in the 1970s as the great liners slumped. Throughout the '80s there was desolation, but the spirit of Southampton shone through; a spirit born in the days after the Titanic went down with the loss of so many local lives, and cemented in the Blitz as the town was flattened."
That spirit resurfaced in the 1990s. "We have a very open outlook on life. We don't go for the insular mentality of our neighbours, but we are fiercely loyal and willing to stand up and be counted."
Dave King, the deputy editor of the Southampton-based Southern Daily Echo and one-time sports editor of the Portsmouth News, recalls his arrival on the south coast. "I was shocked when I came down here, hearing about fans with such vitriol for each other that they claimed they wouldn't even visit the other's city. That's astonishing compared to places like Nottingham and Merseyside, where family members support both teams. You'd be hard-pushed to find that here. Depending on which side of the River Hamble you live, you're Saints or Pompey."
Martin Hopkins, match commentator for Portsmouth radio station The Quay, laughs at the ridiculousness of it all, but cheerfully admits boycotting anything Southampton-based. "I wouldn't dream of buying screwdrivers from Draper Tools, Sanderson Paints, or anything from their sponsors."
He can still recall his first visit to the training ground in the early 1990s. "Mark Chamberlain turned up without a jacket. It got progressively colder, so he went to his car to get an extra layer. He came back wearing a Southampton training top – he'd been at their academy. When Alan Knight and Andy Awford saw it, they tried to wrestle him out of the car park. They were only half-joking."
Hopkins' colleague, Sam Matterface, has been equally struck by the passion and is now a committed fan. "You don't have any choice. I'd liken it to the Mafia. It takes a while to get in, but once you're in you can't get out. It's a working-class town and football's a working-class game. Look at Southampton and it's, 'When are we going to Cowes?' Portsmouth's built on its naval base and 'We're off to sail the world in a five-tonne warship.' Southampton's about yachting."
A hatred blossoms
Across the Solent, Nick Illingsworth finds the continual mithering about the weight of history not only a comparatively recent refrain, but a theory that doesn't hold water. "I didn't really come across it, even at school," he says. "It was only when we went down to the Second Division in 1974 that it started, and even then it seemed to be more of a one-way thing – a kind of siege mentality. After years of that, Saints fans started to hate Pompey back.
"The navy divide and the working-class fighting myth seems to be a popular way of looking at it, but I don't really buy into that. Take some of the violent cities in England – Manchester or Birmingham. No one's gone to war en masse from there, apart from on each other.
"I think the analogy can be used in part, but I don't think it's the root cause. Pompey fans, or at least the more violent element, would like to glorify it, but that's a theory I've only heard in the last year or so. In general Saints fans don't hate Pompey as much as Pompey hate Saints. You could walk down the street in Southampton with a Pompey shirt on and no one would take any notice. But just try wearing a Saints shirt in Portsmouth!
"You get the feeling Pompey consider themselves to be the club with the history – 'We've won the title, you haven't, you're nothing'. Saints fans would say, 'Fair enough, but we've been above you for 40 years and you're showing us no respect', and so it's gradually built up.
"And the fact that it's two disparate cities living so close together lends it that edge. With other derbies, people live in the same houses, work in the same places and have an empathy. With this, it's like Newcastle and Sunderland. Even if it was tiddlywinks, everyone would go that extra yard to have a go. There's not a lot of friendliness."
To the uninitiated, it must be a baffling state of affairs. We're not talking about the Old Firm, after all, with its centuries of sectarian baggage. These are supposedly southern softies: the seaside, candyfloss, kiss-me-quick hats, scenic walks on the South Downs, Howard's Way, gin and tonics on the catamaran and New Forest ponies.
Boiling point again
But on Sunday 21 March 2004, the festering bitterness will reach boiling point in Portsmouth when Southampton pitch up for the first league meeting at Fratton Park since 1987/88 – Pompey's last top-flight campaign. Until this season, it was the club's solitary spell in the big time since 1959.
You can take your piffling 30 years of hurt: it's now 41 since Pompey last finished above Saints and time, far from being a healer, has created a festering sore. As Steve Woodhead observes: "When I think of that club, I see a bunch of people who enjoy the status that should be ours and take it for granted."
While once-proud Pompey, First Division champions in 1949 and 1950, slowly sank down the divisions – fans clinging to sepia-tinged photos of Dickinson, Harris, Reid and Scoular – finally reaching the basement at the fag-end of the 1970s, Saints were disappearing in the opposite direction, nudging their way into Division One for the first time in 1966. A decade later, under Lawrie McMenemy, they lifted the FA Cup as a Second Division outfit (though any Pompey fan will gleefully point out that their Wembley hero, Bobby Stokes, was a son of Portsmouth).
Promotion to Division One swiftly followed, as did the sensational signing of Kevin Keegan, whose bubble perm was the last thing anyone in a hastily-convened media scrum expected to see when McMenemy called a surprise press conference in July 1980. "I want you to meet somebody who will play a big part in Southampton's future," he told the astonished gathering. He was right.
The signing of Keegan – the deal had secretly been done months earlier – showed the depth of McMenemy's ambition. His 12-year tenure revolutionised the Saints, and he remains fiercely proud of his record against Pompey.
"We played them five times and won every one – four league games and an FA Cup match," he recalls. "Unless you reside in, or have attended games in, this area, it's difficult for people to understand that the rivalry's just as great down here as in Scotland or the north east, Manchester, Liverpool and London.
"Unfortunately, whether Pompey want to admit it or not, Southampton have been in a higher division more often. We were promoted in 1978/79, have been there ever since, and had a very good run in the days when there were a lot of big clubs in contention for honours. That period was a purple patch in the club's history, and I think it really hurt them down the road.
"Always in my team talk before a derby game I said: 'You've got to remember that tomorrow morning, the two groups of supporters work together in the docks, factories and offices. You want your fans to be waiting outside for the doors to open, their heads held high, not hanging low."
The FA Cup game to which McMenemy refers, a fourth-round tie at Fratton Park in January 1984, was perhaps Portsmouth's blackest day off the pitch. The first meeting since a last-gasp Mick Channon goal had condemned Pompey to Division Three eight years earlier and sparked running battles in the surrounding streets, it was, in the words of Pompey goalkeeping stalwart Alan Knight, "a real blood-and-thunder affair".
In front of 36,000, the game was won by the visitors with a goal from Steve Moran in stoppage-time – added for a head wound to Saints full-back Mark Dennis, courtesy of a coin thrown from the terraces. Dennis, a gifted player with a firecracker temperament of his own that had earmarked him as one of the 1980s bad boys, said at the time that he could fully understand the sentiment.
Nick Illingsworth recalls a recent chat with Dennis. "What he remembered most was getting back to the dressing room and seeing Lawrie McMenemy covered in spit. He said that day was the most hate-filled atmosphere he'd ever come across."
Moran, a Saints fan raised in nearby Warsash, hasn't forgotten it either. "When we drove up to Fratton, it was like passing through a war zone. There was a chilling atmosphere, some real menace in the air.
"We were all pretty anxious about getting home, especially after Steve Williams was threatened in the players' lounge, but they waited and slipped us out under cover of darkness. I can't tell you what a relief it was to get out of the place." Moran was later thumped in a disco by a (soon to be ex-) Pompey apprentice.
"It was extraordinary," says McMenemy. "I remember picking up £5.50 in change and 2lbs of bananas, because we had Danny Wallace playing." Others recall a deluge of flying chocolate bars, given out as a promotion before the game, raining down on the away support. Eighteen fans were hospitalised in what the Portsmouth News dubbed the 'Battle of Fratton', with 59 arrests and damages totalling £8,000.
Stable structure, ambitous rise
Trouble flared again in January 1988 at The Dell, before, during and after a 2-0 success for Pompey, their sole victory in the fixture since 1963. Of the 116 arrests, 113 were Pompey fans, many members of the club's notorious hooligan gang, the 6.57 Crew.
The first thing Portsmouth chairman Milan Mandaric reached for when promotion was sealed last season was not a bottle of champers, but a banner which read: 'Step aside Saints, Pompey are in the Premiership'. But so far things have not quite gone according to plan. In their first-ever season in the rebranded top division, Portsmouth have discovered a very different Southampton Football Club.
With prudent husbandry, Saints have stealthily slipped their feet under the top-flight table. Compared to the revolving door that doubled as the Portsmouth manager's office until Harry Redknapp's settling influence, the Saints job has been less a hot seat, more a tepid one. Between 1955 and 1991, the club had just three managers.
Glenn Hoddle originally joined the club after leaving his England post, and European football – albeit briefly – returned to Hampshire for the first time since Lawrie McMenemy's heyday on the back of last season's FA Cup final appearance.
Steady progress is, says Nick lllingsworth, "the only way to move forward long-term. Some sides have spent millions and seen it wasted. We kept a tight grip on the purse strings and are reaping the rewards. Reaching the cup final was a natural progression. That and European qualification are reasonable targets for a team of Saints' standing.
"In the mid-1990s, there was a feeling among Pompey fans that getting back to the top was a matter of when, not if, and when they got there they would automatically be a top-four club. Their attitude was, 'All you lot do is survive. When we get there we'll be a much bigger and better side. We won't just survive, we'll challenge for Europe.'
"But in the past 10 years, football has changed beyond recognition. It's now virtually impossible tor anyone to break into the top five, but we're just outside that bracket, with a new ground, and sixth place is a reasonable target each year. Until Pompey came to St Mary's, I don't think their fans had much idea of the amount of work that's gone into Saints. Maybe their eyes opened a little bit."
Police leave cancelled
On December 2 2003, Pompey arrived at St Mary's for a Carling Cup clash, the clubs' first meeting since a 1996 FA Cup third-round tie in which Saints' Matt Le Tissier ran the show in a 3-0 win. The evening was supposed to begin with a minute's silence for Ted Bates, Southampton player, manager, chairman and president over a 66-year period who had died just days before, but the 'silence' had to be aborted after 25 seconds of catcalls from the visiting fans. Trouble that night was minimal, but the fact that all police leave in Hampshire was cancelled, with 300 officers present – it's usually 15 – tells its own story.
As Pompey fans were bussed in like POWs from the nearby park-and-ride, the air was thick with tension. "It was my first derby," says Portsmouth fan Claire Gurney. "I travelled down on the train, but got a lift home. Having made the walk from the station, I really didn't fancy doing it again – as much because of my worry about how our fans would react after losing."
December 21's league meeting was little better. PC Gary Morgan of Hampshire Police's Football Intelligence Unit reported the "nastiest scenes I've witnessed in 10 years of policing Pompey games". Small wonder then that even the reserve league fixture prior to these two encounters was made an all-ticket affair.
If familiarity breeds contempt you shudder to think, for this has to be English football's least-played derby. To date there have been only 27 league meetings, Southampton winning 13 to Portsmouth's eight. When Saints stride onto the Fratton Park turf, looking to complete a league double over Harry Redknapp's relegation-haunted charges, it's fair to say few will have experienced the powder keg they will find there.
Fratton Park, a boil on the beautifully branded face of the Premiership, is not a place for the faint-hearted at the best of times. The club plans to revolve the pitch 90 degrees by 2005 for a £3.5m development. Facilities are best described as idiosyncratic. Until the arrival of Mandaric, toilet paper was something of a luxury.
Although it's now a non-smoking stadium, the concourse underneath the North Terrace, thick with the fug of fags, is so Dickensian – appropriate, considering he was born less than a mile away – that you half-expect to see Bill Sykes chatting with Fagin while his urchins fleece an unsuspecting old crone.
Yet the switch in the clubs' fortunes, far from cowing Pompey fans, seems to have made them more grimly determined to hold on to a history they feel establishes them as the region's top dog. "It's like the Dalai Lama," says season-ticket holder Dave Cauvin. "We believe we'll be restored to our rightful position eventually." Quizzed on the 2-0 and 3-0 defeats at St Mary's, he shrugs and smiles. "We just might have a slighty longer wait than we expected."
It's a touchingly unswerving loyalty, akin to watching a drunk clutch a bottle with just a dribble inside as if his life depended on it. Some fans are so keen to "stand up if you hate the Scum", it'd be a surprise to find a sofa in their lounge.
Inferiority complex?
Talk in the pub following Pompey's defeat at Chelsea three days after Christmas wasn't about the game, or Abramovich's millions. It was all about Wayne Bridge. Having been "scummed" incessantly for an hour, the Southampton-born ex-Saint celebrated his goal by cavorting along the touchline in front of the visiting fans, face contorted with glee. Bridge was soon shopping for a new mobile phone. His number, apparently passed on by an old mate, had become rather busy.
If this Premiership adventure lasts just a season, it won't make any odds to Pompey season-ticket holder Mike Hall. "Southampton shouldn't even be bothered about us, but they are. Their problem is not really the fans, it's what everyone else in the country thinks about the two clubs – that Pompey is the proper club, the bigger club, the working-class club with the passionate fans and the singing. We're seen as a sleeping giant, they're a club that got lucky.
"They really want to beat us. They've got an inferiority complex, which I love to poke. They go out of their way to try and rub it in, while we're like the knight in Monty Python and the Holy Grail who fights on while his limbs are chopped off. They can beat us as many times as they like, they're not a bigger club and never will be. They've taken a tiny club and made a success of it.
"What they've had in their favour is superb and stable management – we had 40 years where if there was a decision that could be taken for the worse, we took it. We've been monumentally impotent and things had to get as bad as they got at Pompey before people came in who realised it would cost more than a fiver to turn things around.
"People who get involved with Southampton are businessmen; because we're a sleeping giant we attracted the vainglorious and self-aggrandizing. Southampton could carry on as they are, but they'll never be any bigger – we're limitless," he adds, citing the potential catchment area to the north and east of Portsmouth of anything between 750,000 and a million people.
Perhaps the last word should lie with the late Marty 'Docker' Hughes, a Pompey obsessive who stood for Parliament in the General Election of June 1987. Hughes, the mascot of Pompey's 6.57 Crew, polled 455 votes on a manifesto that, though mostly verging on the bizarre – the banning of "Robsons" and "Waddles" as acceptable haircuts – demanded that Portsmouth be removed from Hampshire. It was enough to split the vote in Portsmouth South, Liberal Mike Hancock losing his seat by 205 votes.
The M275, arcing out of the city past the ferry terminal and the tower blocks of Stamshaw and Buckland, fast-tracks you to the M27 and Southampton in just 30 minutes. For many inhabitants of this fiercely-proud island, it might as well be Mars. Crumbling Fratton Park, with its Archibald Leitch stand and mock-Tudor entrance will groan with the weight of history in a couple of weeks.
"It is a doubt to me if there is such another collection of demons upon the whole earth," wrote General James Wolfe of Portsmouth in 1758, days before leaving to meet his death liberating Canada from the French. For anyone wearing red and white, it will seem precious little has changed when that whistle blows on March 21.
This feature first appeared in the April 2004 issue of FourFourTwo magazine. While you're here, why not take advantage of our brilliant subscribers' offer? Get 5 issues of the world's greatest football magazine for £5 – the game's greatest stories and finest journalism direct to your door for less than a pint in London. Cheers!
NOW READ...
FEATURE The football team destroyed by the Chernobyl disaster: FC Pripyat
EXPLAINED Why footballers shouldn't get tattoos – and the science behind it
GAMING FIFA 20 review: Volta's street smarts unearth life beyond Ultimate Team
Thank you for reading 5 articles this month* Join now for unlimited access
Enjoy your first month for just £1 / $1 / €1
*Read 5 free articles per month without a subscription
Join now for unlimited access
Try first month for just £1 / $1 / €1