Glenn Hoddle 20 years on: Right manager, wrong man for England?
Two decades on from the appointment of the former Tottenham midfielder, Stephen Tudor examines how an astute coach was undone by his personal deficiencies...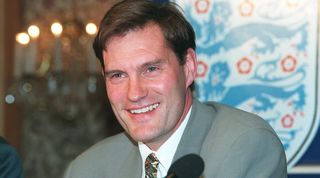 At the behest of the FA and against the wishes of Terry Venables, a press conference was arranged 20 years ago this week to reveal that Glenn Hoddle had agreed terms to succeed him as England manager.
With the small matter of hosting that summer's European Championship on the horizon, Venables feared the announcement might prove a distraction.
He was proved to be partly correct: the press absorbed the news, then put it to one side and continued to whip the nation into pre-tournament giddiness before screaming blue murder over a 'dentist's chair'.
The players forged a siege mentality against the hysteria that surrounded their Hong Kong tour and subsequently missed out on a famous final because of one weak penalty.
It was Hoddle himself who threatened to muddy the waters, calling Venables and requesting he meet the players a full three months before taking charge.
Venables reluctantly ceded and invited Hoddle to take in a training session. He was given lunch and a tour of the facilities, but the former midfielder then infuriated the coaching staff by pushing his luck and asking when he could come back and do it all again. "I was stunned when he phoned and asked when he could arrange further visits," Venables wrote in his autobiography. "To me that was so damned arrogant."
People problems
This was trademark Hoddle: diligent, well-intentioned and unfailingly polite, yet still with the propensity to rub others up the wrong way.
In 1998, respected author Phil Shirley penned a biography of the former Spurs maestro entitled Faith To Win. When asked to comment for this article, Shirley offers an insight into the mindset of a fascinating figure who ultimately saw his dream job taken from him along with, for a spell, his reputation.
"For a smart man, Hoddle seemed naïve at times" Shirley told FourFourTwo. "He was distant, not aloof, but was often surprised when people mistook his hunches for intellectual arrogance.
"He was incredibly compassionate and empathetic, and yet he couldn't read people like he could read a game of football."
Looking back on his two years and 278 days as England gaffer, the same image constantly springs to mind: Hoddle as a tactically astute and progressive coach undone by human flaws.
Football brain
There was certainly no disputing his coaching acumen. As player-manager at Swindon and Chelsea, Hoddle had overseen stylish restorations that brought about promotion to the top flight for the former and cup finals and a continental swagger to the latter.
Installing himself as sweeper in a 3-5-2 formation was widely seen as forward-thinking – sophisticated even – despite Argentina having won the World Cup with the same system in 1986 and Mark Wright excelling in the same role for England at Italia 90.
This was pre-Britpop and pre-Blair Britain: people still had sex with their socks on and football was still played in regimented 4-4-2s, so playing three at the back was like serving up nouvelle cuisine at a transport caff. It was viewed with a mixture of suspicion and admiration, and Hoddle's time at Monaco as a player only added to his worldly allure.
The results spoke for themselves, with opponents largely unable to contain the fluidity the system fostered.
Micky Hazard, Hoddle's former team-mate at Tottenham, was instrumental in Swindon's rise and offers this effusive assessment of his friend's coaching credentials.
Hoddle's work as Chelsea player-manager helped get him the England job
"Glenn came in and played himself as sweeper and, given the man is a pure and total genius as a footballer, he was obviously a massive addition to the team. The fact that he could play was a huge advantage for him to get over the system and style of football that he wanted, and teams couldn't work it out. There was no stone unturned and he was a master tactician."
Tactical tinkering
Then there's former Newcastle and England midfielder Rob Lee, who passed on this glowing acclaim.
"I've played for some great managers and coaches such as Kevin [Keegan], Kenny [Dalglish], Bobby Robson and Terry Venables, and Glenn was the best coach I ever had. For putting on sessions that were enjoyable but had meaning, there was no-one better."
Hoddle's England tenure kicked off with a comfortable 3-0 win in Moldova that began their World Cup qualifying campaign in style.
He duly employed his favoured 3-5-2 (a decision heavily criticised by a somewhat bitter Venables), with the game also significant for marking the debut of a certain David Beckham.
While Hoddle was tactically astute, he was also fortunate enough to inherit an established spine of David Seaman, Stuart Pearce, Paul Gascoigne and Alan Shearer that he could merge with outstanding emerging talent such as Manchester United's 'Class of '92'. With only a solitary blip, England topped a tough group containing Italy and Poland to reach France 98.
Very superstitious
The dramas of that tournament remain etched in the memories of all who saw it. From Michael Owen's mazy miracle and Beckham's petulant flick, to Batty's strange hop and skip following yet more penalty heartbreak, it all amounted to so near but so far.
Hoddle's spiriutal beliefs are also widely remembered. Prior to the Argentina game, the manager instructed his staff to walk anti-clockwise around the pitch to create a positive energy, while the players soon became accustomed to being touched just above the heart by the hand of Hod before kick-off.
Twenty years on and it's still utterly bizarre that what defines Hoddle's time as England coach is not the blossoming of Beckham and Owen, nor the general promise the era provided, but a faith healer from south London by the name of Eileen Drewery.
Drewery's prominence in the England setup was the cause of much tittle-tattle and open mockery in the press, while the players' take on such new-age methods is best epitomised by the oft-told tale of Ray Parlour being asked by the healer what she could do for him. "A short, back and sides," he responded with a grin.
Unlikely downfall
Nobody could have anticipated what came next, though. Following a dismal draw against Bulgaria and with tensions between the media and England camp running high, Hoddle went on a charm offensive, agreeing to an interview with The Times' Matt Dickinson. It would prove to be his undoing.
Dickinson probed deeper into Hoddle's born-again Christian beliefs, beyond the usual scoffing and nonsense, and was truly staggered by the candid response. Looking back on the fated discussion now, he remains shocked at the skewed logic.
"I didn't know if he would expand on his beliefs when we spoke but obviously I was intrigued, then startled when he did," Dickinson says.
"When he said the stuff about the disabled, I thought: 'bloody hell, he really is a crank'. Suggesting that disabled people are paying for past sins is clearly offensive. It's nasty with an awful air of superiority."
Excellent. A PR just offered me a phone interview with Glenn Hoddle to talk about England and the World Cup. What could go wrong?
— Matt Dickinson (@DickinsonTimes) May 6, 2014
With entrenched sincerity, a man who held arguably the second most important job in Britain had pontificated on reincarnation and uttered these fateful words on tape: "You and I have been given two hands and two legs and half-decent brains. Some people have not been born like that for a reason. What you sow, you have to reap."
Progress cut short?
RECOMMENDED
Where are they now? France's Euro 2000 Champions
The remarkable story of Sam Schweingruber: Cambodia's death-cheating vigilante risking life to beat match-fixing
These are the 8 fiercest rivalries in international football. Grrr...
The furore was immediate and fierce. Prime Minister Tony Blair appeared on morning television to condemn the remarks, while a memorable photograph in a national newspaper showed a man in a wheelchair holding aloft a sign that read: 'I only stole a Mars bar'. Under the weight of national denunciation, Hoddle had to go.
Whatever your take on the matter – and surely only an extreme few could countenance such views – the fact remains that England lost out on a shrewd guider of its national team because of a non-footballing issue on February 3, 1999.
With a 60% win percentage that is bettered by only Sir Alf Ramsey and Fabio Capello, Hoddle's record fairly reflects a team that could conceivably have grown, improved and excelled at the subsequent European Championship in the Netherlands and Belgium. It is pertinent here to recall Rio Ferdinand's retrospective assessment of the sacking: "I don't think we've ever recovered".
It could be reasoned, then, that Hoddle was the right manager but the wrong man for the task at hand.
Shortly after, England welcomed the arrival of his antithesis in every possible way, Kevin Keegan.
Lacking the studied acuity and urbane self-assuredness of his predecessor, Keegan wore his heart on his sleeve and, like a tail-wagging puppy among a pack of wolves, came up short. The right man but the wrong manager? Perhaps. One day, England might get the balance just so.
Quizzes, features and footballing fun
Get the best features, fun and footballing frolics straight to your inbox every week.
Thank you for signing up to Four Four Two. You will receive a verification email shortly.
There was a problem. Please refresh the page and try again.