Why Rafa Benitez's Newcastle departure isn't just a Mike Ashley problem – it's a Premier League one
​Newcastle's fans may aim ire solely at their club's abrasive owner – but he is a symptom, not a cause, of what has gone wrong in the Premier League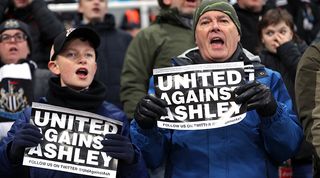 As news broke around Monday lunchtime that Rafa Benitez would be leaving his post as Newcastle United manager when his contract expires on Sunday, Tyneside erupted in fury. 
It wasn't like the news was surprising – rather the opposite. Despite Benitez being universally adored by fans, he and the club's board had been unable to reach an agreement about the club's direction. Even less surprisingly, the announcement ensured that Magpies' mutual loathing of owner Mike Ashley reached new heights.
And yet for all the (merited) anger, the scenario that has played out between Benitez and Newcastle is indicative of a far larger problem in English football.
To Ashley, who treats the club like a business and nothing more, the be-all and end-all is staying in the Premier League. He cares nothing for the romance of the sport. He knows that retaining top-tier status is enough to keep things ticking over, literally so through the hardy supporters who click through the turnstiles out of loyalty, or from the significantly more vast sums that arrive simply by virtue of being in the division.
In finishing 13th last season, Newcastle collected over £120m in revenues from the Premier League. Only one side, bottom-placed Huddersfield Town, failed to break the £100m barrier. The sums on offer are astronomical and, while the disparity between top and bottom is sizeable, clubs find themselves rewarded handsomely for simply hovering around mid-table.
Sport shouldn't just be about money. But when the gap to the top six is so vast, where is the sense in squandering millions trying to bridge it? Take Everton. Since 2016, the Toffees have spent around £340m on players to go from 11th to eighth. In that time, they haven't got beyond the fourth round of a cup and their solitary European excursion had them back home before Christmas. Why bother?
Leicester City's incredible title win merely intensified the efforts of those at the top to ensure it could never happen again. The Premier League is effectively two divisions in one: six compete at the top and the other 14 try not to get relegated. Posed like this, it's little wonder that an owner might decide the best course of action is to settle comfortably in the middle and let the money roll in.
Benitez, of course, ensured those sums kept flowing. Many feel he worked wonders in constraining circumstances. Yet Ashley has shown little care for nuance during his time at the St James' Park helm, and it's likely that he believes he will be able to hire someone who is able to keep this particular train on Premier League tracks. He may well be proven right.
If he isn't, and Newcastle are relegated for the third time in his tenure, the consequences will be all too evident. Income will plummet. Ashley's sale price will have to drop. An immediate promotion might not be achieved again. For now, however – and indeed since he took over – chirpy Mike is happy to trust that the club can and will continue to tread water without sinking.
FAN'S VIEW Help me – I don't know how to love Newcastle United any more
For now, he appears to be alone in that. Many clubs, whose realistic ambitions top out at finishing seventh, have owners who are happy to continue throwing cash around, ignorant of – or in spite of – the glass ceiling above them. Yet even plenty of those are getting wise to reality; think, for example, of the mid-table sides who refuse to make a real fist of things in the FA Cup, despite having little else to play for.
Newcastle fans are right to lament the departure of Benitez, just as they lament the stripping of life from their club. But outsiders should not fall into the trap of viewing this as solely a Mike Ashley problem. Instead, it is a sorry episode which highlights a threat to the soul of English football itself.
While you're here, why not take advantage of our brilliant subscribers' offer? Get 5 issues of the world's greatest football magazine for £5 – the game's greatest stories and finest journalism direct to your door for less than a pint in London. Cheers!
NOW TRY…
EXPLAINED We were promised sell-outs for the Women's World Cup – so why the empty seats?
QUIZ Can you name the 50 most valuable players in world football?
Quizzes, features and footballing fun
Get the best features, fun and footballing frolics straight to your inbox every week.
Thank you for signing up to Four Four Two. You will receive a verification email shortly.
There was a problem. Please refresh the page and try again.