Help me – I don't know how to love Newcastle United any more
It's the news Magpies have been dreading: Rafa is off. So what to do when all that remains is apathy?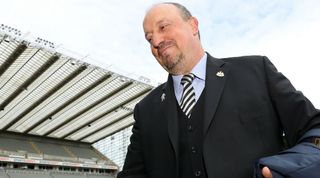 Around three years ago, I was on this very website lamenting Newcastle United's relegation to the Championship and bemoaning the stubborn stupidity of He-Who-Shall-Not-Be-Named. The world has changed a lot since then, but guess what: Newcastle United haven't.
I mean, in some ways they have. They got back to the Premier League at the first time of asking because they had a brilliant manager. Then they twice managed to avoid relegation with a spirited but frankly insufficient squad – because they had a brilliant manager.
And now here we are, three years later, with the least surprising news ever: Newcastle United have failed to retain their brilliant manager, Rafa Benitez.
The first text I got when the news broke was a pure, simple and almost apologetic: "Rafa…" It came from a Sunderland fan. Moments later I got a text simply saying "Disaster" from my dad. I surround myself with people who tend not to say much more than they need to at the best of times but, in this instance, this was pretty much all that was needed. The time has come, just like we knew it would, and nobody is surprised.
"Geordies won't blame Benitez if he does depart – they will retain a huge soft spot for the man who could have transformed Newcastle's fortunes." This was a sentence I wrote for that piece three years ago and, for the most part, it's still true.
Rafa tried to transform the Magpies' fortunes and take Newcastle forward. He had demands, sure, but this is the best and most loved manager the club have had for years. He's the best and most loved manager they'll have for years. If you can't give the man what he wants, at least give him what he needs to be ambitious. He's Rafa Benitez: he doesn't need to be manager of Newcastle. He saw something in the club that its supporters see, but that their owner will never understand.
The fundamental issue is that this is not Newcastle United anymore. This isn't Kevin Keegan, Alan Shearer, Sir Bobby or Laurent Robert's left foot. This is Mike Ashley. The two are no longer separable. We've gone too far; too deep is the cancer; too clad in rubbish Sports Direct branding is the church; too Mike Ashley'd is the Toon. And, yes, I know I said he shouldn't be named in the intro, but that would have got very tedious very quickly – much like the man himself. This is Mike Ashley FC now.
If he isn't making a quick quid, he doesn't care. He'll tell you he does, and he'll say he wants to sell the club to the right owner, you know, because he wants you to think has a moral compass. He probably won't sell this time, or any other time. He doesn't care about Newcastle United, Rafa or ambition. He doesn't care about the fans or the community. He doesn't care about you, mate.
That's why the club have increased season tickets prices without any indication of increasing the quality of their squad, the facilities, or improving the line between fan and customer. That's because there is no line with Mike Ashley FC. We're all customers. We're all chipping in and making it worthwhile for him, and nothing – not even actual, tangible promise and potential under a manager talented enough to deliver on it – will change the way he operates.
I don't know what the answer is. I'm exhausted thinking about it. I loved it when Rafa carefully removed his glasses and folded them into his pocket whenever Newcastle won. I love how livid Matt Ritchie gets when he's subbed off, how much hair gel Ayoze Perez puts on his lid, and the fact Miggy Almiron is so fast it's actually hilarious.
But I don't really know what to do with that anymore. This is no longer the same proud, daft, deranged club. This is just some guy with a bottom line, terrible clothes and no respect for the people who make Newcastle United.
While you're here, why not take advantage of our brilliant subscribers' offer? Get 5 issues of the world's greatest football magazine for £5 – the game's greatest stories and finest journalism direct to your door for less than a pint in London. Cheers!
NOW READ
LIST 15 Premier League players who should definitely leave their clubs this summer
FACTS 23 things you didn't know about cult football TV & films
Quizzes, features and footballing fun
Get the best features, fun and footballing frolics straight to your inbox every week.