The Raouraoua rule and a French revolution: How Algeria became Africa's most exciting team
The Fennec Foxes' gutsy performance at last summer's World Cup earned them plenty of admirers – but Maher Mezahi says there's much more to come...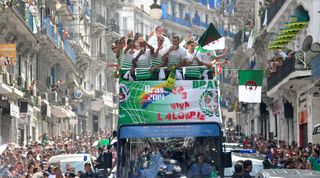 Algeria's resurgence in the international arena can mostly be traced back to one man: Mohamed Raouraoua. The president of the Algerian Football Federation changed his country's footballing fortunes in 2003 when he petitioned for a change in FIFA legislation. Before his intervention, world football's governing body didn't allow for a change in allegiance if a player was already capped with a youth national team.
ALGERIA'S AFCONS
2013 Group stage
2012 DNQ
2010 4th
2008 DNQ
2006 DNQ
2004 Quarter-finals
2002 Group stage
2000 Quarter-finals
The executive committee allowed a concession: players could then play for another national team as long as they were under the age of 21. Raouraoua immediately put the law to use, qualifying Anthar Yahia and Samir Beloufa for the 2004 Africa Cup of Nations, where Algeria progressed to the quarter-finals.
The federation continued to build on that success, bringing in the likes of former Marseille winger Salim Arrache and former Portsmouth wing-back Nadir Belhadj. Though progress was palpable, it wasn't enough, and six years after Raouraoua successfully changed the restrictive statute, he again took his case to the executive committee, this time in the Bahamas.
The problem was that many players of Algerian descent were older than 21 and were thus ineligible to play with Les Fennecs. His appeal was successful, which meant there was no longer an age limit for switching allegiances; as long as a player was not capped with a senior national team, he could complete a dossier asking for a change in nationality.
This move was Raouraoua's coup de grace, as Algeria began raking in players who weren't quite good enough for the French national team, but much better than the players their domestic league was producing.
Hassan Yebda, Mourad Meghni and Djamel Abdoun were the first three players to benefit from the change in legislation, but just about every national team in Africa has benefited from the rule change.
Kevin-Prince Boateng, Victor Moses, Belhanda and Frederic Kanoute are but a few of the names that have used the 'Raouraoua rule' to play international football in their native lands.
The French factor
During the 2010 World Cup, many pundits pointed out that three-quarters of the Algerian side were born and raised in France. That doesn't sit well with the local populace, but instead of slowing the number of international transfers, the rate has continued to increase.
The French-based Algerian diaspora was meant to be an extra source of players, but it has now become Les Fennecs' very fuel, and now many consider them the best side in Africa.
There's an old North African proverb that warns against being transfixed with the fruit tree that hides the forest. In Algerian football, the fruit tree would be the national team, and the perfidious forest is the problematic domestic league. But what if the tree is a never-ending source of sustenance, with enough fruit to satisfy and fill your cache?
That's the main crux of a debate that rages in North Africa, and it's hard to argue against a reliance on a Franco-Algerian diaspora when watching Sofiane Feghouli, Yacine Brahimi, Nabil Bentaleb, Saphir Taider and Faouzi Ghoulam play in Christian Gourcuff's 4-4-2.
But Algeria's improvement is more profound than a few talented individuals. Success breeds success, and as Les Fennecs started to link together good results, the federation began collecting endorsements and prize money. In 2014, the Algerian Federation penned three lucrative deals.
National telecom company Mobilis spent a whopping €25 million on a four-year deal to be the team's official sponsor. Algeria also received €9m from FIFA for their World Cup participation, while Puma couldn't match Adidas's €3m proposal to continue as the team's official outfitter.
Much of the cash has been re-invested into grassroots development, but a healthy sum was reserved for the national team. In 2011 the federation built a technical centre in Sidi Moussa, a suburb of Algiers.
The technical centre has been described as a 'mini Clairefontaine' and its facilities are impressive. There are two perfectly-manicured pitches, a jacuzzi, sauna, physio room, cafeteria and even an amphitheatre for press conferences and video reviews of game tapes.
Before establishing the technical centre, the national team would stay in five-star hotels that were open for public use. Players and staff were often disturbed by overenthusiastic fans knocking on room doors at midnight, pleading for an autograph and photo.
Gourcuff the Great
The improvement in personnel, infrastructure, and successive triumphs on the pitch has established an atmosphere of stability and progress that allows for Algeria to target top managers, and that is precisely what they have hired in Christian Gourcuff.
Gourcuff earned his reputation as an accomplished tactician in France. He spent 25 years at Lorient, dragging the club out of lower-league mediocrity and into an established, competitive Ligue 1 club.
The 58-year-old Breton was a mathematics professor before fully committing to football. His neurotic attention to detail has been carried over into the sporting arena, where he has developed a precise philosophy that stresses possession football.
He swears by 4-4-2 like a latter-day Sven-Göran Eriksson, insisting that it "rationally occupies the most space on a pitch".
It took some time to come to fruition, but during the fourth and fifth matchdays of Africa Cup of Nations qualifying, Gourcuff's philosophy began to pay off. Against Malawi, in a comprehensive 3-0 victory, Algeria completed 506 passes. A month later against Ethiopia, they managed 613 in a 3-1 drubbing.
That's all well and good but when a team like Algeria monopolises possession for long periods, it becomes easy for the opposition to park the bus. Short passing can then become redundant, and Les Fennecs need a spark of creativity. In such situations, the go-to player is usually Porto's Brahimi.
Free of any defensive constraints, he excels in what has been coined the 'free electron' role, which permits unrestricted movement, and opens up space necessary for the wonderful moments of footballing magic he now regularly produces.
Full-backs Ghoulam and Aissa Mandi also tend to overlap during congested sequences of play, providing much-needed width. It is not unusual to see Algeria stack all 11 players in the opposition half, leaving themselves susceptible to counter-attacks.
Because Gourcuff has perfected his philosophy, he very rarely alters his tactics or style of play. The question then poses itself: if teams study the Algerian style of play and set up to disrupt it, can the North Africans fashion a Plan B to break stalemates?
Algeria will have to answer that question and countless others in Equatorial Guinea. The truth is that it is too early to make any definitive statements about how this team will adapt to the conditions in central Africa.
What can be stated confidently is that this side – the best-ever Algerian national team – has all the necessary tools to mount a second gold star atop their crest.
Watch every match of the Africa Cup of Nations LIVE on British Eurosport HD or sign up to Eurosport Player and follow the action on mobile, tablet and other devices: www.eurosportplayer.com
Quizzes, features and footballing fun
Get the best features, fun and footballing frolics straight to your inbox every week.
Thank you for signing up to Four Four Two. You will receive a verification email shortly.
There was a problem. Please refresh the page and try again.