Roger Federer: Sing When You're Winning
"I'd like to think I could have been a footballer. I was an attacking midfielder or striker. I was a good leader so I think I would have made a good captain"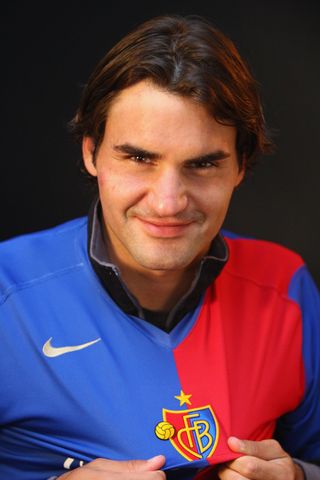 Roger Federer clearly hates losing. As the winner of 12 Grand Slams, including five consecutive Wimbledon titles, the 26-year-old, who many believe to be the greatest tennis player of all time, is clearly more accustomed to the taste of success. But unlike the forehands and volleys he executes with such precision on the tennis court, Federer has no control over the fortunes of the football team he follows with a passion – FC Basel.
"The worst moment for me was last season when we lost the league to our main rivals FC Zurich," says the Swiss star shaking his head. "It all happened on the last day of the season and we lost the league by one point. I was in Rome at the time playing in the Masters Series and I remember being pretty upset."
Given the commitments of his tennis schedule, Federer is resigned to being a fan from afar most of the time. That's again likely to be the case for the imminent Euro 2008, to be co-hosted by his native Switzerland. The tournament kicks-off in Federer's hometown of Basle on June 7, when the Swiss take on the Czech Republic. "I'd love to get to go to a game, but it's right in the middle of a busy period for me. The tournament starts the same weekend the French Open finishes. I then have a tournament in Halle and Wimbledon, so it's going to be difficult, but lets wait and see."
As an ambassador for Euro 2008, Federer, like the rest of his country, is excited by a potential feast of football. "I was up a mountain in Austria when the announcement was made that Switzerland would host the tournament with Austria," he recalls.
"I was very proud. It was really exciting then nothing happened for a while. There were a few concerns about hooliganism and security issues at first and a few people were angry when it was difficult to get tickets and they realised that a lot of them would be going to the sponsors, but overall everyone is starting to get excited now."
Like many of his generation, Federer first fell in love with football during Italia 90 and was lucky enough to experience the passion first-hand. "We were on a family holiday in Italy at the time," he says. "I was only nine but I remember the whole country being crazy, especially when Italy played. After they lost to Argentina in the semi-final I remember seeing people crying in the street.
"I use to love watching the big tournaments like the World Cups and the European Championships and I think Italia 90 had quite an affect on me because I used to always support Italy and Germany after that. My heroes were Italian. I loved Roberto Baggio and Toto Schillaci, although later my favourite players were Ronaldo, Figo and Zidane."
But Federer's real heroes are the boys in red and blue. FC Basel are one of Switzerland's most successful clubs, having won 11 league titles and nine cups. With a capacity of 42,500 their St Jakob Park Stadium is the biggest in the country and will host six matches during Euro 2008. But Federer wasn't always a fan of the club.
"When I was a kid I played for [now Swiss second-tier side] Concordia Basel so I used to play against FC Basel," he says. "Marco Chiudinelli, who is also on the ATP Tour, used to play libero for FC Basel and I was striker for Concordia so we had some great battles. It was only after I stopped playing football that I started supporting FC Basel, but now they mean a lot to me and I always follow their results when I'm on tour."
The decision to stop playing football was a difficult one for the multi-talented Federer. "When I was 12 my tennis schedule was so busy that I just couldn't play multiple sports any more," he says. "I'd like to think I could have been a footballer. I was an attacking midfielder or striker. I was a good leader so I think I would have made a good captain."
These sentiments were echoed by Christian Gross, who was – and still is – coach of FC Basel in 2004 when Federer returned to his home town for a training session with favourite team. "I'm sure if he had persisted he could have had a career," said Gross, after witnessing Federer's 'other' ball skills close up.
Back on the tennis court, another three Grand Slams will see Federer beat Pete Sampras's record of 14 and become statistically the greatest player of all time – and greatness is a subject he's happy to talk about. When asked if Cristiano Ronaldo is the best player in the world, the world number one says, knowingly, "To be considered the greatest you have to win the big titles. So, for that he has to win the European Championship and he's not going to have it easy because Portugal are in Switzerland's group!"
Switzerland aren't expected to win the European Championship in July, whereas the odds on Federer making it a record six consecutive Wimbledon titles are far higher. It's going to be a big summer for both of them, but as a frustrated and distant armchair football fan who hates it when his team loses, at least Federer's destiny is in his own hands.
Interview: Neil Billingham. Portrait: Getty Images. From the July 2008 issue of FourFourTwo.
Thank you for reading 5 articles this month* Join now for unlimited access
Enjoy your first month for just £1 / $1 / €1
*Read 5 free articles per month without a subscription
Join now for unlimited access
Try first month for just £1 / $1 / €1