Turan: I've always admired Gerrard - I have a soft spot for Liverpool
Atletico Madrid and Turkey star Arda Turan talks to Sefa Atay about the Rojiblancos' title charge, playing for Diego Simeone and his sensational facial hair...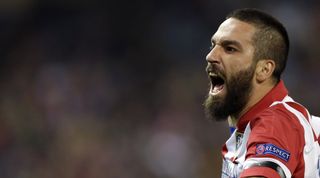 What do you think the recent success of Atletico Madrid is down to?
Firstly, we are not a team of individuals. We are a collective group of hard-working players who always want the best for the team. We battle for every ball during every minute of each match and you can see even in training matches that nobody wants to lose. We have a great team spirit, like a family, and the secret to the club's success is down to everybody working for each other.
Atletico's defence is extremely well organised - what do you work on in training to be so good when you're not in possession?
Training involves a lot of tactical work. We are always trying to work hard to ensure that we are improving as a team. Our basis is to prevent teams from scoring and a lot of our training exercises involve trying to stop the ball getting through the midfield and defence.
Is Diego Simeone focused on discipline or is he generally quite relaxed?
Of course he is a very strong-minded coach, but he was a top player in his playing days as well and everybody knows that you can't achieve that success without having a lot of self-discipline as well. He has taught us a lot about discipline both on the pitch tactically, and off the pitch too.
fact file
Tanggal Lahir 30 Januari, 1987
Tempat lahir Istanbul, Turki
Posisi Gelandang
Klub sebelumnya Galatasaray, Manisaspor (pinjaman)
Prestasi Internasional 71 kali bermain untuk timnas, mencetak 14 gol.
How would you compare Simeone with your international coach Fatih Terim?
It's hard to compare Cholo and Fatih Terim. Terim has been a coach for so long and has experienced unbelievable success. He taught me so much as a young player [at Galatasaray] and I will always be grateful for him and his role in helping me get to this level. On the other hand, Cholo is still in the early of his career as a manager, he is still very young but is already one of the top coaches in Europe. I have no doubt that we will see Cholo as one of the world's top coaches for many years to come.
What was it like playing with Radamel Falcao? Did you think the team could play so well without him?
Tigre (Falcao) is one of the top strikers in the world, and he showed his potential and class during his years at Atletico Madrid. He is still a great friend of ours and we are very grateful for the part he played in the club's success. However, we have never been a club reliant on individuals, we have moved on to adapt and have worked hard to ensure we are still successful. We might not have Tigre now but we have David Villa and he is also one of the world's top strikers.
How would you describe Diego Costa as a player?
Aside from the goals he has scored this season, Diego Costa is a player who never forgets the values of the team and the methods Cholo has maintained at the club. He is a fighter who always tries to do everything to the best of his ability for the team. To be honest, I think he is already a world star because it is not easy to score over 20 goals in one of the world's top leagues. He has huge potential and it's a privilege to share the pitch with him.
You played down Ronaldo's flank against Real Madrid in the 1-0 win at the Bernabeu. How tough is it for a midfielder to track his runs?
Obviously Ronaldo is one of the best players in the world with great ability and you have to always respect that. However, I have always believed that on the pitch, everybody is equal. Ronaldo is human, and I have never been afraid of any player that I have played against. If you prepare yourself in the right way, and study the opposition in as much detail as possible, it can make your job of tracking top players a whole lot easier. Every player in La Liga is a top player and that's why it's one of the best leagues in the world.
How far can Atletico go in the Champions League?
Since Cholo arrived we always refrained from making bold statements about our ambitions. Obviously our intentions are always to win, and for us, every match we play is a final whether it's in the Champions League or La Liga. We are proud to be playing in the Champions League again and it's a great time for the club. We will take every game as it comes, approach it with the mentality of a final and see what happens. This doesn't mean that we don't have big ambitions - I can assure you we do - but we prefer to keep them to ourselves [laughs].
Last time Atletico won the league you were just nine years old. What were you doing back then?
As a nine-year-old I was a huge Galatasaray fan, of course. I was following them and dreaming of playing for them like any other child would while still playing football in the streets. I'm hoping that now, at the age of 27, I can play a role in helping Atletico Madrid win a league title again after so many years.
Can Atletico Madrid win La Liga?
Like I said before, every match is a final for us. Every match in the league is a game we must try to win. We take every match as it comes and try to win it, then when we get to the end of the season we will look and see how far it has taken us.
You've been a regular for the Turkish national team since you were 19. Do you feel like one of the senior players now, helping your younger team-mates?
I do feel like one of the more experienced players in the national side. I have played for the Turkey team for many years now and we have achieved some great things. We missed out on the play-offs for the World Cup and we were all very sad about that, but we have to look to the future. For me personally, I believe I have one more chance to play in a World Cup, even though I will be over 30 by 2018. Of course, I try to help the younger players and we have a lot of potential coming through.
Is it true you're a Liverpool fan?
I've always played for teams in red [Galatasaray, Manisaspor, Turkey] and I've always admired Steven Gerrard. So yes, I have a soft spot for Liverpool, especially given their history and the atmosphere at Anfield.
Finally: why the beard? A lot of people are very envious...
[Laughs] It's nice to hear people admire the beard, but I just like to have fun from time to time. And I'm not the best-looking guy in the football world!
Thank you for reading 5 articles this month* Join now for unlimited access
Enjoy your first month for just £1 / $1 / €1
*Read 5 free articles per month without a subscription
Join now for unlimited access
Try first month for just £1 / $1 / €1
Get FourFourTwo Newsletter
The best features, fun and footballing quizzes, straight to your inbox every week.