Where are they now? Mexico's 2004 Copa America squad
Mexico fans will remember the bittersweet 2004 as a great triumph over Argentina before things went south against Brazil. Elliott Turner reflects, as written on FFT USA.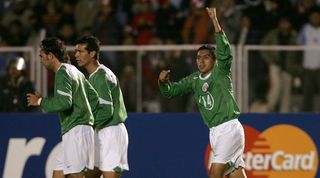 Many fans of El Tri will fondly recall the 2004 Copa America in Peru. Well, the group stages at least. After manager Ricardo LaVolpe refused to even call up star striker Cuauhtemoc Blanco, he still managed to field a youthful and exciting team that exceeded expectations. Mexico tied Uruguay 2:2 in the opening game and that set the tone for a solid tournament. Both of Mexico's goals in the opening draw were spectacular efforts to boot: first, Ricardo Osorio's cross-cum-shot from the right flank flew over the Uruguayan goalie and into the far post. Second, Pavel Pardo's piledriver from thirty yards out whistled into the far left corner and gave Mexico an ever so brief lead.
Opening with a draw meant that Mexico could lose the second game to favorite Argentina, hope to beat Ecuador in the very last game, and still advance. Instead, El Tri pulled off an upset for the ages: with lots of hard running by Gerardo Torrado and even fiercer tackling by Rafa Marquez, Mexico shut out Argentina and won 1-0 with a gem of a free-kick goal from Ramon Morales. Argentina was in shock, and a very small group of Mexpats back in Argentina stormed the Obelisco in downtown Buenos Aires to celebrate like it was New Year's.
The objective then became to win the very last game and the group, and in theory get an easier match-up in the quarterfinals. Mexico beat Ecuador, 2-1 and topped the group, but then came the twist: Brazil got second in their group, behind Paraguay. That meant Mexico would face five-time World Cup champions Brazil. And, sadly for Mexico players, they got spanked 4-0. Still, one bad loss does not undo a solid tournament, and many of these players formed the nuceleus for El Tri's 2006 World Cup run in Germany.
Twelve years later, here's where some of the bigger names are now:
Oswaldo Sanchez
Sanchez was the man between the nets for Mexico and Chivas for almost a decade. He actually started his career at Atlas, then enjoyed a brief stint at Club America, before donning the red-and-white stripes of C.D. Guadalajara. He won the 2006 Apertura with Chivas, shortly after Jorge Vergara bought the club and a few years before things went south.
Sanchez actually won more silverware after leaving Chivas late in his career and linking up with Santos Laguna. In Torreon, he won two Liga MX titles and a Copa MX crown. He appeared in 99 matches for El Tri and started every game at the 2006 World Cup. He retired in 2014 and said he plans on "staying in the game," but thus far has not been linked as a coach or assistant with any club.
Ricardo Osorio
Osorio started his career playing for Cruz Azul Hidalgo and then Cruz Azul. He preferred to play center back, but can operate on the right flank as well. In 2004, he played a key role in El Tri's run and, two years, later, had a very good World Cup tournament at Germany 2006. Long before Chicharito tore up the nets with Bayer Leverkusen, Osorio signed for Stuttgart, became a key player, and won the Bundesliga.
A beast in the air, Osorio also started and played in each game for Mexico at the 2010 World Cup. However, while he has not officially retired, his last appearance for El Tri was a sad one: his mistake in the Round of 16 game in South Africa vs. Argentina allowed Gonzalo Higuain to score for El Albiceleste. And the rest said about that game, the better.
At the ripe old age of 36, Ricardo Osorio is still kicking it and plays for Monterrey in Liga MX.
Rafael Marquez
Not since Hugo Sanchez had a Mexican player taken Europe by storm like Marquez. "Rafa" played a key role in the Frank Rijkaard revival at FC Barcelona: his fantastic range of passing and ability to boot long and accurate diagonals was a key feature of a club team that won the Champions League in 2006 and various La Liga titles.
Rafa, along with Osorio, formed a strong center back pairing for the 2004 Copa America and got a clean sheet against a dangerous Argentina side in their group-stage game. Rafa has appeared in four World Cups for Mexico, also played in Italy, and currently suits up for Atlas. Aside from a poor spell in MLS and his very last season in Serie A, he's been a rock at the back for club and country.
Despite being 37 years old, there's no hint of him retiring anytime soon.
Continue: Jared Borgetti is probably enjoying retirement
Gerardo Torrado
For long-time fans of El Tri, the 2004 Copa America offers an odd sight: a bald-headed and energetic Gerardo Torrado running circles all over the field. This is odd because Torrado's nickname is "el borrego," which roughly translates to "frizzy hair." In 2004, though, he played in Spain for Sevilla and was just a hard-tackling kid with exceptional work rate that wanted to make a name for himself.
Things in Spain did not work out for Torrado, but he returned to Liga MX and became an idol for Cruz Azul fans. He won a Copa MX title in 2013, which is a pretty big accomplishments because usually the other D.F. clubs who are richer take home the trophies. Torrado appeared in three World Cups for Mexico, but didn't make the last cut for the 2014 tournament in Brazil. He also has yet to hang up his boots, but lost his pace years ago and relies more and more on tactical fouls. Still, you can't blame a cagey veteran for grabbing a jersey or two.
Where Are They Now?
Pavel Pardo
Pavel Pardo was a slick-passing, two-footed metronome of a central midfielder who dominated Liga MX with perennial front-runners Club America. You could hate the Aguilas but still get hypnotized by his passing and snap decision-making. Just like Osorio, he turned very good performances at the Copa America Peru and World Cup in Germany into a lucrative Bundesliga move. He seamlessly stepped into the heart of the Stuttgart midfield and orchestrated a title run.
Pardo retired in 2013 after a few brief stints back at Club America and then in MLS with the Chicago Fire. He hopes to coach one day and allegedly the Chicago Fire offered him a job back in November. If he's half as smart a coach as he was a player, then it could be a great fit.
Ramon Morales
Morales' sweetly struck free-kick winner vs. Argentina just may have been the highlight of his playing career (his goal against in Brazil in 2007 was nice too, admittedly). Still, one can't help but admire his dedication and loyalty to Chivas. He played over 380 games for the club, wore the red-and-white kit for over a decade, and only owns a single Liga MX title in 2006. For El Tri, he scored a mere six goals, and never in a World Cup.
Morales' loyalty to Chivas did not end with his playing career. Despite hanging up his boots in 2011, he has coached youth teams at Chivas and twice served as the club's interim manager. Will he ever get his chance to be the permanent manager? Hopefully. With the ever-present threat of relegation, his sense of duty has already won over the Chivas faithful.
Adolfo "Bofo" Bautista
Mexico has always produced hard-tackling defenders and quicksilver-fast strikers, but artistry in the middle of the field can be scarce, especially at the international level. Thus, both Chivas and El Tri fans had really high hopes for "Bofo" Bautista. Could he be a proper enganche? Still, Bofo has always divided waters. He's a bit slow. He's reticent to shoot. In his defense, he's all about the second-to-last pass and making a key decision at the right time. In a land dominated by shot-volume stats as attacking gospel, he's always the first player discarded by a new coach or subbed off in a game.
Bofo scored the winner in the last group game vs. Ecuador in the Copa America 2004, and has had a very nomadic club career. It may actually be a shorter list to name the clubs in Liga Mix for whom he has not played. He even headed to the U.S. and played for now-defunct Chivas USA. Currently, he plays for the Chicago Mustangs, an American indoor team. Like The Big Lebowski, Bofo remains a cult hero even if he has not aged particularly well.
Jared Borgetti
Just like Bofo, Jared Borgetti played for many a club in Liga MX and even played briefly in England and Saudi Arabia. His eight years at Santos Laguna were his most productive: he bagged 189 goals in 295 games and won two Liga MX titles. However, Borgetti was an anomaly at the time: a tall and powerful striker who was arguably better in the air than on the ground. He relished aerial duels and harbored no fear of placing his cranium in harm's way.
Since retiring from professional soccer in 2010, he's dabbled in television. He's commented the odd game for ESPN and even interviewed Oribe Peralta. He was recently admitted to the Hall of Fame and stills turns out for Legends games. Coaching does not appear in the cards and he looks less than comfortable talking in front of a camera, so maybe he's just enjoying his retirement. Lucky him.
Quizzes, features and footballing fun
Get the best features, fun and footballing frolics straight to your inbox every week.
Thank you for signing up to Four Four Two. You will receive a verification email shortly.
There was a problem. Please refresh the page and try again.