Why Chris Wilder deserves Championship Manager of the Season ahead of Marcelo Bielsa
The Sheffield United boss has been picked as the finest second-tier gaffer by the EFL this year – and Nick Miller argues it's entirely the correct call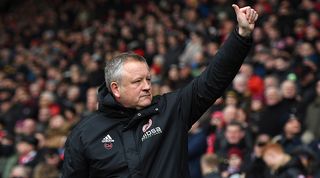 A year ago, Chris Wilder sounded like he'd given up. After a season that had started strongly but tailed away, the Sheffield United manager admitted that he may have done as much as he could with that set of players. It appeared to be an admission that the Blades, in their first season back in the second tier after six years in the third, had reached their limit.
On Tuesday, Wilder was named the Championship's manager of the season, recognising a genuinely remarkable season in which he's taken that group of players, with a few shrewd additions, to the brink of the Premier League.
Of course, there's an inevitable question to ask about this award: what about Marcelo Bielsa? What about the man who has revolutionised Leeds United, who has brought his extraordinary style and uncompromising zeal, who has succeeded where many sceptics thought he would fail? Doesn't he deserve this award?
To which the answer is yes, he does. But Wilder deserves it more.
Sharpest mind
Over the last four seasons Wilder has been, pound for pound, the best manager in the country. After winning consecutive promotions with Northampton and then United last season, he kept the Blades towards the top of the Championship for much longer than their resources and logic suggested they should.
That same logic pointed towards regression this term. They sold David Brooks and invested a fraction of Bournemouth's money; £4 million went on John Egan, but the rest of their signings looked like a trolley dash on an island of misfit toys. Free transfers, loans and players other managers couldn't get a tune out of.
But the Blades have already surpassed last season's points total. Leeds have too, but with greater resources: they could afford to spend £7 million on Patrick Bamford, another £3m on Barry Douglas and loan players from Chelsea and Manchester City. The difference in resources isn't otherworldly, but the old Ginger Rogers line about doing everything that Fred Astaire does, only backwards and in heels, springs to mind.
Wilder is one of those managers who likes to appear as the proper football man, the no-nonsense English boss: the anti-Bielsa, if you like. But as a coach he's much smarter than that: one who is tactically flexible, who last season said – more accurately, almost accidentally let slip – that he studied the way Manchester City score so many goals from low crosses, and who on a few occasions this season has used overlapping centre-backs in a 3-5-2 system.
He doesn't do any of this for the sake of it. If an old-school, kick it and head it attitude is required, that's what he'll bring. But if he thinks something innovative will help, he'll try it. That's true pragmatism.
One love
There's the added factor of his fandom. Sheffield United are his boyhood club, which can be as much a hindrance as a help: he has succeeded despite the added emotion not because of it, making decisions in a cool-headed manner when the fan in him must be screaming. Leeds are Bielsa's latest project; the Blades are Wilder's life's work. To deal with the added pressure and still produce a promotion-challenging side is a feat indeed.
Bielsa and Wilder weren't the only two candidates: Daniel Farke can think himself hard done by, Alex Neil has kept Preston in the play-off hunt again, while Graham Potter has held Swansea together with sticks and old elastic bands. But the personalities, local proximity and rivalry makes this comparison inevitable.
Ultimately, this award doesn't mean anything tangible. Promotion does – the only thing the managers really care about – and this gong is little more than formalised praise. Maybe it's time Wilder had a little more of that. Bielsa has been feted far and wide, countless articles detailing his genius, documentaries made about how he has revolutionised the club, thousands of words spoken about how remarkable it is that he's managing in the Championship.
All of which is entirely justified, but the two Yorkshire Uniteds have been, at worst, on par this season, and Wilder has received a fraction of the coverage. Indeed, we'd wager that if you asked 100 average football fans with a passing interest in the Championship who the Sheffield United manager was, fewer than 50 would be able to tell you.
They might have a better idea now – and even more so if he achieves the implausible and the Blades win promotion.
Both Wilder and Bielsa have done extraordinary jobs this season. But Wilder's is just that little bit more extraordinary.
SEE ALSO...
REMEMBERED… The best mascot fight in English football: Cyril the Swan vs Zampa the Lion
RANKED! The 25 best Premier League goals EVER
Subscribe to FourFourTwo today! 6 issues for £19
Quizzes, features and footballing fun
Get the best features, fun and footballing frolics straight to your inbox every week.
Thank you for signing up to Four Four Two. You will receive a verification email shortly.
There was a problem. Please refresh the page and try again.