Remembering… the best mascot fight in English football: Cyril the Swan vs Zampa the Lion
published
Euro 2020's humanoid mascot Skillzy has been revealed to minimal fanfare, so we suggest a tear-up to make things more interesting. Take heed from this…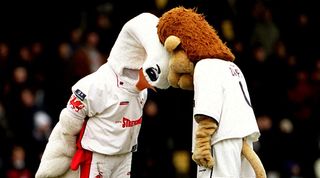 Previous
Cyril the Swan: Faced a disciplinary hearing after kicking a ball at a Millwall player during a 1998 FA Cup match. Also collided into Norwich's Bryan Hamilton and a code of conduct for mascots was later introduced. Yes, really.
Zampa the Lion: Saintly by comparison. Around since the 1920s, he once stacked it while running out with the players, to much mirth, but enhanced his reputation by finishing the London Marathon. Has a Facebook page.
Build-up
With 300 armed police seizing weapons (including an axe and a "Chinese martial arts flail"), Cyril spent the first half of the third-tier showdown firing up home fans after advice to "keep a low profile".
During the break, Zampa emerged from the Millwall end and made a beeline for his 9ft avian rival. Instead of a standard spot-kick shootout, the Londoners were bent on revenge following the '98 frolics.
Handbags
"They'd put someone in the costume to fill me in," Cyril – aka groundsman Eddie Donne – said after his '98 capers ended with that Welsh FA rap. Beak to snout, the pair traded blows, roared on by the fans.
Zampa's jabs failed to land with enough force, before an accurate Cyril uppercut detached the former's head. The swan then drop-kicked Zampa's bonce into the crowd as the headless Lion hobbled off.
They said…
"Don't f**k with the Swans," Cyril shouted, before diving into a nearby dressing room. As police officers banged on the door, he got changed, snuck out of the ground and went home, leaving the outfit on the floor.
"Rip his head off, Zampa!" bellowed the Millwall fans. The club stayed silent, but Swansea dismissed the shenanigans as "a good-natured affair. You'll see nearly everyone has got a smile on their face."
And the winner is… Cyril the Swan!
Nice one Cyril, who made front-page news. Arrested in December 2001 for assault at the Mascot Grand National, but charges were dropped. Married Cybil the Swan in 2005 and has mellowed, with Donne leaving the suit behind.
This feature originally appeared in the February 2018 FourFourTwo.
SEE ALSO...
QUIZ! Can you name the 30 youngest players to win England caps since 1980?
OPINION Why don't neutrals want Liverpool to win the Premier League?
Subscribe today! (opens in new tab) 6 issues for just £19
Thank you for reading 5 articles this month* Join now for unlimited access
Enjoy your first month for just £1 / $1 / €1
*Read 5 free articles per month without a subscription
Join now for unlimited access
Try first month for just £1 / $1 / €1
Quizzes, features and footballing fun
Get the best features, fun and footballing frolics straight to your inbox every week.
Thank you for signing up to Four Four Two. You will receive a verification email shortly.
There was a problem. Please refresh the page and try again.