Why everybody absolutely loved FIFA 98: Road to World Cup
By Jamie Ranger published
Wooooohooooo! An unprecedented rise in the number of playable teams, a kicking soundtrack and, best of all, indoor mode. Over 20 years on, FIFA 98's allure endures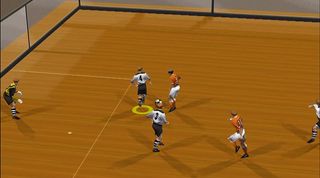 Grainy footage of a cable car may invoke treasured memories of a family skiing trip for the more culturally refined or affluent child, but not for this football fan.
No: for me, it conjures nostalgia of a childhood sat in the uncomfortable leather upholstery of my father's study chair, my small hairless arms sprawled over a keyboard and mouse, the PC version of FIFA 98: Road to the World Cup loading at a snail's pace.
Cut from the cable cab to the statue of Christ the Redeemer in Rio de Janeiro, then a flyover shot of the expectant cauldron of the Maracanã: I am six years old, it's Brazil vs Argentina, and I'm playing on easy mode.
John Motson, a familiar voice to FIFA players for the subsequent decade, sat beside Andy Gray (prior personal disgrace) in the commentary box, cautiously optimistic about this titanic battle between two sets of players that move like they're running in treacle yet glide as if on roller-blades, their identical faces all resembling a snarling Rivaldo, built in a Minecraft mirror universe by an unhappy god.
The tactical battle was as rudimentary as you would expect for a child who had just about mastered my controls: get the ball, hold down sprint, each attempt on goal a Maradona-esque slalom run with a bald player you hoped was Ronaldo, thumping in goal after goal. As a boy with milk teeth intact, the fact that Argentina's midfield was willfully collapsing to accommodate my forward runs did little to inhibit the ensuing celebrations.
Healing the world
FIFA 98: RTWC was a great conversation starter in the playground. Myriad national teams – 178 to be exact; the sort of number inconceivable today in the world of photo-realistic facial graphics, sponsorship packages and the slow transition from comprehensive offline product to commercialised online 'experiences', where unimaginative screenwriting, trading card economics and humiliation by Korean teenagers sit together as uncomfortably as Patrice Evra and Paris Saint-Germain's guests of honour.
By offering such a staggering global level of quantity, by letting you play through qualification as any nation from any continent, what better way to impress the cool kids in my class than invite them over for my mother's comparatively unseasoned cooking, a kickabout in the back garden and a Saturday afternoon multiplayer session trying to lift the World Cup with India?
In many ways, FIFA 98's unabashed commitment to globalisation did more for clumsy and infantile attempts at race relations in my household than any well-meaning local government bridge-building initiatives happening elsewhere in Hounslow.
Keep it inside
But once the World Cup had been won numerous times – when the tickertape had fallen on the Solomon Islands or Equatorial Guinea for the umpteenth time – the piece de resistance, a leftover from FIFA 97, would drag you back in: indoor mode. A five-a-side experience where the ball could be bounced off the sides to create outrageous volleys, it's a game mode that is in many ways a predecessor to the pre-match warm-up challenges found in contemporary FIFA games, but could well be a mode of its own that ought to make a glorious return.
Also, you could rush the goalkeeper, take them out at any time and get a straight red, and then keep doing that until the game was abandoned. That was definitely what somebody was doing in their office when they came up with the idea for Red Card Soccer, which came out in 2002, and completely missed the point about why it was funny in the first place. Zinedine Zidane's headbutt isn't a shocking and iconic sporting moment if headbutts were allowed, and if anything, actively encouraged.
Celebration cutscenes, player customisation and a soundtrack that slaps even to this day, it's absolutely one of the best football games ever made. In modern context, where football tournament games are often lazy cash-grabs limited to the qualifying teams with little additional context, it felt like a full experience in its own right.
So let's raise a glass to FIFA 98: RTWC, and for the love of all that's good, don't play it on an emulator – it might not hold up as you remembered. And nor should it have to.
NOW READ…
GAMING The 100 best Football Manager 2019 wonderkids – for every budget
FUNNY Remembering… the best mascot fight in English football: Cyril the Swan vs Zampa the Lion
QUIZ! Can you name the 30 youngest players to win England caps since 1980?
Subscribe to FourFourTwo now! (opens in new tab) 6 issues for £19
Thank you for reading 5 articles this month* Join now for unlimited access
Enjoy your first month for just £1 / $1 / €1
*Read 5 free articles per month without a subscription
Join now for unlimited access
Try first month for just £1 / $1 / €1
Quizzes, features and footballing fun
Get the best features, fun and footballing frolics straight to your inbox every week.
Thank you for signing up to Four Four Two. You will receive a verification email shortly.
There was a problem. Please refresh the page and try again.