World Cup 2022: How to change the commentators on BBC One
BBC One's World Cup 2022 commentators can be switched out for the 5 Live offerings, if you'd rather…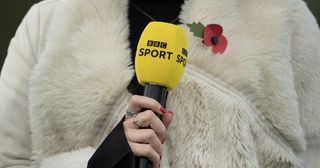 (Image credit: Visionhaus/Getty Images)
For World Cup 2022, BBC One have assembled commentators from the very top tier… according to some.
You can't please them all, can you? Gone are the days of Jon Motson and Barry Davies, almost unanimously popular staples of the Beeb's broadcasting team. Not everyone's a fan of the currently crop of commentators, while the pundits and co-commentators often trend on Twitter in the United Kingdom as much as some of the stars on show.
Well, guess what? There's the open to change that. Here's how to switch the commentary team during this tournament and get the team you want and get the 5 Live crew.
How to change the World Cup 2022 commentators on BBC One
Ahh, the red button. It had so much promise, didn't it? But most of us haven't used ours for years.
Now you can. The World Cup has the option to switch the commentators from the BBC One line-up to the BBC 5 Live team. Just press the button and scroll along to get the team you wish. There is a 30-second delay, though – so bear that mind.
Alternative commentaries are nothing new to the Beeb, either. At Euro 2016, Radio 2 presenter Scott Mill was on comms as an option with sound effects for specific players, while at the World Cup two years before, Chris Moyles – then of the Radio 1 breakfast show, now of I'm a Celebrity… Get Me Out Of Here – partook in the fun.
If you're looking for a new commentary team, the radio version of the narration actually does have its advantages. Not only do they sound far more excited about everything than their television colleagues – they have to be, since their audience can't hear what's going on – it's actually a legitimate option for while you're working. If you're not paying full attention, they go into much more detail on the radio.
Thank you for reading 5 articles this month* Join now for unlimited access
Enjoy your first month for just £1 / $1 / €1
*Read 5 free articles per month without a subscription
Join now for unlimited access
Try first month for just £1 / $1 / €1