Year Zero: The making of Ronaldo (Barcelona, 1996/97)
How do you score 40 goals in 46 games, deliver major silverware and still end up disliked by all of those around you? Suffice to say, the brilliant Brazilian forward packed a lot into his solitary season at the Camp Nou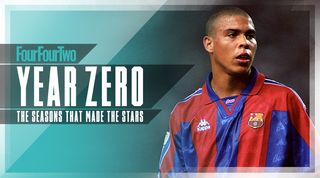 Between 1997 and his retirement in 2011, Ronaldo scored 207 goals in 365 games, won three league titles, a UEFA Cup, a European Golden Boot, FIFA World Player of the Year twice, the Ballon d'Or twice and the player of the season award in two countries. He also won two Copas America, the World Cup Golden Boot and the World Cup itself, scoring all of Brazil's three goals in the 2002 semi-final and final. That alone represents a career in the top 0.00000001%.
And yet, despite this laundry list of trophies, awards and accolades, Ronaldo's greatest season – the one that has lodged in the consciousness of a generation as perhaps the finest individual campaign of all time – was one in which he didn't win the league, fell out with the board, alienated his fans and didn't even pick up the player of the year award at his club.
Superhuman feats
The numbers from Ronaldo's year in Barcelona might be enough for you: 47 goals in 49 games, 34 in 37 league appearances. Four hat-tricks. Seven braces. From mid-January, he failed to score in only five league games he played. Oh, and he'd only turned 20 a few weeks after signing.
But Ronaldo that season didn't just accumulate great statistics – he thrilled like few others have while doing so.
We remember this season because he combined everything that makes us want to watch football. Blurry-footed skill was matched with barely-human speed, in turn complemented by pulsing strength. He was cerebral, visceral and physical all at the same time: this was everything you could ask of a footballer, contained in one man.
It's often said of great players that they can run faster with the ball than without it. Ronaldo could run faster than most while doing stepovers.
"I've never seen any other player score an impossible goal in every match he plays," said Laurent Blanc, his team-mate that season. "Marking Ronaldo is the hardest thing in the world," said Cesar Gomez, an unfortunate Tenerife defender charged with keeping track of him in one game. "It was as if I'd just played five games instead of one."
Jorge Valdano infamously said he was "not a man, he's a herd" – a lovely line, but not quite accurate. A herd is uncoordinated, a mass of brute strength that will trample over something, but with little thought: Ronaldo was more precise, combining his undeniable power with otherworldly control. He showed that many more times throughout the rest of his career, but it was that one year in Barcelona when it was most consistently thrilling.
Gaspart's quick thinking
Before he moved to Barcelona in 1996, Ronaldo was already a star. In Brazil he had scored 41 times in 45 games for Cruzeiro; the following two seasons at PSV Eindhoven produced 54 in 57, and had clubs tripping over their tongues as they flocked to watch him.
Barcelona were one of those, and club vice-president Joan Gaspart travelled to Rio to secure their man. But when he reached Ronaldo's hotel, some beefy security guards told him he wouldn't be getting through.
So Gaspart tracked down a Spanish waiter who worked at the hotel, commandeered his uniform and a glass of Coke. "I put on the disguise, said hello to the security guards and told them a guest had asked for a soft drink," said Gaspart. "This time, they let me past. I knocked on Ronaldo's door and he himself opened it. He signed the contract right there, on the bed."
Eventually a world-record $19.5m fee was agreed with PSV, and the move was done.
He scored after five minutes of his debut against Atletico Madrid in the Super Cup, then added a further 16 in his first 14 games, including a hat-trick against Valencia in October.
Even at that early stage, opposition defences knew he couldn't be stopped by conventional weapons. Valencia's tactics seemingly extended to forming human walls in order to physically prevent this superhuman from getting anywhere near their goal. The problem? Ronaldo was so quick that he sped between these defenders-turned-barriers before they could get into formation, ploughing through like a speeding tank brushing aside a flimsy roadblock.
Valencia manager Luis Aragones stormed around the touchline, furious that his simple instruction couldn't be carried out, to which the obvious response might have been: "Well, you try it then."
Next: "Can anybody, anywhere, show me a better player?"
Bobby's disbelief
The most notorious goal came a few weeks earlier. Compostela is a relatively small city in north-west Spain, broadly famous for two things: No.1, homing the shrine of St. James the Great and a destination for Catholic pilgrims; No.2, it's the site of Ronaldo's otherworldly goal in October 1996.
You'll have seen it many times before, so there's little need to describe it here, but watch it again. Watch the great Hristo Stoichkov call for a pass before realising his futility. Watch the defenders trying fair means and foul to stop him, and limply failing. Watch Robson, unwilling to believe his own eyes. Just watch Ronaldo.
"You can go anywhere you want in the world, and you won't find a player who can score goals like that," said Robson. "Can anybody, anywhere, show me a better player?"
By this point, the hype machine was already up cranked up to 11. "How do you control that lot out there?" said Robson, gesturing to the pack of journalists who gathered in Barcelona every day. Still, even the beloved Geordie admitted the hysteria was justified. "I've been in soccer a long time," continued Robson, "and I don't think I've ever seen a player at 20 have so much."
Short but sweet
The trouble was, many others agreed. Ronaldo's agents – or 'business associates', as he called them – knew full well that they had the talent of a generation on their hands. Only months after he'd signed for Barcelona, they were already demanding greater remuneration. Armed with slavering interest from Milan, Inter and Manchester United, they had plenty of leverage.
And this was just one fly in the ointment. Ronaldo suffered an injury at the end of October, and wasn't right for a couple of months after playing while hurt against Red Star Belgrade in the Cup Winners' Cup. A series of listless performances in which he scored just one goal in seven mirrored the team's inconsistency.
Of course, he didn't help himself with regular trips to Brazil – partly to see a trusted doctor about his lingering knee problems, but also to enjoy an enthusiastic social life back home. He made nine such journeys in December and January alone, including a whistle-stop two-day sojourn at New Year and later another to the Rio Carnaval, in which he ostentatiously took part – boarding a float in full gold regalia – complete with blue feathered head-dress.
Naturally, this went down well with nobody: Robson, the board, the fans, nor his team-mates. "I love Carnaval too, but as a professional my duty is to be here," said his compatriot Giovanni. On one of these jaunts, Ronaldo casually purchased an island.
Can't please them all
Even when he was scoring, not everyone was satisfied. "You can't get away with sleeping for 89 minutes of the game just because you score one fantastic goal," said one Jose Mourinho, Robson's then-assistant/translator displaying an early proclivity for throwing his players under the nearest bus.
Ronaldo questioned Robson's tactics, his agents were constant pests and ruffled feathers with his eye-opening (if justifiable) arrogance. On one occasion, Cindy Crawford was in town, and Ronaldo was asked to pose with her. He refused, saying: "They should've asked her to pose with me."
He even caused ire among the Barça fans when he swapped shirts with his friend Roberto Carlos after a Clasico in January: it should be noted that he scored the opener in a 3-2 win.
But the goals kept coming: he got 24 of them in 21 games between February 23 and the end of the season, including the winner in a fairly drab Cup Winners' Cup final against PSG. That was a penalty, but most others were further displays of his majesty, dodging fouls and squeezing implausibly through gaps like the Millennium Falcon negotiating an asteroid field.
For one, the keeper had the impertinence to save the first shot, but Ronaldo beat everyone else to the rebound. For another he rounded the goalkeeper, but before scoring dribbled the ball needlessly close to the line, wandering into 'taking the piss' territory – but the defenders couldn't even get there early enough to kick him in retribution.
Next: "He has been cheating us for seven months. It's sad, but I'm leaving"
When nine becomes zero
In all this time, talks over a new contract were a background fridge buzz in daily Catalan life. Eventually, a breakthrough was reached: president Josep Lluis Nunez emerged from negotiations declaring "he's ours for life", celebrating a new nine-year deal that would pay Ronaldo $2.6m a year.
But a day later, club and agents reconvened to finalise the details, and suddenly the deal was off for reasons that have never been properly confirmed. Given his agents' understandable desire to squeeze every last cent from their man, however, one can guess.
"Everything Nunez has said is a lie and we no longer need to negotiate with them," said Ronaldo, pointing a finger in the other direction. "He tells me one thing and my agents something else. He has been cheating us for seven months. It's sad, but I'm leaving."
Inter arrived with a fat cheque, paid his $27m release clause, and it was over.
Barça were still scrapping for the title at this stage, but they would have to do so without Ronaldo. That year the Spanish domestic season ran into late June, and with three league games and the Copa del Rey final to come, FIFA refused to release Ronaldo from international duty.
He was thus called up for the Tournoi de France, the pre-World Cup friendly shindig in which Roberto Carlos scored that banana free-kick, before Brazil headed off to the slightly bigger distraction of the Copa America. Thus, he missed a crucial game against Hercules, which Barça lost 2-1 and ultimately finished second, two points behind Real Madrid.
Sour ending
"If we'd had Ronaldo, we'd have won – and won the league," manager Robson said years later about that game. His useful but mortal replacement, Juan Antonio Pizzi, whimpered: "I'm just a regular player; he is not from this planet."
It was a slightly sad end to a season of greatness. Ronaldo's last contribution was an 89th-minute winner against Deportivo, before the Hercules game. Despite the brilliance and the goals, he had alienated the fans so much that Luis Enrique, a brilliant performer but not one blessed with genius, was voted their player of the year instead. Ronaldo left for Italy, dismissed as a traitor.
But still, 20 years on, Ronaldo's feats in Barcelona are as exciting now as they were then. There might have been better footballers. There have certainly been ones with more longevity; better fitness; more trophies; more goals.
But for that one season, there's never been one more thrilling. Robson, as ever, summed it up: "He did things I've never seen before."
Thank you for reading 5 articles this month* Join now for unlimited access
Enjoy your first month for just £1 / $1 / €1
*Read 5 free articles per month without a subscription
Join now for unlimited access
Try first month for just £1 / $1 / €1
Get FourFourTwo Newsletter
The best features, fun and footballing quizzes, straight to your inbox every week.