Chalkias and Liberopoulos end Greece careers
By app published
Greece goalkeeper Kostas Chalkias, the oldest player at Euro 2012, and striker Nikos Liberopoulos retired from international football on Saturday.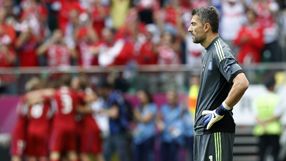 Chalkias, 38, won 32 caps over a decade and was a reserve keeper in the 2004 squad that stunned the football world with a surprise European title success.
"I am proud and happy to have participated in Greece's effort to reach the quarter-finals," Chalkias, who did not feature again at the tournament after suffering an injury in Greece's second group game v the Czech Republic.
"This has been one of the best months of my career. Right now I am very emotional and proud - it was a dream finish for my international career," he was quoted as saying on UEFA.com.
Liberopoulos, 36, scored 13 times for the national team and his 76th and last appearance came as a second-half substitute in the 4-2 quarter-final defeat by Germany on Friday.
Thank you for reading 5 articles this month* Join now for unlimited access
Enjoy your first month for just £1 / $1 / €1
*Read 5 free articles per month without a subscription
Join now for unlimited access
Try your first month for just £1 / $1 / €1