Evra wants Champions League win for Buffon
Patrice Evra wants Juventus to win this year's Champions League and end Gianluigi Buffon's long wait to lift the trophy.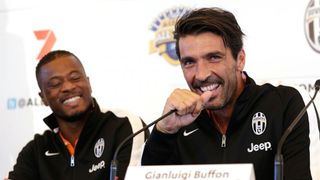 Juventus defender Patrice Evra wants his side to win the Champions League for long-serving goalkeeper Gianluigi Buffon.
Evra says he was surprised when he found out that Buffon, alongside defenders Leonardo Bonucci and Andrea Barzagli, has never lifted the trophy in his 21-year career.
The Serie A champions have made a good start to their European campaign this season with four points from their opening two games.
And Evra told UEFA.com that a Champions League triumph would be "huge" for Buffon and his defensive colleagues.
"When you win something, you always want to share it with your team-mates, that's how I was raised," Evra said.
"I thought they had won the competition. It would be very important for them, as it was for me."
"He [Buffon] deserves it. If I'm really honest, I can say that my favourite goalkeeper is still Edwin van der Sar.
"But when I arrived here, I knew Gigi Buffon, because I had seen on TV, but training with him, Woah! What a player!
"In fact, the older he gets, the better he is.
"I think he manages to make stops today he could not do 18 years ago."
Thank you for reading 5 articles this month* Join now for unlimited access
Enjoy your first month for just £1 / $1 / €1
*Read 5 free articles per month without a subscription
Join now for unlimited access
Try first month for just £1 / $1 / €1