Mega 40% off latest Adidas Predator Edge+ in Black Friday football deals
It's a massive £90 off on the latest Adidas Predator football boots for Black Friday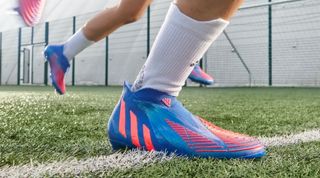 (Image credit: Getty Images)
The Black Friday football deals have arrived, and there are some brilliant savings to be made across plenty of football-related products, with the Adidas Predator Edge+ FG the latest money-off offer you cannot miss.
Arguably the most iconic football boot from the last 30 years, the Adidas Predators are some of the best boots on the market. A design classic, you rarely see the latest versions available so cheap.
Among the many football boot deals available to fans, the Predators certainly stand out - this sapphire blue has become a modern classic first seen on the boots a decade ago.
A development from the last version of Predators, the Edge+ features rubberised ribs which now cover the boot on four control zones, making this a much more dynamic football boot than the classic Predators, such as the Mania or the Accelerator.
While this is a brand that has always been associated with midfielders and playmakers, this new update makes the boot a lot more for the all-rounder. Indeed, this deal features the elite version of boots, made for professionals to wear on the pitch - the materials are premium while the design is intended for optimal performance.
To find a current design of football boots with a 40 per cent discount is rare, too, and is certainly a deal not to be missed.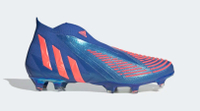 (opens in new tab)
Adidas Predator Edge FG+ | 40% off at ProDirect (opens in new tab)
Were £230 Now £140
At the moment, the fan-favourite Predator Edge+ model is available for a huge discount, although the cut-price deal only applies to the size 8 UK model on Pro Direct. The hi-res blue and turbo colourway certainly helps players stand out on the pitch, with the strategically positioned control zones on the upper of the boot providing greater ability to utilise the ball. The Adidas Predator Edge+ FG are available in other sizes, but not at a discounted price.
While we're at it, if you're currently watching the World Cup and want to make the most of the experience (it only comes around once every four years, after all), we've found that some of the best TVs for watching football are also currently on sale in the Black Friday sales:
Thank you for reading 5 articles this month* Join now for unlimited access
Enjoy your first month for just £1 / $1 / €1
*Read 5 free articles per month without a subscription
Join now for unlimited access
Try first month for just £1 / $1 / €1