Roy Keane "must regret" walking out on Ireland at 2002 World Cup – Shay Given
Shay Given has told FFT that he wonders what could have been if Roy Keane hadn't left the Republic of Ireland squad 21 years ago...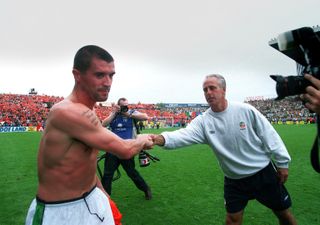 (Image credit: Getty Images)
Roy Keane "must regret" walking out on the Republic of Ireland squad before the 2002 World Cup, according to his former team-mate Shay Given.
The former Manchester United midfielder famously fell out with manager Mick McCarthy during preparations for the tournament in Japan and South Korea.
Keane, then the Ireland captain, subsequently left the squad before the tournament started.
Ireland went on to enjoy a successful tournament, finishing second in their group behind Germany and ahead of Cameroon and Saudi Arabia to reach the last 16, where they lost on penalties to Spain.
Speaking in an interview with FFT, Given couldn't help but wonder what could have been had events gone differently.
"I enjoyed supporting Ireland almost as much as I did playing for them. Growing up in the Jack Charlton era, everyone fell in love with the national team and I was no different," said the former goalkeeper.
"He raised the bar: the Ireland team I played for was under pressure to reach the standards set by our predecessors under Big Jack, and they were not an easy act to follow.
"But we had some wonderful players ourselves in Robbie Keane, Damien Duff, Niall Quinn and, of course, Roy Keane.
"I often wonder if we would have eliminated Spain if Roy hadn't walked out of the squad.
"I'm sure he must regret everything that happened more than anyone. I'd love to ask him now in the cold light of day if he wishes he'd stayed with us."
More Manchester United stories
Manchester United face competition from Newcastle in the race to sign a young La Liga starlet, reports say.
The takeover saga at Old Trafford continues to drag on - here's one factor that could be decisive in determining the outcome.
And Erik ten Hag has opened up on the club's decision to re-sign Jonny Evans on a free transfer.
Thank you for reading 5 articles this month* Join now for unlimited access
Enjoy your first month for just £1 / $1 / €1
*Read 5 free articles per month without a subscription
Join now for unlimited access
Try first month for just £1 / $1 / €1