Scandals & murder taint Mbombela stadium
By app
NELSPRUIT, South Africa - Mbombela is one of the most atmospheric new stadiums built for next year's World Cup, nestled among the beautiful hills of northeast South Africa and supported by orange pylons that resemble giraffes.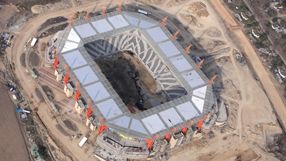 But the almost 1.3 billion rand ($172 million) stadium has been tarnished by a string of scandals, including the murder, apparently by professional hitmen, of a municipal official who blew the whistle on alleged corruption and malpractice.
The stadium has been built just outside Nelspruit, the gateway to South Africa's most famous game park, the Kruger - hence the giraffes - in a zone of great beauty, where most of the country's citrus fruit and avocados are grown.
But the multiple controversies over World Cup projects have tainted that beauty. Even the mayor describes them as ugly.
The scandals include a failed attempt by the municipality to buy the stadium land from the Matsafeni community owners for one rand, allegations of irregular tenders, overpayments, conflicts of interest and tax evasion.
An angry high court judge last year blocked the deal, accusing the municipality of being like colonial settlers who tried to buy land for mirrors and shiny buttons. Now the Matsafeni have agreed on a transfer worth almost 9 million rand.
The municipal manager, Joseph Dladla, was suspended early last year after a scathing investigation by a local law firm which alleged his misconduct had brought the municipality close to collapse. His ally, mayor Justice Nsibande, was fired and the municipality placed under external administration.
Municipality speaker Jimmy Mohlala, the leading critic of alleged irregularities, was killed by masked men outside his home in January. No arrests have been made.
VIOLENT CLASHES
Stadium construction, now almost complete, was dogged by repeated labour protests and violent clashes between police and local people angered by failure to build new schools to replace two displaced by the project.
Failures to deliver electricity and water to Mataffin township next to the arena mean that World Cup matches could be played within sight of tin shacks where people live in sordid conditions without piped water or sewers.
Excitement is growing about the World Cup in South Africa, and Nelspruit is decorated with colourful posters for the tournament. But there is no enthusiasm in Mataffin.
"We are not happy the World Cup is coming to South Africa," said Sarah Shabangu, 29, an unemployed mother of three, as she drew water from a dirty bore hole close to pit latrines and shacks within sight of the stadium.
"Only a greedy few corrupt officials and their friends are going to benefit. The people on the ground won't get anything," she told Reuters.
Her friend Khelina Sibuyi, 49, agreed.
"We use this water for drinking, cooking and bathing. The kids get sick and have diarrhoea...ever since they built the stadium we have been hoping for help in getting services but nothing is happening, there is no water or electricity."
Four girls plaiting each others hair under a tree beside a dirt road in Mataffin said they had been off school for two weeks because of a strike over failure to build new classrooms.
Quizzes, features and footballing fun
Get the best features, fun and footballing frolics straight to your inbox every week.
Thank you for signing up to Four Four Two. You will receive a verification email shortly.
There was a problem. Please refresh the page and try again.