Spain on brink of world record winning streak
BLOEMFONTEIN, South Africa - European champions Spain will set a world record of 15 successive wins if they beat hosts South Africa in their final Confederations Cup Group A match on Saturday.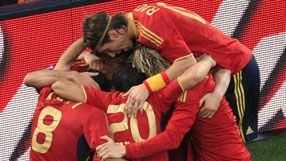 "This is important and although we are not constantly talking about it, we know we have a possibility to go down in history with this winning streak," coach Vicente del Bosque told a news conference on Friday.
"These kind of records can never be questioned. They are hard fact that will be there for all to see."
If Spain avoid defeat they will also match Brazil's mark of 35 consecutive matches without losing.
"Once you have winning form it becomes important to keep up the momentum ... and make the team unbeatable," said reserve goalkeeper Pepe Reina.
Del Bosque, though, hinted he might rest some players with Spain already sure of their semi-final place.
"This is an ideal situation to make some changes, giving some a break because we are not bothered about who we play in the semi-finals," he said.
"South Africa have shown two different sides, more defensive against Iraq and more attacking against New Zealand. We believe they have some kind of magic, a real dynamic to their team.
"They are technically strong and have very powerful men in defence. Emotion is running high of course and they have their supporters behind them and for these reasons it will be a tough match."
South Africa must avoid defeat to ensure they reach the last four. If they lose, Iraq will have a chance to qualify by beating New Zealand in Johannesburg.
Thank you for reading 5 articles this month* Join now for unlimited access
Enjoy your first month for just £1 / $1 / €1
*Read 5 free articles per month without a subscription
Join now for unlimited access
Try first month for just £1 / $1 / €1