United boosted by shrinking injury list
Manchester United's buoyant mood improved further on Wednesday with confirmation that their lengthy injury list is shrinking rapidly.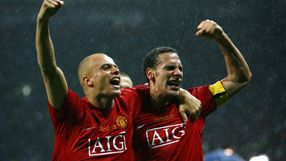 Central defender Rio Ferdinand returned at West Bromwich Albion on Tuesday after a back injury to help the champions move three points clear at the top of the Premier League with a 5-0 victory.
Midfielder Park Ji-sung and defender Wes Brown also played at the Hawthorns and manager Alex Ferguson hopes to have further reinforcements for Saturday's match against Everton with left back Patrice Evra and midfielder Nani expected to be fit.
"Things are looking up and players are starting to come back," Ferguson told MUTV.
"Patrice may have a chance for Saturday against Everton. If the game had still been on Monday I'd say he'll definitely play. But he's still got a chance of making it. Nani should also be fit for Saturday as well."
Striker Wayne Rooney is still recovering from a hamstring and Jonny Evans, Rafael, Fabio and Anderson are also sidelined.
"Wayne has never had a hamstring injury before and there is no way we will bring him back early," Ferguson said.
"He's doing terrific work in the gym and, in terms of his rehabilitation, he is on the mend. But we said at the time he was injured that it would be three or four weeks before he would be fit and there is no change there."
United's home clash with Everton was brought forward to Saturday because the visitors are involved in an FA Cup replay against Liverpool next week.
UNITED FANS! Check FourFourTwo.com's ever-expandinginterviews archivefor more stuff to read:
Web Exclusives Wayne Rooney, Peter Schmeichel, Carlos Tevez
Q+A Wayne Rooney, Cristiano Ronaldo, Ruud Van Nistlerooy
One on One David Beckham, George Best,
Ask A Silly Question Bryan Robson
Boy's A Bit Special Danny Simpson
Perfect XI Garth Crooks, Bryan Robson, Sir Bobby Charlton, Eric Cantona
What Happened Next? David May, Norman Whiteside
Sing When You're Winning Dominic Monaghan, Ian Brown
And Another Thing Being a Big Four fan

Plus! Rate United players (and others) on Talentspotter
Thank you for reading 5 articles this month* Join now for unlimited access
Enjoy your first month for just £1 / $1 / €1
*Read 5 free articles per month without a subscription
Join now for unlimited access
Try first month for just £1 / $1 / €1