Robert Pires: How to cut in from the wing
Former Arsenal winger Robert Pires reveals how to wreak havoc by cutting in from the wing, his toughest opponent, and why he thinks he could've been a top No. 10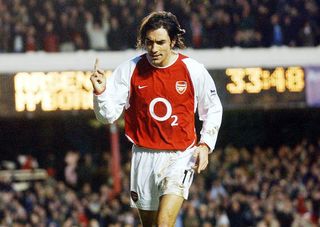 You're right-footed but played on the left. How did you end up in that role?

I had come through as a youngster in France playing as a left-winger, so I was comfortable in that position before I moved to the Premier League. When I joined Arsenal from Marseille in 2000, Arsene Wenger said to me, "You're going to play on the left wing to replace Marc Overmars, do you feel capable of playing there?' As I knew the position I replied, "Yes, I feel like I can replace Marc Overmars." I remember at the time people were confused, saying "Why is Pires playing on the left when he's right-footed?" Your relationship with your coach is really important at times like this. He needs to know you're confident in your ability and that you're totally at ease in that position.


Is it an advantage to be able to cut inside onto your stronger foot?

As a right-footed player on the left wing, you have got a 'broader palette', as we say in French. When you come infield from that position, you can see the entire game laid out in front of you. As an inverted winger you're on your stronger foot, so you're obviously a lot more comfortable as well. When you come infield you can play passes to the players inside you and to the strikers, or you can simply get forward and score yourself. Those are all reasons why the position was so interesting for me at Arsenal. It's more common for teams to play with an inverted winger these days. At the time I worked really hard on it with Arsene Wenger - and you saw the results.


Thierry Henry says you were a master of 'freezing' defenders – what exactly does he mean by this?

Speed wasn't my strongest asset so I had to rely on other qualities to get the better of opponents in one-on-one situations. My signature move was the stop-start dribble. I'd set off, stop, and then set off again to beat my opposite number. It came naturally to me. When I saw it was effective, I worked on it all the time in training. I ended up using it a lot during my time in England. This is a good example of the fact that you must work on your strong points as well as your weak ones. Perfecting your technique when you're good at something is very important.
Did you ever feel that you could have been effective playing in the No.10 role?

I think I could have been a success as a central playmaker - but it was from that left-wing starting position that I was best able to express my qualities. I learned a lot about the No.10 role while playing alongside Dennis Bergkamp for Arsenal. Then when I was called up to join the France team, Zinedine Zidane was the No.10 and it was the same: he essentially taught me about the position just through me watching him. In the same way, players can learn the role today by watching Mesut Ozil and the way he plays in that position for Arsenal.


Who was the toughest full-back you faced?

It's very easy to name my most difficult opponent – my old friend Gary Neville! The games against Manchester United were always tough when I was playing against him. When he was on the pitch they were physically but also mentally difficult fixtures. He would try to provoke me. He gave me plenty of kicks, but that's part of the game in England. He wasn't a dirty player; he was just a good right-back. He did his best for Manchester United and I did for Arsenal. There was a great deal of respect between the two of us. Who came out on top overall? To be honest he usually got the better of me during our battles. I would say it was probably 60-40 in favour of Gary Neville.


Former Leeds defender Danny Mills said that you introduced diving to the Premier League – is that unfair?

Really? I've no problem with him saying that if that's what he thinks, but I was no cheat. If you get kicked, eventually you end up on the ground. It's hardly my fault if he was clumsy, is it? The referee's there to decide whether a foul has been committed or it's simulation. As far as the physical side of English football goes, you have to adapt to your environment. I took plenty of knocks from the likes of Mills and Rio Ferdinand, but you have to get on with it. It's part of the game.
Quizzes, features and footballing fun
Get the best features, fun and footballing frolics straight to your inbox every week.
Thank you for signing up to Four Four Two. You will receive a verification email shortly.
There was a problem. Please refresh the page and try again.