5 brilliant French brightsparks you've never heard of (but soon will)
They sure know how to produce a gem over there – and plenty more are on their way. Franco-youth expert Brendán MacFarlane reveals a cluster of under-19s who could soon be household names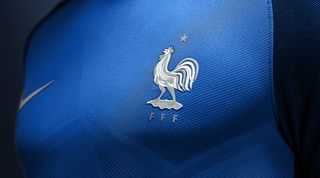 Last year was a monumental one in French football – the national team captivated a nation in reaching the Euro 2016 final on home soil, Antoine Griezmann's form drew comparisons with a young Michel Platini, and Paul Pogba's return to Old Trafford smashed the world transfer record.
In the background, France's youth academies continued to produce promising footballing talent; the likes of Monaco's Kylian Mbappé and Caen whizz Yann Karamoh seamlessly made the transition from U19 football to their respective first teams.
But who's next? Here are five more under-19s whose names are definitely worth remembering in 2017…
5. Simon Cantrel (Left-back, Le Havre)
DOB: September 18, 1998
When it comes to producing world-class talent, few academies can compete with Le Havre's centre de formation, which has waved through the likes of Paul Pogba and Lassana Diarra. Following in the footsteps of Bournemouth's Lys Mousset last year, Simon Cantrel is another academy graduate who looks set to make the first-team step in 2017.
Cantrel is a gifted full-back whose technical ability makes him stand out at this early stage in his career. The 18-year-old is blessed with pace and a fantastic left foot, which he used to excellent effect when he scored in an U19 match last season against Orléans.
Dimanche 8 Novembre 2015 à 14h45 - Le Havre AC...by fff-tv-foot-amateur
What is immediately striking about Cantrel is that he seems as comfortable going upfield to help in attack as he does coming back to defend, and this is an essential trait for any left-back.
The Mont-Saint-Aignan-born defender is a keen tackler too, and his promotion to the club's B team from the U19s this season is proof of HAC's confidence in his ability. It wouldn't surprise if he steps up to the first team in the event of any injuries.
4. Gaëtan Poussin (Goalkeeper, Bordeaux)
DOB: January 13, 1999
At just 17, Poussin is one of the youngest goalkeepers to be currently playing regular B-team football in France, having been promoted to Bordeaux's second string from the U19s in pre-season after several impressive performances with the juniors.
Now a France U18 regular, Poussin first broke in at U16 level while playing for Le Mans in 2014, being called up by Laurent Guyot – the current head of Toronto FC's youth academy. He is an excellent shot-stopper, impressive with his agility and quick reactions, in addition to strong decision-making qualities.
Bordeaux's B team currently sit fifth in their CFA 2 group, French football's fifth tier, and it's likely that this young keeper will have a key role to play as his side push for promotion back to the fourth tier in the second half of the season.
3. Stéphane Diarra (Attacking midfielder, Rennes)
DOB: December 9, 1998
In recent years, Stade Rennais have nurtured talent extremely well – see the trajectories of Ousmane Dembele (Borussia Dortmund) and Paul-Georges Ntep (now Wolfsburg) while playing for the Breton club as cases in point.
Like with Ntep, Rennes' recruiters swooped to lure Stéphane Diarra from a lower-league side, signing the Ivory Coast-born winger from Évian in pre-season after his impressive end to the 2015/16 season in Ligue 2.
It was actually in Brittany where Diarra first attracted nationwide attention, when he came off the bench to make an immediate impact in an away match against Brest. The lightning-quick winger, who's capable of playing on either wing as well as in the No.10 hole, immediately posed problems for the Brest backline with his pace, trickery and relentless running. He eventually managed to serve up an assist for team-mate Morgan Kamin with a composed pass across the six-yard box on his favoured left foot.
Diarra's impressive performances led to him gaining attention from a host of Ligue 1 clubs, in addition to interest from a number of English outfits, but the switched-on youngster elected to stay in France to complete his Baccalauréat studies at high school.
Having signed a three-year deal with Rennes, Diarra is currently playing his football with the club's B side, and will be aiming break through onto the first-team scene as soon as the chance arises.
2. Imad Faraj (Forward, Lille)
DOB: February 11, 1999
Seventeen-year-old Imad Faraj moved to Lille from local amateur side Iris Club de Croix in 2006, after being spotted at the age of seven by LOSC's regional scouts.
The local boy's rise has led to him being deemed one of the club's most exciting youth products in recent years, and Faraj has already shone at international level too, representing his country of birth at U16, U17 and U18 level.
The Franco-Moroccan impressed last season after being moved up from the U17s to the U19s for Lille's local derby against Lens, in which he shone. The natural striker, who stands at just 5ft 6in, was asked to play on both wings during the game, and he particularly impressed with his agility on the ball, ability to spot passes and blistering acceleration over short distances.
As Lille U17s' top scorer last season with eight goals, Faraj's eye for goal and ability to finish one-on-ones is obvious. However, given his lack of physical presence, it seems more likely that the teenager will see his long-term future as a No.10 instead of an out-and-out striker. This could in fact enhance the 17-year-old's potential, though, as he appears to have all the necessary attributes to succeed in such a role.
Faraj has made an impressive start to the season with Lille's B side, the highlight so far coming via his 93rd-minute winning goal in a 3-2 away victory against Poissy. If he realises his first-team potential in the future, Faraj could be a very exciting asset indeed for les Dogues.
1. Raouf Mroivili (Central midfielder, Marseille)
DOB: January 14, 1999
Few things in football excite fans more than a powerful box-to-box midfielder, and excitement is bubbling in Marseille, where word has already spread among OM supporters about 17-year-old Raouf Mroivili.
With his height, pace, power, composure and eye for goal, the teenager looks like he could have it all. Comparisons with a young Paul Pogba – at this stage anyway – don't seem too far-fetched.
After moving from regional neighbours FC Istres in 2015, Marseille-born Mroivili impressed last season for the club's U17s when he scored an excellent solo effort against Toulouse Fontaines, picking up possession in his own half before running the length of the opposition half and coolly slotting home. After this, and a sumptuous free-kick against Frejus Saint-Raphael, it soon became apparent that the tall midfielder wasn't your average U17 hopeful.


U17 National - OM 5-1 Toulouse Fontaines : le...by olympiquedemarseille
Mroivili appeared to have too much power for players in his own age category, and at times he's looked unstoppable. As such, he's been promoted to Marseille's B team and now plays most of his football in the CFA. This is rather unconventional for a player within French youth ranks – usually even the most promising youth players serve their apprenticeship with the U19s before mixing it in the fourth tier.
This could be a very big year for the talented 17-year-old. Though it doesn't exactly trip off the Anglophone tongue, Raouf Mroivili might just be a name you need to remember.
More Talentspotter • More good stuff every day on FourFourTwo.com
Quizzes, features and footballing fun
Get the best features, fun and footballing frolics straight to your inbox every week.
Thank you for signing up to Four Four Two. You will receive a verification email shortly.
There was a problem. Please refresh the page and try again.